2020 Reading List
January 01 2020
This is the reading list for 2020.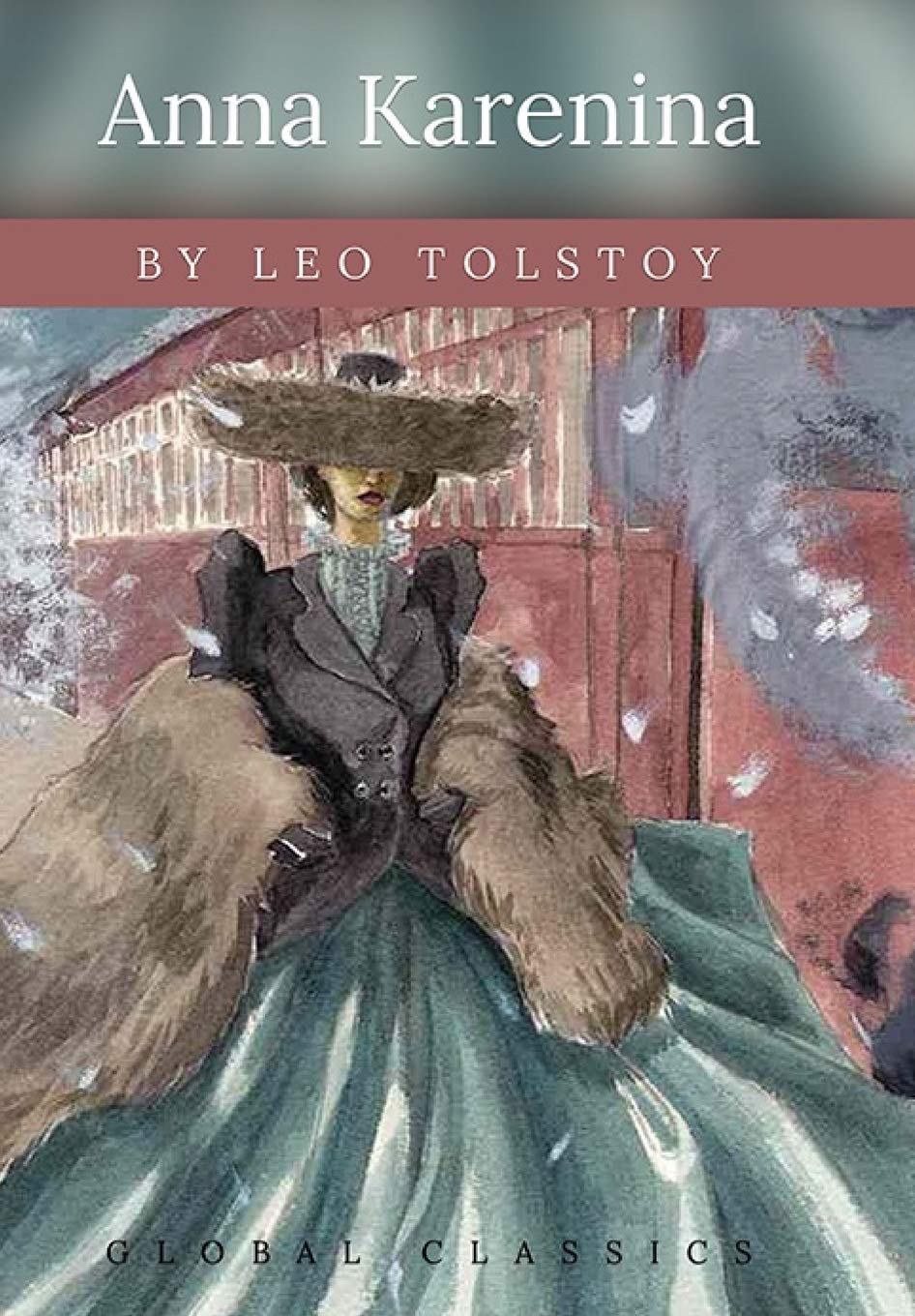 I had always been aware of this novel of course. It's one of the best known in literature. I'm not sure what made me really want to jump in and read it. I wanted to read a period piece with some drama. Anna Karenina fulfilled that desire and probably overfilled it. It took me almost four months to finish reading the book.
The book is so rich in texture and details. It's remarkable how much insight into people's thinking and emotions that Tolstoy has. He is comfortable calling out when something a character says doesn't make sense, but still they say it. Perhaps I'm naive, but I really didn't see Anna's fate coming (I thought she would find some way to live alone and in shame for the rest of her life). I'm also surprised that more didn't come from the Anna/Levin relationship.
This novel is truly a masterpiece.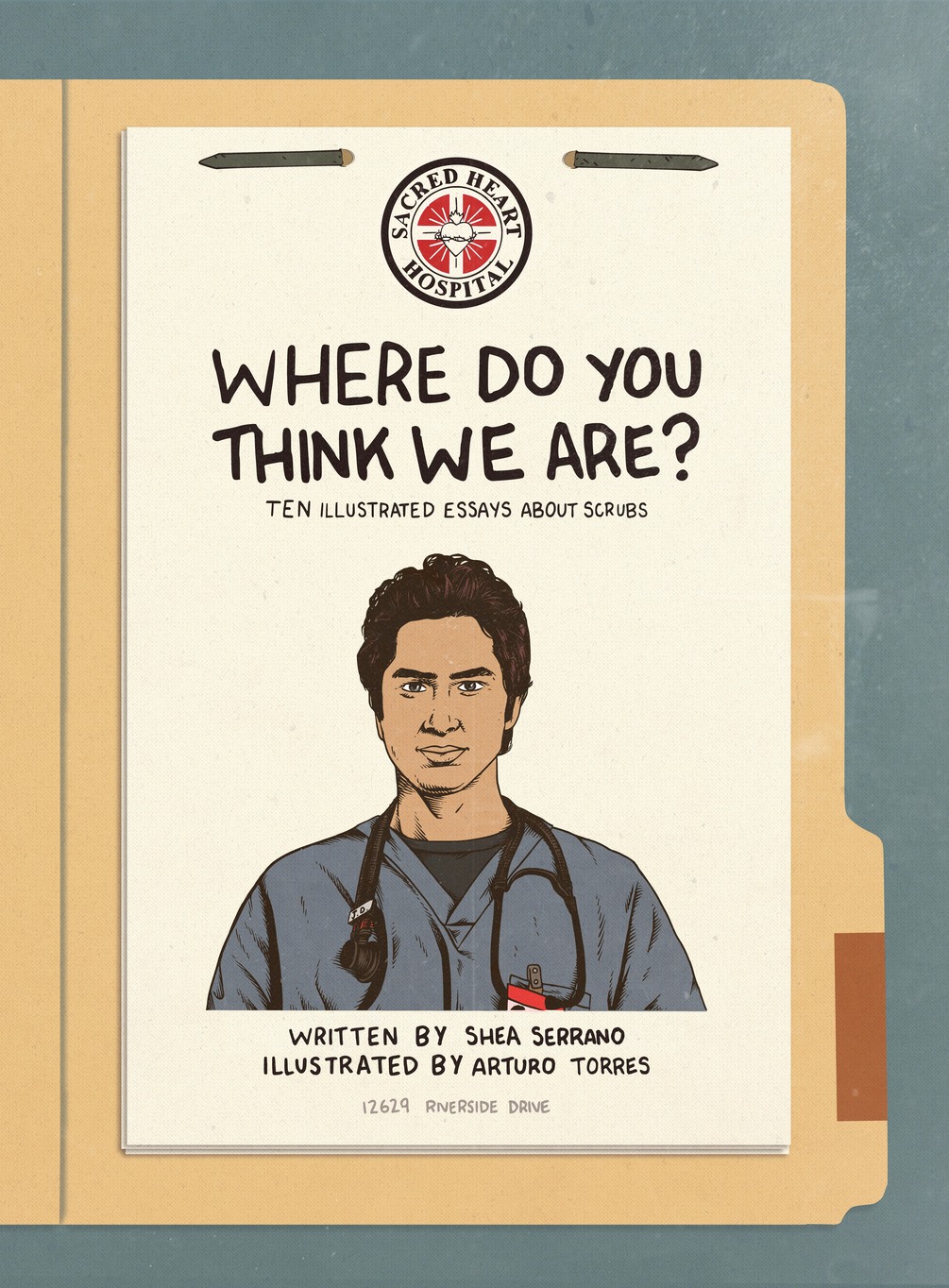 I devoured this collection of 10 essays about Scrubs in one morning. It follows the same basic template as Serrano's other books, including a very similar e-book about The Office TV show that I read last year. Serrano has a very casual (but engaging) storytelling style. He weaves in multiple different layers of pop culture and sports and uses it to tell the stories. He can be poignant when needed (the story about his grandmother on her deathbed…). More than anything, this celebrates a show that I have been watching for more than half my life. It is one that I come back to every few years. Serrano really highlights what makes the show special.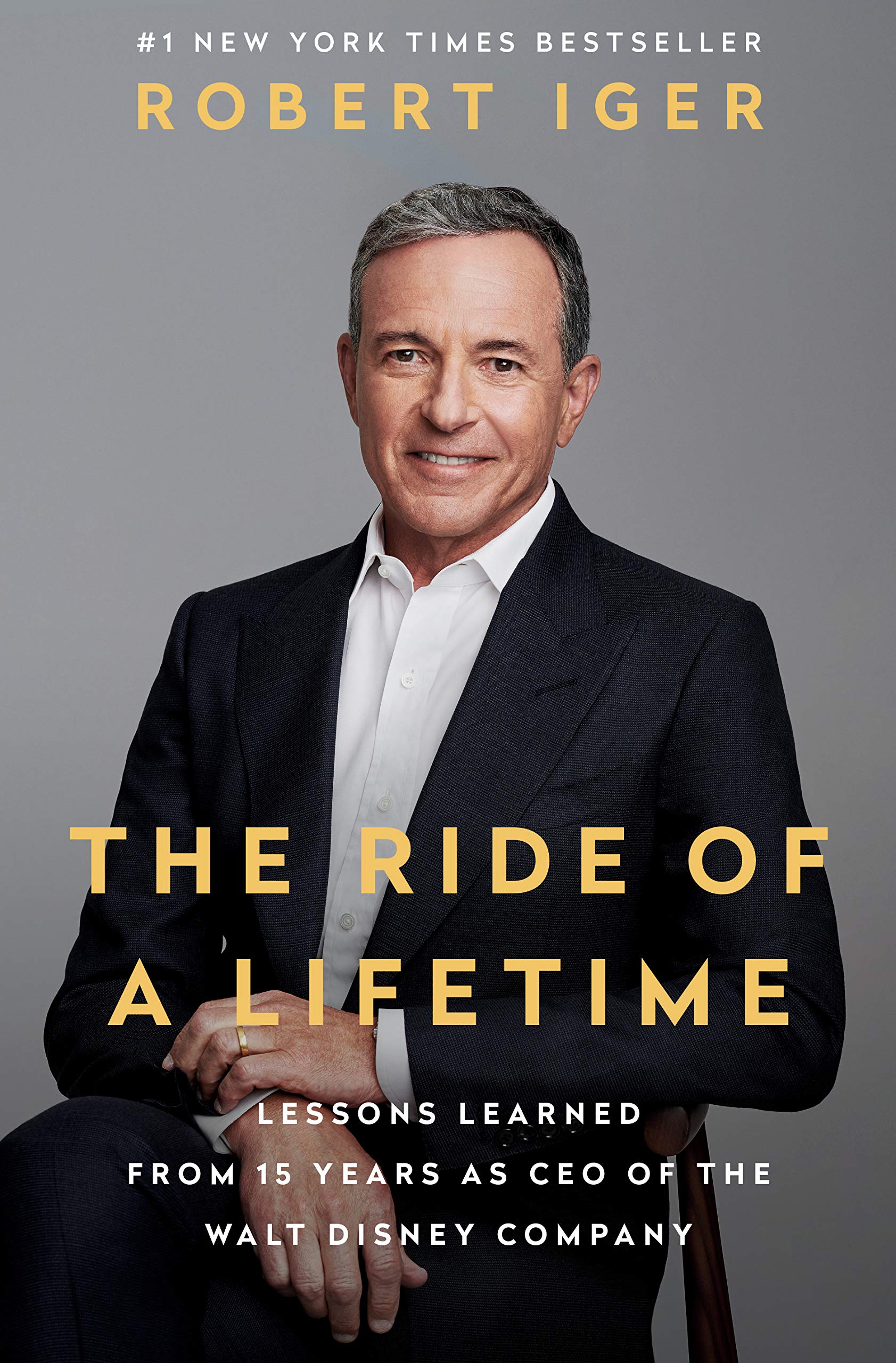 This was a breezy book and one that shot to the top of my list after Robert Iger recently stepped down as CEO of Disney. I have had an admiration for Disney as a company for most of my life. That really concentrated in the last few years as my kids have reached Disneyland age (we have been to Disneyland or Disney World 4 times in the last 5 years). There is a wonderful attention to detail and generally high bar for customer experience.
Robert Iger has been was in charge of Disney for 15 years. The book is mostly a memoir with some business lessons thrown in. There's nothing revolutionary in here. Iger had the combination of both being successful early in his career and getting lucky with opportunities opening up at the right times. He's clearly a very talented businessman, with a high level of integrity and a good sense of timing.
Much of the latter half of the book is about Iger's pursuit of four major acquisitions (Pixar, Marvel, LucasFilm, and Fox). All of this seems obvious in hindsight, but it's remarkable to look back and see that Pixar ($7B), Marvel ($4B), and LucasFilm ($4B) were bought for a total that is less than some young tech companies today (before the recent crash, a company like Slack had a higher market cap than the combined value of the three acquisitions). These acquisitions will probably be tought in MBA classes for years to come as the ultimate examples of corporate synergies and the whole being greater than sum of the parts.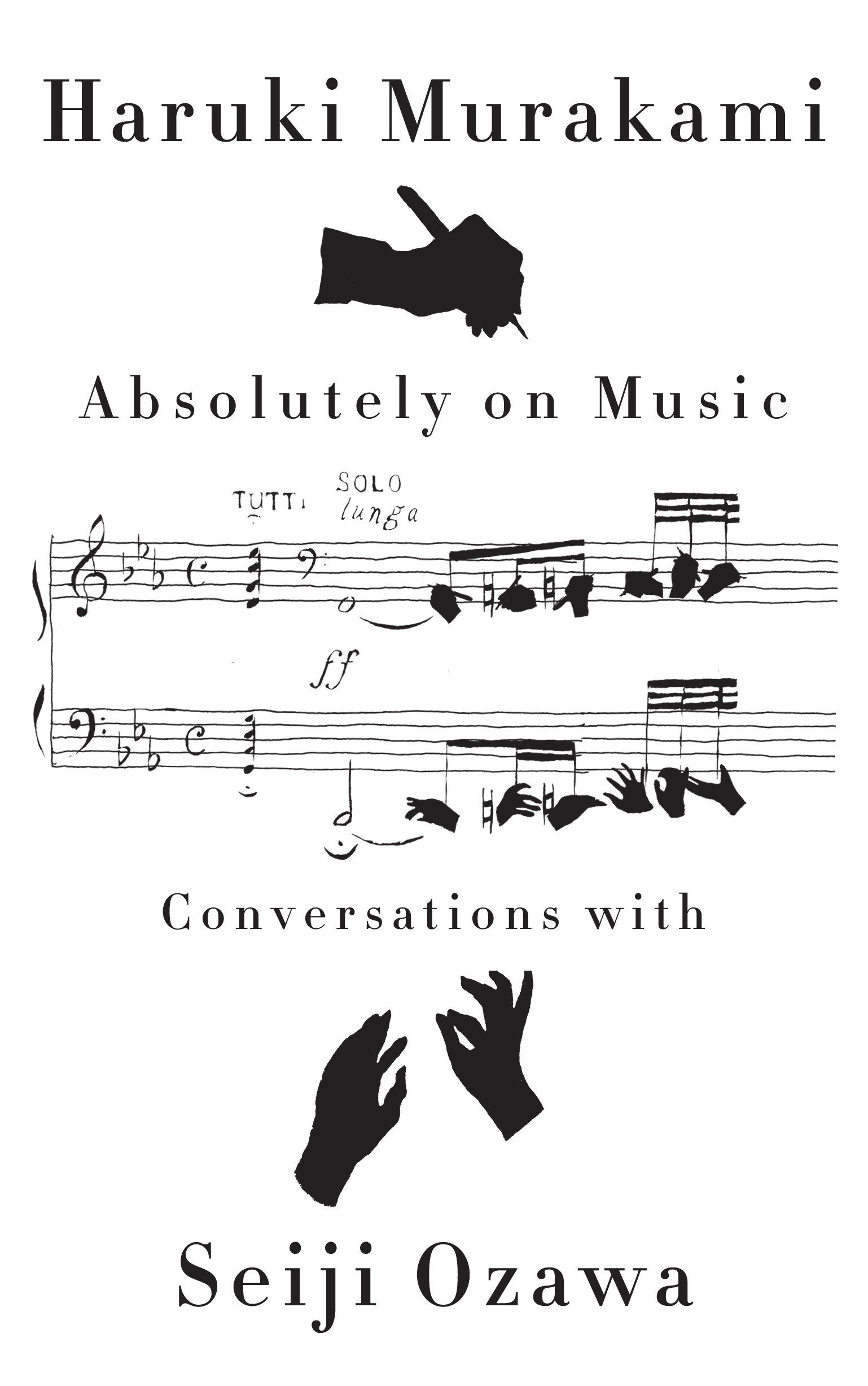 My thoughts on this book went long, so I captured them in a separate post.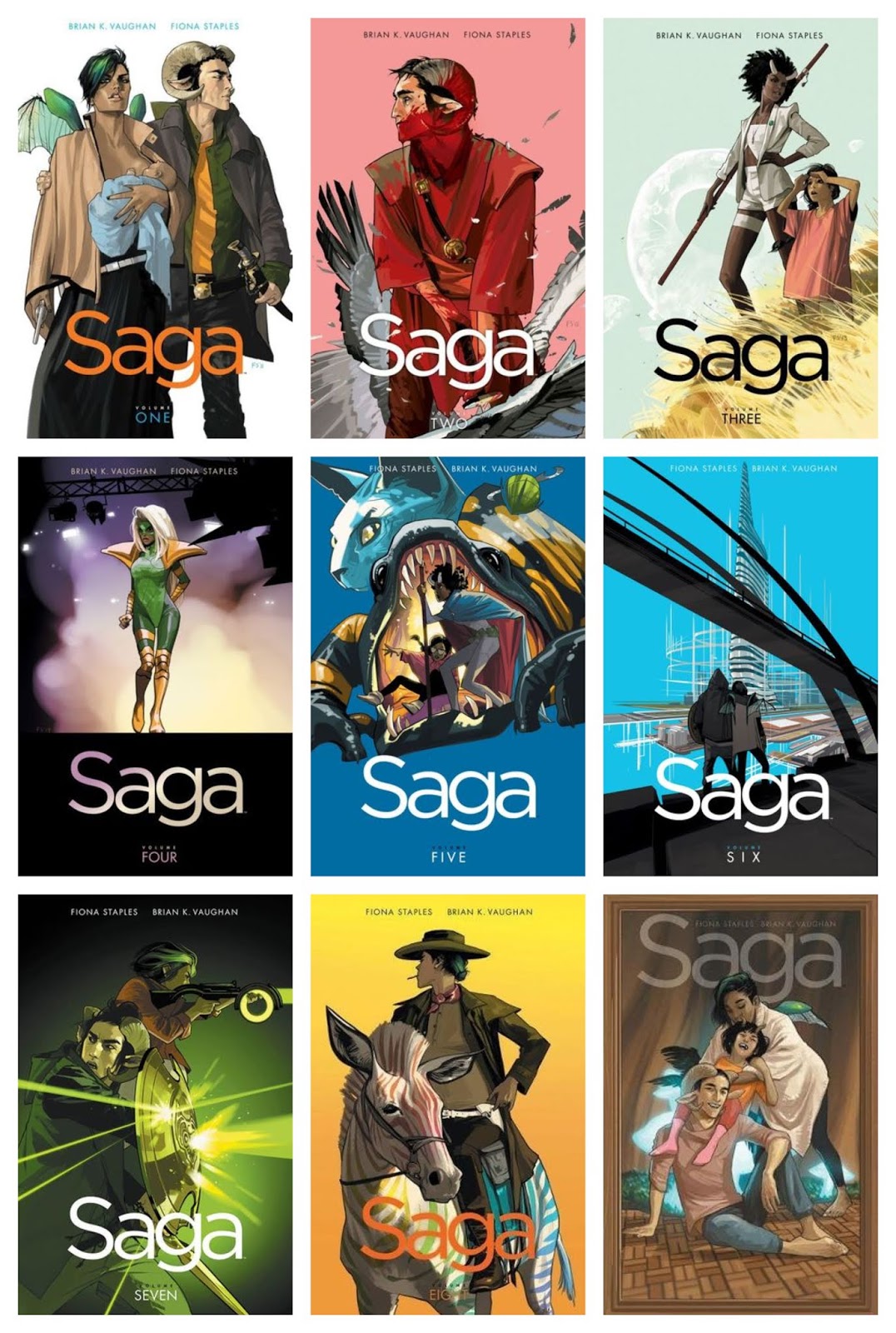 Wow. I have never been a comic book guy. Growing up, lots of my friends would buy and collect comic books, but I never got into it for whatever reason. I did enjoy watching some of the cartoons (I particularly liked the X-Men TV series), but I never actually got into the superhero stuff. Comics like Calvin and Hobbes were a different story. I read those vociferously and still do today. Saga makes me question everything about this: should I have been reading comic books this whole time?
I discovered Saga through the Binge Mode podcast. They talked about this series with such conviction and passion, that I figured I had to check it out. I ended up reading the entire series to date (9 volumes) in 2 days. I literally couldn't put it down. The combination of a good story, very compelling characters, and beautiful hand-drawn art and landscapes in a fantasy world was just wonderfully enrapturing.
The story itself is not entirely compelling. The Wikipedia entry for Saga notes that it is inspired by Star Wars and also has some elements of Game of Thrones. I think that's not entirely accurate. Thematically, Saga is way different from Star Wars. As far as I can tell, the only thing those two share is seemingly endless world building, with many different planets, species, cultures, and technology. But this is loosely true for all science fiction/fantasy, so I'm not sure why the direct comparison to Star Wars is necessary.
The Game of Thrones element is more readily apparent. Saga's world is more nuanced and driven by a ton of politics. There is no clean Jedi light side vs. Sith dark side fight. Instead, there is a ton more gray. As an example, The Will is a bounty hunter character who shamelessly murders people for hire but goes out of his way to save a six-year old girl sold as a sex slave (it's basically an earlier and more salacious version of the Mandalorian plot). Also, there is a lot more explict depiction of sex and other adult material.
Saga is halfway through, and the authors are taking a break before starting the second half. I cannot wait to read the conclusion of this series.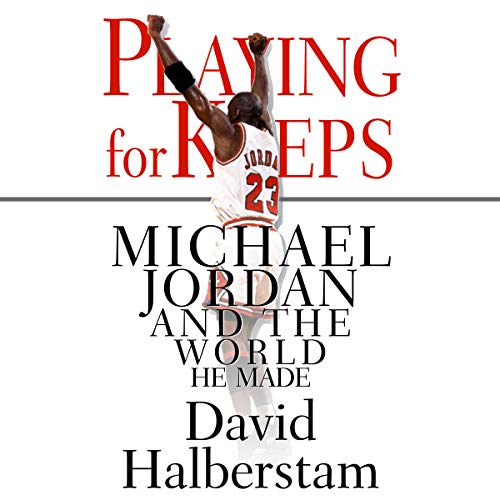 I had always wanted to read this book but it was never a priority until now. Long ago, I read the brilliant book Breaks of the Game, also by David Halberstam, which followed the Bill Walton-lead Trailblazers team and focused specifically on how the team grew apart after winning the NBA championship. Halberstam is an amazing writer, with a ton of "show", very little "tell", and a simple writing style that is easy to read. Reading a Halberstam book is like reading a long Zach Lowe feature or Sports Illustrated feature, except the feature in question takes 5-6 hours to read.
The other reason I never read the book is I felt like I was there for the Michael Jordan experience. I wasn't sure what would be new to me. I read it now because of the upcoming Last Dance documentary about Jordan and the 1998 season.
The book turned out to be very informative, with a ton of bits and anecdotes that I didn't know about. I didn't know how close Scottie Pippen was to leaving the team via trade in the 98 season (he delayed surgery on his foot to needle Bulls management). I always knew about the cantakerous nature of Bulls GM Jerry Krause, but this book takes it to another level, with real stories about how Jordan and Pippen would mercilessly tease him, but balanced with equally stunning quotes from Krause himself about needlessly seeking credit and validation.
As I'm writing this, I've seen the first two episodes of the Last Dance documentary. It's remarkable how closely the documentary follows this book, with setting up the initial conflict at the start of the season (Phil Jackson's contract negotiation), Krause asserting that it would be Jackson's last year "even if he went 82-0", and then Pippen threatening to hold out for a trade.
My advice to any Jordan, Bulls, or NBA fan is to read this book. It is the very definition of "essential". If you can only read one book about Jordan, it should be this one. But also if you have read every other book about Jordan, you still need to read this one.
I have been a fan of the Studio Ghibli film Howl's Moving Castle for a very long time. It has arguably the weakest storyline of any of the Ghibli movies that I love, really just meandering from plot point to plot point. But, it has a very compelling main character (Sophie), wonderful music, and the most beautiful hand-drawn art of any Ghibli film.
I'm trying to read more fiction, and especially shorter, more easily digestible works. I decided to give the original book that the the movie is based on a try. The book has much of the same character as the movie. There is a lot of spontaneity, and a general sense that anything is possible at any time. Many of the storylines are similar to the movie also (for example, the use of magic to seed a flower yard and then open a flower shop).
The book does have some significant changes though, the most pleasant of which is that Sophie also has magical powers (although they are latent, and only discovered late). Ultimately, though, I found the book to be just as meandering and purposeless as the novel from a plot perspective. The best example of this is the book kind of just ends, the climax having been reached and epilogue played out in a very small number of pages. It was still an enjoyable read, but I will likely not be reading the sequels in the book series.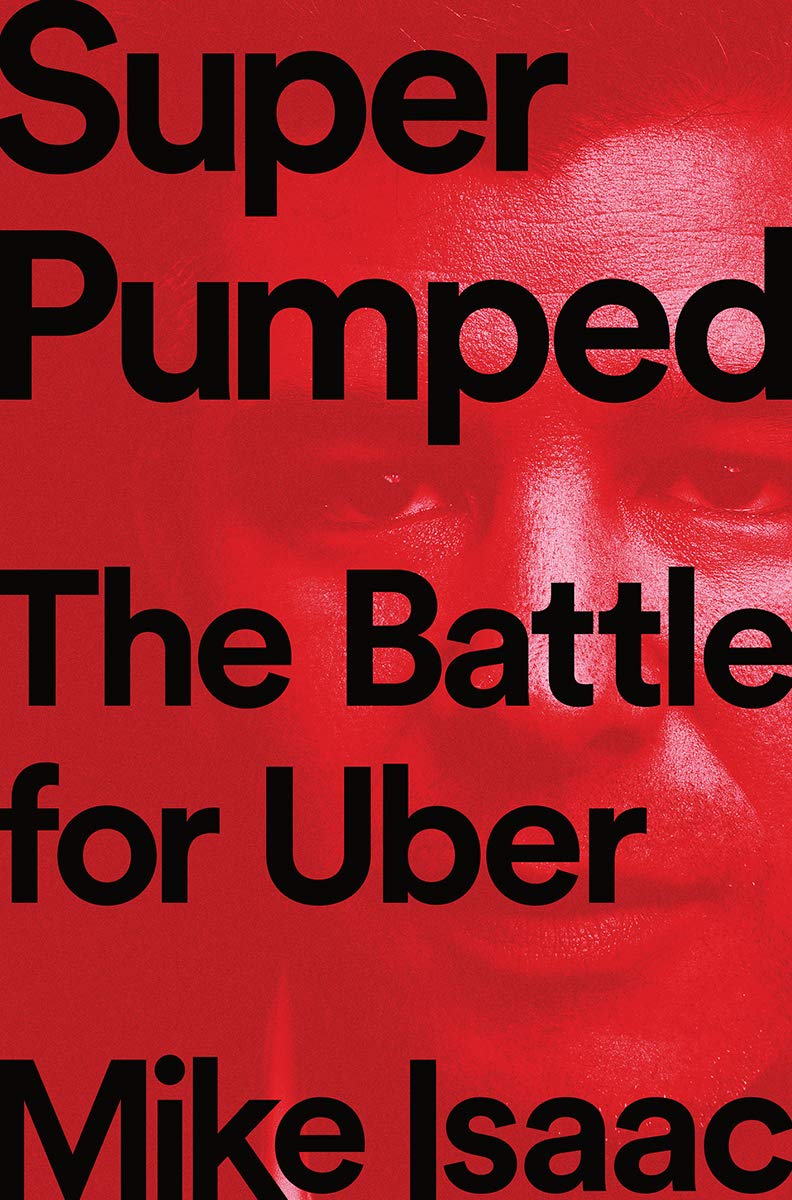 I had been wanting to read this book for a while and finally got around to it. For context, I interviewed with Uber (and received an offer) in the Spring of 2017, right around the time when Travis Kalanick was booted as CEO. I have always had a mixture of admiration and caution about Uber, and the interview process seemingly both of those things for me. I'm glad I ended up choosing Google over Uber.
This book is a fast read and a very entertaining read. It mostly tells the tale of Travis Kalanick, chronicling his early life and startups, and the early few years at Uber. It rises to a climax during that early 2017 period when Kalanick ended up getting removed from the company. Many of the stories in the book I had either read about in the press, or I could guess at. But some of them are truly wild.
The wildest one is the story of how Uber tried to get around Apple App Store rules by installing a geo fence within the Uber app that hard coded in the IP address ranges for Apple's Cupertino campus. Never mind the underhanded business practice of trying to deliberately fool a technology partner. The craziest thing here is it's such a stupid idea! It's amazing Uber ever got anything done when decisions like this were getting made.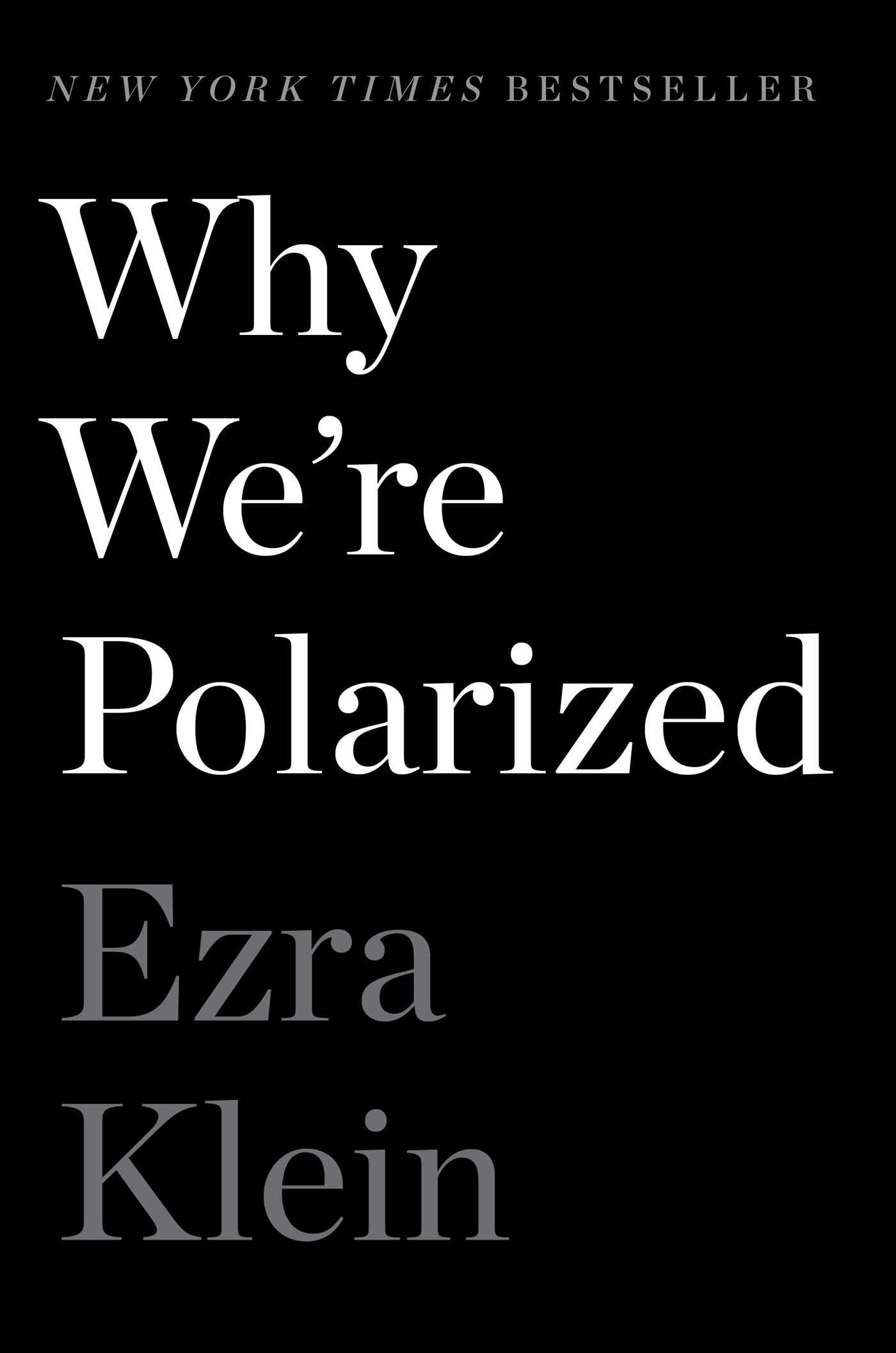 I didn't want 2020 to pass without reading at least something about the current political environment. In many ways, 2020 seems like an inflection point in the history of the USA, where everything before it looks completely from everything that is to come.
This book has a very interesting tagline, literally from the book title, and I think Klein does a good job of exploring the subject. He gives a brief overview of the history of American politics and the 2-party system, emphasizing that for a long portion of the 20th century, the two parties were almost indistinguishable.
There are some interesting academic studies cited, such as those that seem to suggest that humans are naturally identity-based, even in situations where the "identity" is the loosest association possible. This association with identity naturally leads people into comfort areas, and the internet has succeeded in making it easier for everyone to find others with their same opinions.
Klein doesn't offer any real solutions, but I think that's because no easy solutions really exist. Instead, this book is a good read to at least understand the current climate, and the set of behavioral and political factors that made it happen.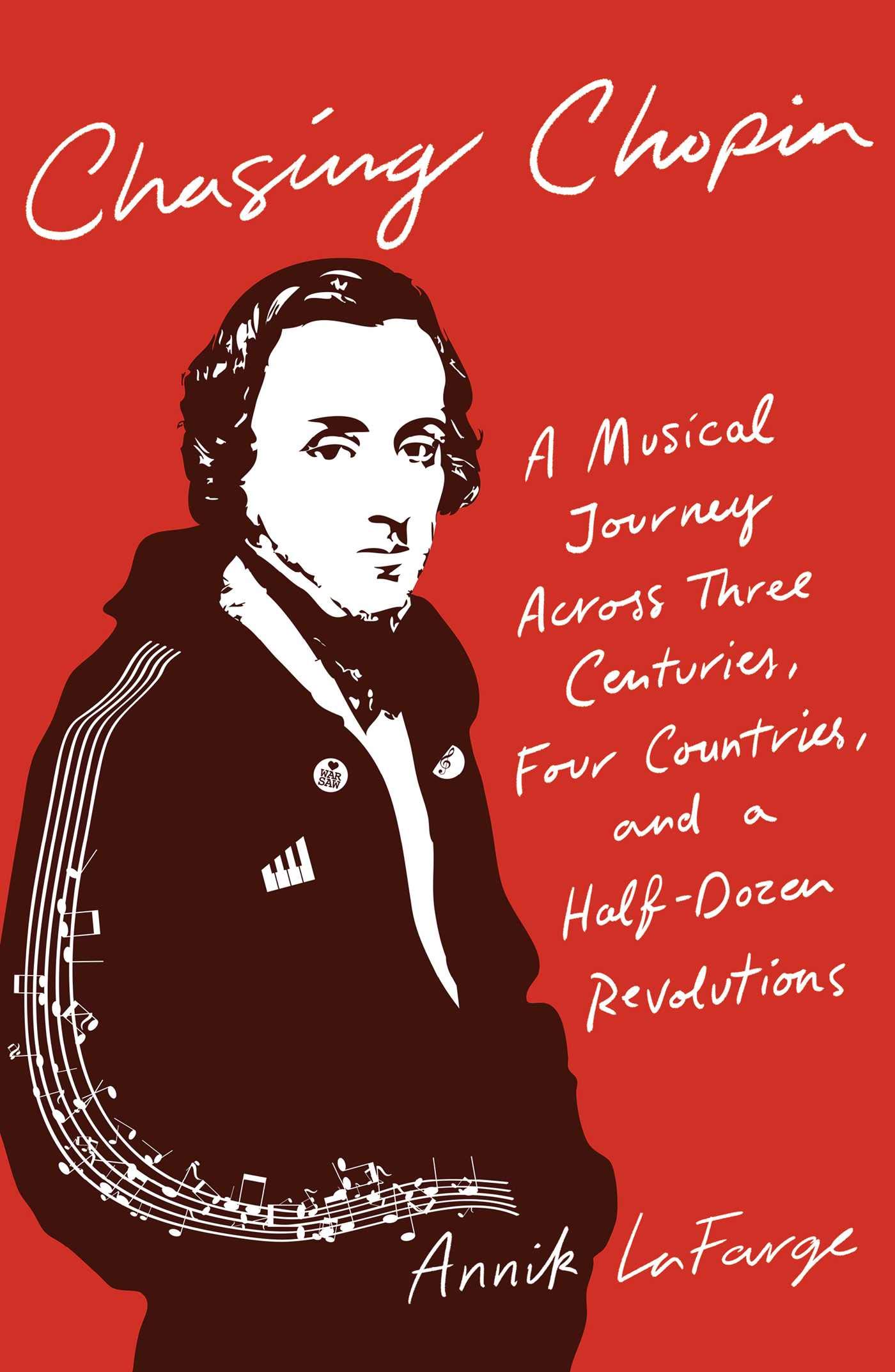 I heard about this book on the Sticky Notes podcast. Chopin is not a huge part of my musical life simply because I never played piano and Chopin hardly ever wrote any instruments besides piano. But of course, I have enjoyed listening to Chopin, particularly the Nocturnes. I didn't know much about Chopin, so this book seemed like a good intro.
The book itself is hard to categorize. It's ostensibly organized around Chopin's Piano Sonata No. 2, the one that has the famous funeral march. LaFarge dives into various aspects of Chopin's life, and concentrates on the parts that led to the creation of the funeral march.
Unfortunately, I ultimately found the book too shallow in any particular subject, and the mishmash of topics didn't make up for the lack of depth. The book reads like a collection of long magazine articles. First LaFarge talks about pianos (since Chopin played on a particular type of piano). Then there is a discussion of Chopin's teaching. Then she talks about Chopin and George Sand's trip to Mallorca. It's a esoteric list of subjects that ultimately don't make me feel like I know Chopin or the Sonata any better. Chopin's relationship with George Sand, a leading female writer in France, is very interesting. But even there, the depth is just lacking.
I did come out of this with a greater appreciation for Chopin, and maybe I'll seek out a more formal biography in the future.
Topics: Book ReviewsLists
comments powered by

Disqus