All Three Stravinsky Ballets
June 22 2014
We saw the classical programming season finale for the Seattle Symphony on the summer solstice last night. The title of this post is misleading - Stravinsky wrote more than three ballets. However, most people really know Stravinsky for the three iconic ballets he wrote for the Ballets Russe from 1910 to 1913, The Firebird, Petrushka, and The Rite of Spring. We were treated to all three ballets in their full versions tonight, an extra long concert that included two intermissions and ran until 10:50 pm (after an 8:00 pm start).
This might be our last concert for a while. The baby is coming soon (within a few weeks), and I'm guessing it'll be tough to get out for a concert the next few years. This is the end of our second year in Seattle and we've been to about a dozen Seattle Symphony concerts in that time. This concert had many of the elements that I've noticed over these two years, from bad to good.
First, a quick word about the Stravinsky pieces. These are landmark pieces (especially The Rite of Spring) for the 20th century and for the evolution of music. In Aaron Copland's "What to Listen For in Music", he remarked how amazing it is that it took classical composers so long to write a piece where rhythm is the main element. Stravinsky created this space, but interestingly, it didn't really expand much into classical music beyond him.
That he wrote all three ballets within a three-year time frame and did it with the same collaborators is even more amazing. This is because there is not much that is similar across the three ballets.
The Firebird is a fairy tale piece, complete with princesses and magic. It has beautiful melodies. Where it stands out is in its orchestration and its sound effects for the Firebird. There is some hint at the rhythmic advances to come, but it is very early compared to the Rite of Spring.
Petrushka is an anti-heroic tale about a puppet that falls in love with another puppet but ultimately loses that love and gets killed (yikes!) by the other lover. It is mocking and satirical. Musically, its signature became a well-known chord, relying on major tritones juxtaposed against each other. It is definitely smaller in scale than its predecessor and successor.
Finally, The Rite of Spring has more of a setting than a story (pagan tribe witnesses girl dancing herself to death as part of ritualistic sacrifice). However, it is obviously the most famous (AND infamous), having caused a riot on its premiere and blazing the trail for rhythm as the centerpiece of the piece. The sad thing is I bet a lot of people still think of Rite of Spring as the most "modern" piece they know, even though the piece is already more than 100 years old. I'm really proud that my unborn daughter go to hear these pieces so early in her life.
The Seattle Symphony are all over the map in this concert. We typically sit in the first few rows right in the center, so I don't see much beyond the conductor, the first violins, the cellos, and some of the seconds and violas. This causes me to focus intensely on the firsts, the cellists, and the conductor.
The first violins are so inconsistent in talent and effort. When we saw the Concertgebouw, it looked like every section violinist could've been concertmaster. They all focused together, breathed together, and moved together. With Seattle, Alexander Velinzon is clearly the concertmaster and no one else is even close (although I also enjoy John Weller's work). The back of the section has some violinists that don't look like they are having any fun while playing. They sit back of the chair, no movement, very little bow, and just don't look like they are focused. This does manifest itself in the music as well - I could see people clearly taking divergent tempos in sections, which caused general havoc.
Like it or not, the visual style of playing is part of the concert-going experience. The experience caused by the first violins sucks, and it's simply because everyone looks like they're doing their own thing. One simple thing I'd like to see in the future is to work on bow speed and length. Alexander uses a lot of bow and does it at the beginning of notes. I like this approach. I'd like to see it as a point of emphasis for this group next year - every section violinist should be aware of where Alexander is in his bow and try to match.
I mostly saw these problems in The Firebird. My theory still is that this orchestra tries to coast during pieces they've played before. It does not work. They are not good enough to coast.
Firebird also had some other hiccups. The oboe soloist seemed to be nervous during his solo in the Princess dance, as he rushed a section of moving notes two separate times. I would like to say though that the cellists are generally awesome. The bassoon soloist (Berceuse) and horn soloist (the famous Firebird theme) both came through and played wonderfully.
Petrushka was actually really well-played. There is a playful theme about two-thirds through the piece. The wind soloists really made it light and playful, stretching out the tempos just right.
Finally, Rite of Spring was a great performance. It was exciting and it finally seemed like everyone was front-of-the-chair focused. There were still some frustrating moments (for instance, when the dance rhythm first starts up, there are accents that fall on unexpected beats; across the orchestra, it looked like about two-thirds of the musicians were doing the accents, while the rest just played almost without accent). However, to me, it was clear that they rehearsed this piece thoroughly and even more importantly the musicians seemed to enjoy playing this piece. The trumpets were simply awesome.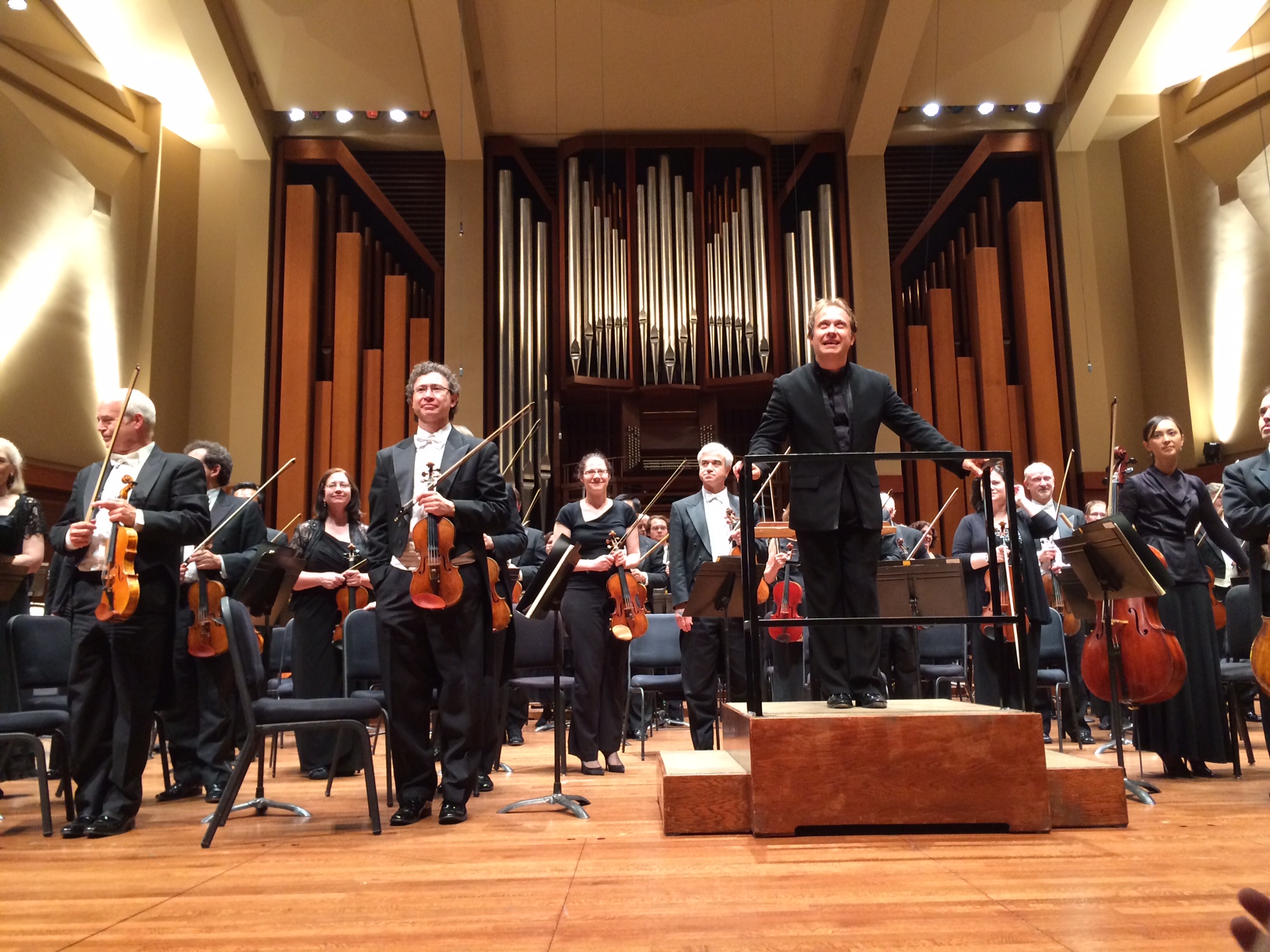 A nice ovation for the orchestra and Morlot
Rite of Spring got a standing ovation (actually Firebird did too, but I suspect that's because of the heroic nature of the ending). The crowd dutifully cheered on the great performances from the trumpets and horns. I didn't talk about Morlot's conducting much but that's a good thing. Conductors shouldn't be noticed - they are the conduit for the music.
We almost certainly won't get season tickest next year, but that's due to the baby. I still want to see some concerts here and there, particularly if there's a strong soloist. In related news, Gil Shaham is opening the season this fall. Maybe we'll be back sooner than I thought!
Topics: MusicMusic:ConcertsMusic:Seattle Symphony
comments powered by

Disqus