Beethoven's Ninth in a Brewery
May 31 2015
Earlier today, I took in a very unique and interesting music experience. I saw the Golden Gate Symphony Orchestra, an amateur community orchestra, perform Beethoven's Symphony No. 9 at Southern Pacific Brewing, a microbrewery in the Mission District. It was great to see such as creative and ambitious programming element, especially from a community orchestra. I left the concert a little bit buzzed and with a smile on my face.
The brewery was in a giant warehouse, with (I would imagine) all the tables cleared out on the ground floor for the orchestra to sit. It was a pretty small orchestra and choir - I counted six first violinists and around 15-20 chorus members. I got a chair directly behind the conductor and had a nice view of him, the violins, the vocal soloists, and the chorus. Unfortunately, the other strings and nearly all the winds, brass, and percussion were on the other side of the room, which was obscured by a stairway for me.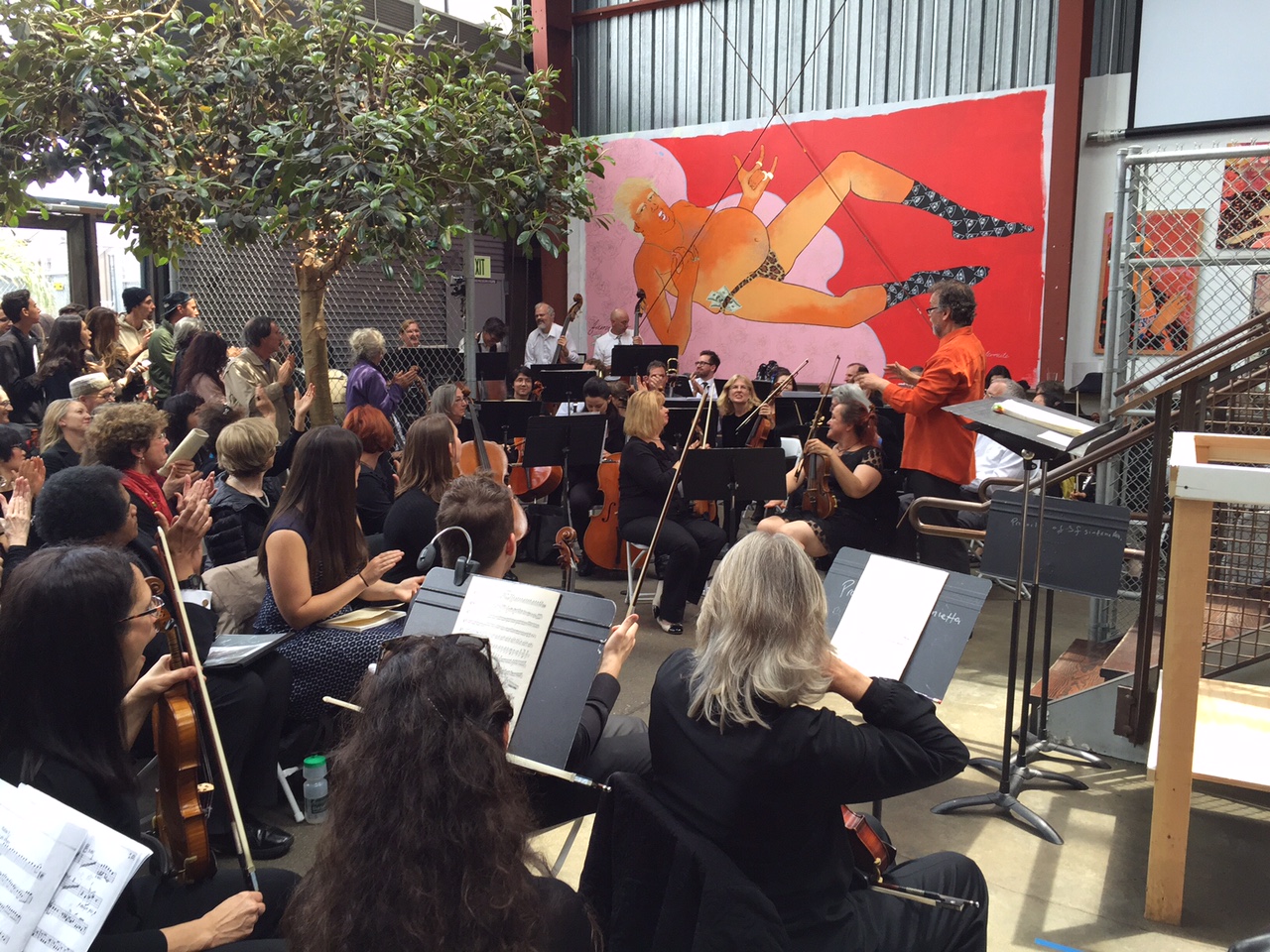 A nice juxtaposition of orchestra and background art
There's not much to say about the orchestra itself - they're a community group, so there were lots of highlights and lots of lowlights in the performance.
In addition to the symphony, the group also did the first movement of Beethoven's violin concerto, with Jaymes Kirksey as soloist. That performance was a little disappointing for a soloist - I was particularly disappointed to hear him play a very abbreviated version of the canonical Kreisler cadenza.
I have to say a quick note on the conductor, Urs Leonhardt Steiner. He seems like he'd be a joy to play under. Before the last movement, he asked for and took a big swig of beer. Also, he stopped the orchestra after starting the slow third movement to shush the audience, admonishing us for talking during such beautiful and quiet music.
I uploaded the ending of the symphony to Youtube. Enjoy!
PS. While doing some YouTube hunting for this orchestra, I stumbled upon this NPR All Things Considered Segment. It seems that this group does Beethoven 9 on New Year's eve every year. Also, from their concert archives, they have a "do-it-yourself" Handel's Messiah concert during the Holiday season every year. Interesting group - I may have to join in sometime soon!
Topics: MusicMusic:Concerts
comments powered by

Disqus