Birthday Date Night with Leonidas Kavakos and the San Francisco Symphony
November 15 2015
Yesterday was my birthday and as celebration, we got a babysitter and did dinner and a concert. It was the first time for just the two of us in quite a few months and certainly very enjoyable. It was also great to take in a concert and from such a great orchestra and soloist. It was my second time seeing the San Francisco Symphony live, but the first time was 15 years ago.
We started the night with dinner at Alta CA. The food was just ok - we enjoyed the Beef Tendon Puffs, which is a little like the deep-fried Chinese shrimp chips of our youth. For dessert, we got a baklava-flavored ice cream sundae and they were kind enough to put in a candle in there for me.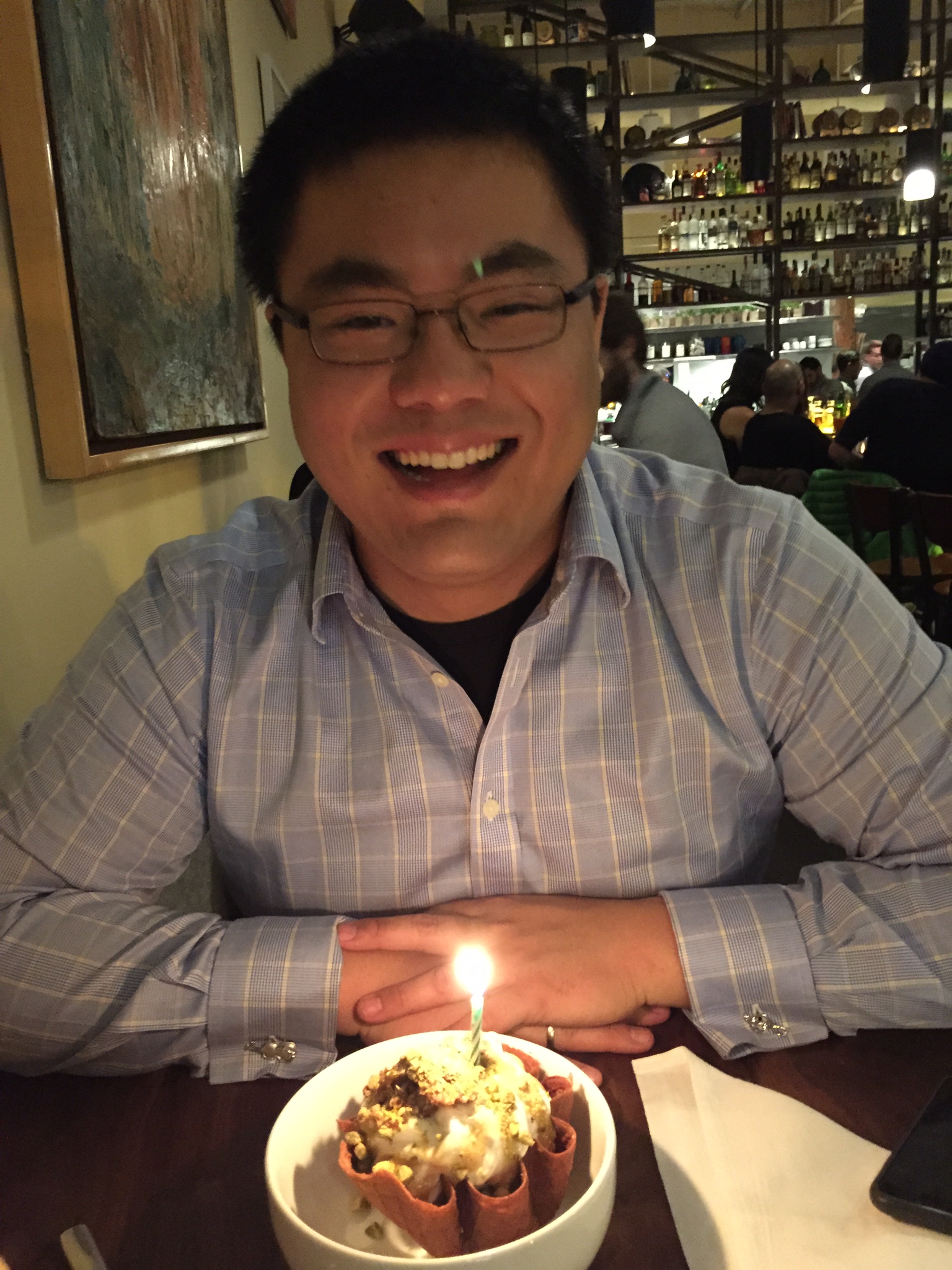 We had a baklava-flavored ice scream sundae!
As we walked the few blocks to Davies Hall, we saw that City Hall was lit up with the French national colors in tribute to the recent terrorist attacks in Paris. It was a moving sight, and it's great to see the city of San Francisco showing their support.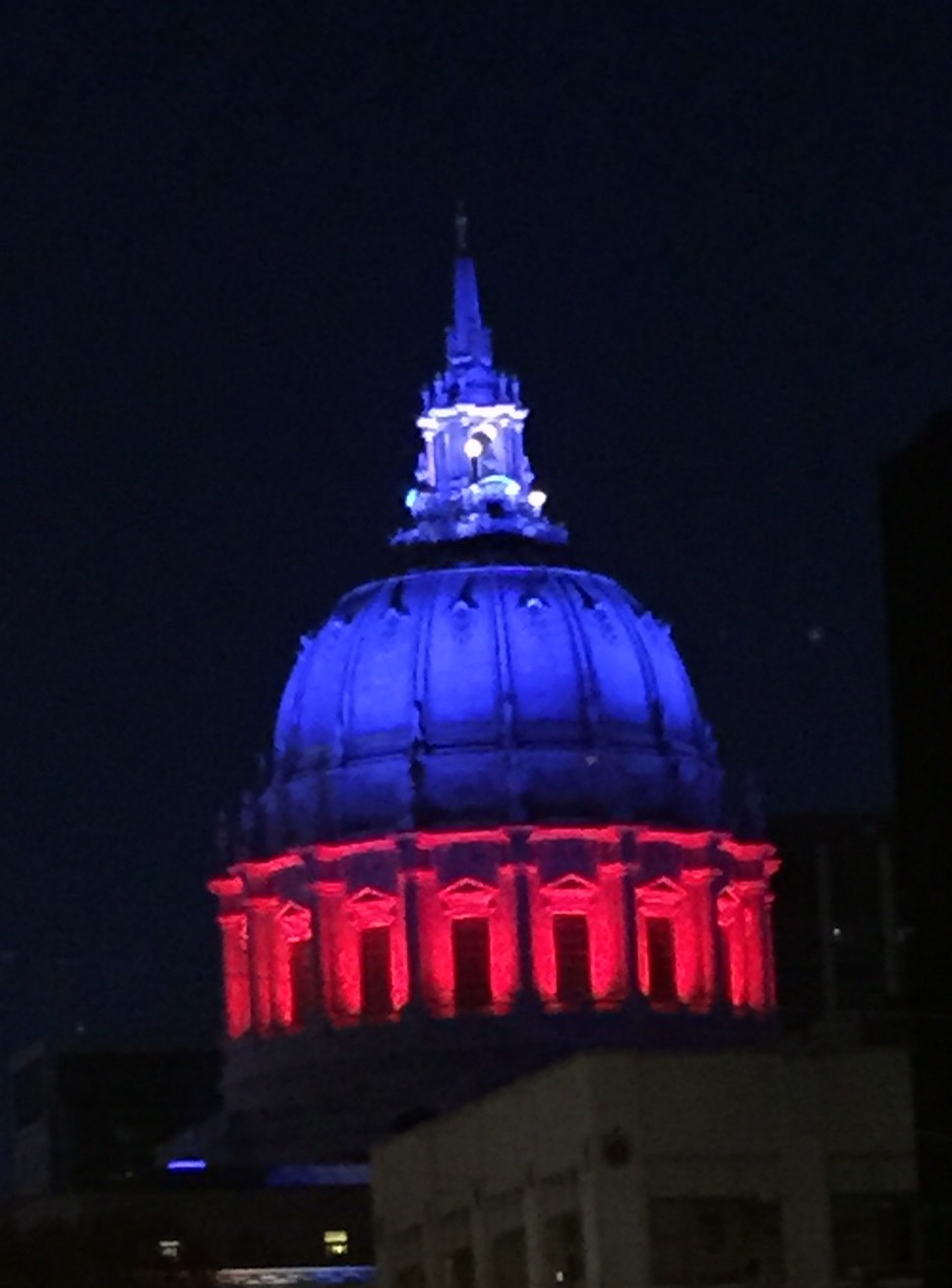 City hall with the French national colors
This was my second time at Davis Hall seeing the San Francisco Symphony. Let me quickly tell the story about the first time.
As a sophomore, my high school orchestra went to San Francisco for a trip. We did lots of interesting things - I remember we played a concert at the museum at the Legion of Honor, for example. Also, we took in a SFS concert, with Sarah Chang playing Prokofiev's first concerto as the highlight (at least for me…I think actually the main piece for the orchestra was Debussy's Images).
As you'd expect, we had nosebleed seats. Before the concert started, I got into a really long conversation with one of the ushers. We talked about Sarah Chang, about my orchestra, and about my violin playing. I think it was clear how excited I was to be seeing such a big city orchestra as well as a big name soloist. He asked to see my ticket, saw they were nosebleed, and said something like "well that's no good, wait here a minute". He disappeared into the theater and then magically came out a few minutes later with a new ticket for me!
I ended up sitting in a box seat right over the left side of the stage. I had a perfect view of Sarah Chang. And I did a great deal of people watching of the other people in the box with me (an older gentleman was there with his wife, and he slept for at least 90 minutes of the 2-hour concert). It was an amazing experience, and I'll never forget the random act of kindness by the usher.
Back to last night, before the concert started, we messed a little bit at the shop. Since it was my birthday and I felt like splurging on something, I ended up getting this Mahler t-shirt. No regrets.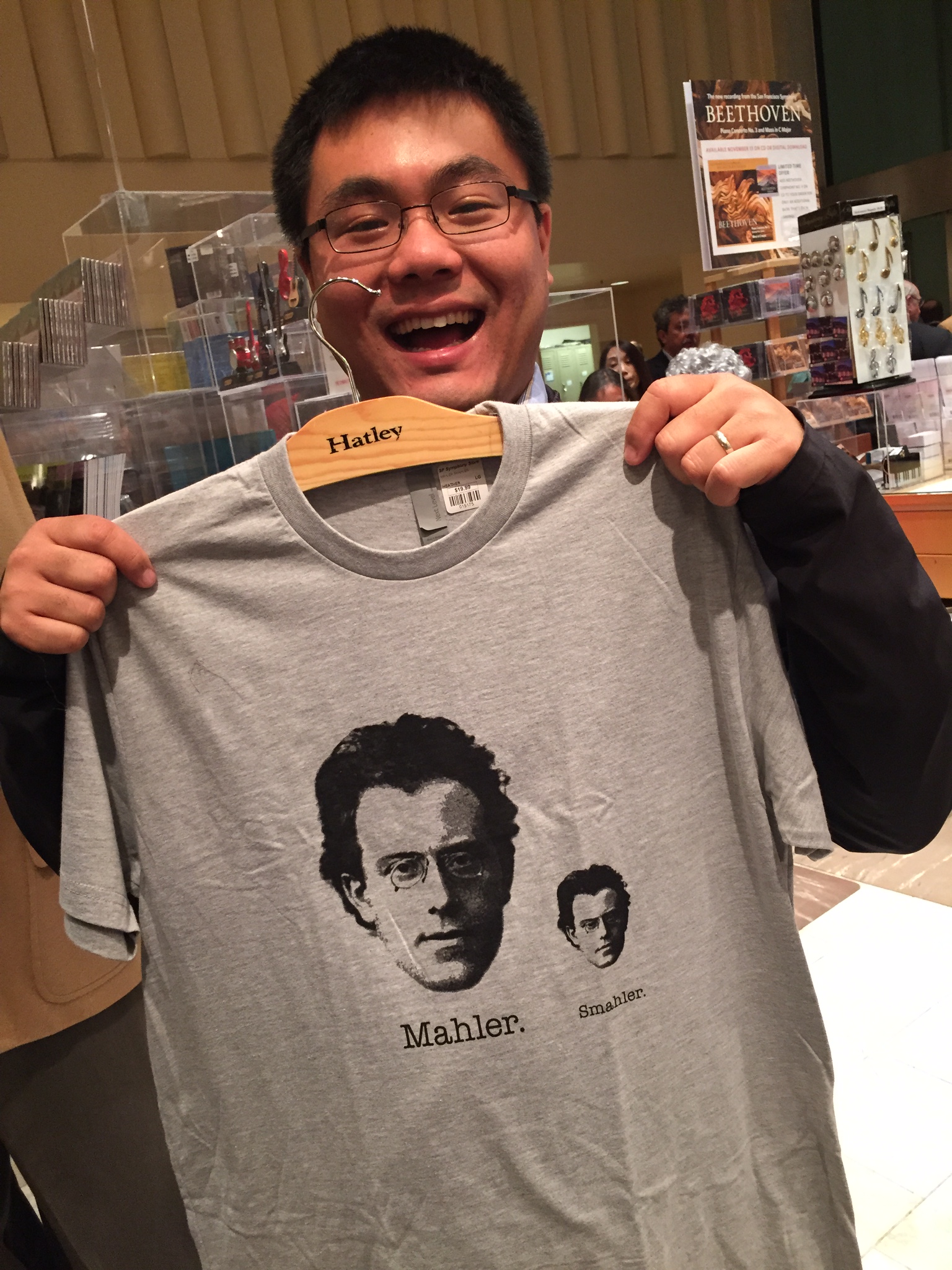 Two Mahlers are greater than one
Last night, we had box seats all the way at the back of the main floor. The view was excellent, but the acoustics were not great. The upper sections were above us, meaning the sound that reached us wasn't fully what was in the hall. I don't think we'll sit there again.
The program started with Sibelius' haunting Swan of Tuonela, with its beautiful and ethereal English Horn solo. Going into the concert, I was worried that my expectations were too high for the SFS. Sure, there were a few recordings I had of them that are excellent (I particularly like their recording of the Berlioz Symphonie fantastique). We had just spent the last 3 years in Seattle with the Seattle Symphony. They are…not a top tier orchestra. You can read through my previous posts for that. And prior to that, I spent 6 years watching the Chicago Symphony Orchestra, which might be the best in the world.
Would the SFS be closer to Chicago or to Seattle? I'm glad to say, they are much closer to Chicago. The orchestra immediately set the right mood for the Swan to make its appearance. The English Horn solo was flawless. This was a really good sign of things to come.
Leonidas Kavakos and the Sibelius Violin Concerto came next. I mostly knew Kavakos from his excellent recording of the six Ysaye sonatas. But, I'd never thought seriously of him or seen him live in performance.
Kavakos started the world-famous opening of the Sibelius even more softly than others. His sound was good and pure, but very small. I actually wondered if he had muted his violin, but he hadn't. In terms of sound, his is just not the really big kind that fills the hall (like Perlman or even someone like Hilary Hahn). He also has the Joshua Bell vibrato complex, which means he has an amazing, wide vibrato, but he doesn't use it all the time and in fact keeps some notes completely bare of vibrato. I hate that - I don't think it adds to the music the way these performers think.
In fact, Joshua Bell is a really good comparison for the tall, lean Kavakos. They both have very refined sounds that don't quite fill the hall. They both do the inconsistent vibrato thing. They both have very unique interpretations of the music. However, one thing that's different about Kavakos from every other concert violinist I've ever seen is that he does not move at all on stage. No leg movement, no upper body movement, just completely still. In that aspect, he's a little like the great Nathan Milstein, who was a totally cool customer on stage.
Watching Kavakos reminded me of why I always love watching world-class violinists in person. Your garden variety graduate student violinist can usually do well with the left hand (or the fingerboard gymnastics, as I sometimes see it referred as). But it's the bow arm that separates the masters. There's economy of movement and effortless bow changes. With Kavakos, there were several times where I watched where he was with the bow and where he was in the phrase and thought to myself, there's no way he can make that work. But he does - he draws the same amount of sound no matter if he's all the way at the frog or at the tip. With the kid now at 16 months old, we've obviously had to cut down on our viewing of live performances. But this is why I will always come back - it's stunning to watch masters in live action.
Kavakos did a really great job in the first movement cadenza. This cadenza is really hard to play because it builds momentum throughout and the soloist has to pace it so the climax doesn't come too early. Kavakos did really well with that, and of course technically he played it flawlessly.
In the second movement, he started opening up a little. His vibrato widened as he took the gorgeous opening melody. His voice broke a little when he had to play all the way up on the G string - again, robustness of sound is not his forte.
Finally, the third movement was his best. He quickened the pace significantly (both the first two movements were on the slow side). He even started moving a little bit. For those familiar with this piece, there are fast running thirds, which are devilishly difficult for both left hand and right hand. Kavakos did something I'd never seen before - he played them with a down bow the first time around and then up bow a few bars later. That run is hard enough and difficult enough to master going just one direction. But he made it more difficult by doing it both ways, and it seemed to fit what he was trying to do with the phrasing.
When he finished, I finally saw some difference in San Francisco, particularly with the audience. Kavakos would've gotten a no-doubt standing ovation in both Chicago and Seattle. Instead, here, the audience was lethargic and inconsistent. Not many people stood up, and it took a handful of people (us included) to keep the applause alive so that Kavakos would come back to the stage for an encore.
Finally, he complied with an encore. He played a beautiful, serene, piece that I did not recognize. It sounded like folk music, and it definitely sounded like it was not written for violin (it has long-flowing chords, reminiscent of a classical guitar piece). I later found out through a simple Google search that the piece is Recuerdos de l'alhambra by the guitarist Francisco Tárrega. Here's a YouTube video of Kavakos playing the piece (PS. the guitar version of this piece is incredible).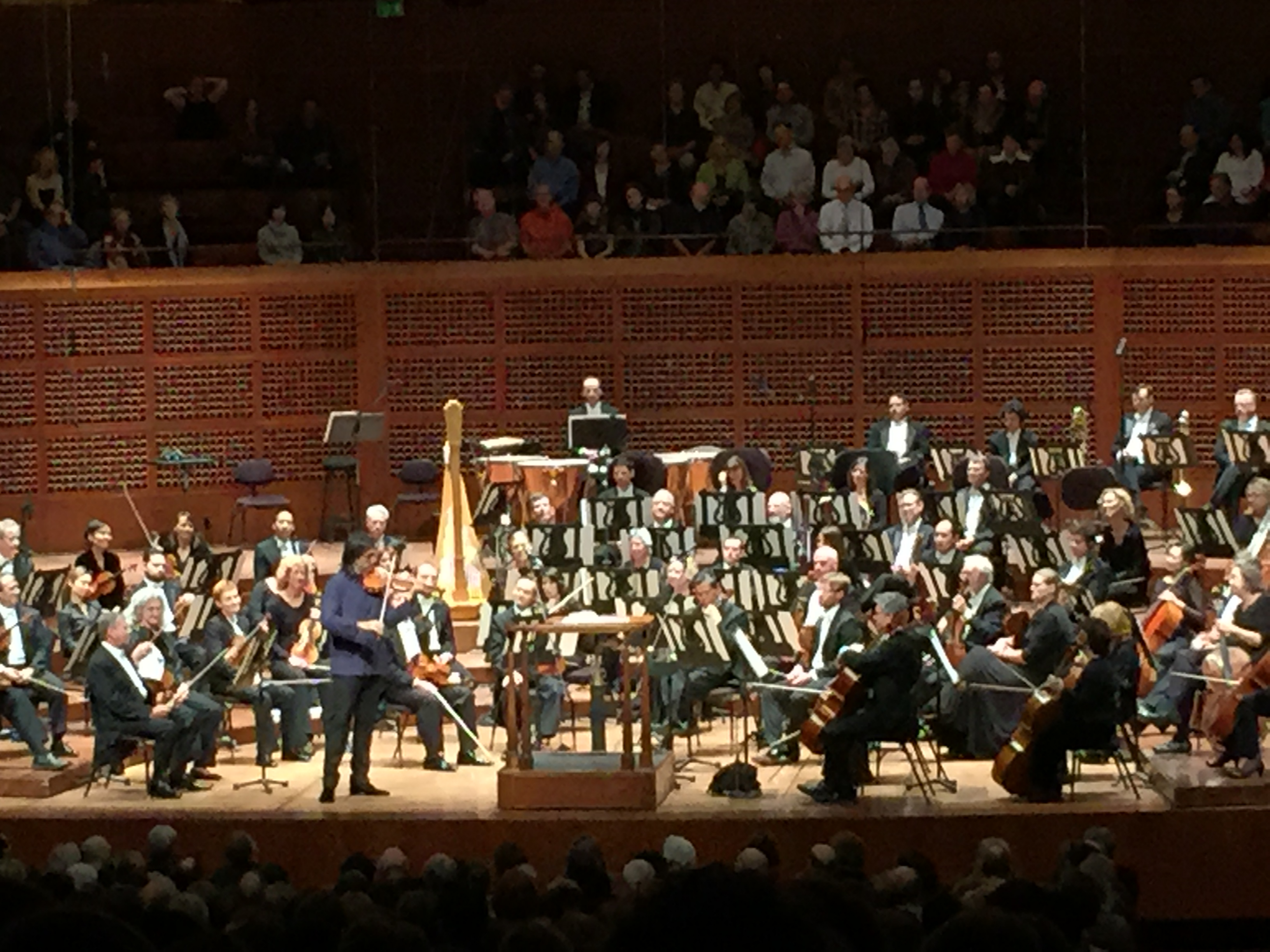 The orchestra looked happy to hear the encore
After the intermission, we took in Michael Tilson Thomas (MTT) conducting Schumann's Symphony No. 3 (the "Rhenish"). The orchestra didn't really shine in the concerto - there were numerous instances where they were out of sync or tempo changes didn't happen precisely. But, obviously, they didn't need to shine until now. The orchestra played wonderfully, and MTT was the same joyous conductor I'd gotten to know in videos and interviews.
I think MTT is the spiritual successor to Leonard Bernstein. There are obviously many parallels: they're both American-born, both Jewish, both gay (although Bernstein not openly so), and both headed a major metropolitan orchestra. But they are also incredibly similar as artists. Both championed Mahler, both took to television to educate audiences, and both are incredibly joyous in how they conduct. It's amazing - MTT is in his 70's, but immediately it's apparent from watching him that he's having fun on stage. There are very few conductors I can say that about.
There was a really fun moment in the Schumann. Before the start of the third movement, MTT started motioning the orchestra to begin when he all of a sudden stopped his motion. Some of the orchestral musicians started, but most stopped. MTT himself chuckled about it on stage, and the audience did as well. It turns out that one of the violists was not ready and was adjusting their instrument. It's just that MTT didn't notice it until he was mid-air with his baton. Again, it's hard to think of other conductors that could pull this off, let alone immediately pass it off as a light-hearted moment.
The orchestra was great. The string players all played in unison, with similarity of style and movement. The brass was loud and powerful when needed. And everybody completely followed MTT through tempo changes and other actions.
This was a really good start for my (hopefully) long relationship with the SFS. I didn't talk much about MTT's love of Mahler, but that's because I'm saving it for next time. We will see the SFS play Mahler's Das Lied von der Erde (The Song of the Earth) in April. I can't wait for that one!
Topics: MusicMusic:ConcertsMusic:San Francisco SymphonyMusic:Violin Soloist
comments powered by

Disqus