CMSO Firebird Concert
February 22 2010
Chicago Metropolitan Symphony Orchestra played the "Fantasy" yesterday:
Bach: Toccata and Fugue in D Minor Pierne: Concertstück for Harp and Orchestra Nuiko Wadden, Harp Mussorgsky: Prelude, Khovantchina Stravinsky: Firebird Suite
I think Russ is really stretching with some of these concert themes, but "Fantasy" is as good as any for this concert. The Bach and Stravinsky were in Fantasia movies, and the Mussorgsky and Pierne are picturesque, soundtrack-type pieces that fit in well.
I'll go in order. The Bach was nearly a disaster, as we just didn't have enough time to rehearse it. The fugue section is actually pretty difficult technically and really difficult in a large ensemble.I think we played it well, and we did it without resorting to stereotypes (i.e. it was not overdramatic).
The Pierne was a pleasant surprise. I think it sounded a little too much like movie music, but it was still very enjoyable. Harp soloist was very good and impressive. From my viewpoint, I could actually see her hands shaking before starting off some passages. Once she started playing, though, her movements were natural and gorgeous. I just found out that she is the harpist in the Janus Trio, which I feel like I've heard of before.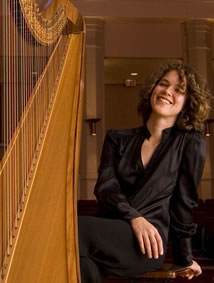 Ruiko Wadden, Harp
The Mussorgsky is one of those pieces with an absolutely sublime melody line, something that you could get lost in for minutes at a time. Our oboist absolutely nailed the solo. I will need to explore the opera a little bit more, if only just for that melody line. By the way, I don't know what it is with me and the Russians. I can think of 5 or 6 melodies off the top of my head by Russian composers that make me pull a J.D. from Scrubs. There's the Borodin Polovtsian Dances. The line that builds and eventually climaxes in the last movement of Tchaikovsky's Pathetique. The second theme in the first movement of Pathetique. The slow movement of the second Prokofiev concerto. The second theme of the first mvt of the Khachaturian concerto. The slow movement of Tchakovsky 5. All of Scheherazade. I guess my point is, I'm easily drawn into Russian melodies.
The Stravinsky was a real challenge. I've become a pretty fast learner of music, but it took me several tries at the Stravinsky before I could even develop a roadmap in my head, and even then the notes were still hard. I ended up needing to fake a few passages (first movement, just before the start of the Princess Dance, and the end of the Infernal Dance. However, once we had played and rehearsed it a few times, the piece actually started to make sense.
I actually have a pretty long history with the Firebird suite. Back in 10th grade, my youth orchestra had a series of Russian-heavy concerts (something like Shostakovich 5, Polovtsian Dances, Russian Festival Overture, and the Finale of Firebird). In my 10th grade English class, I did a big report about 20th century Russian composition. It was painfully basic stuff (i.e. look! Stravinsky's using percussive sounds!), but hey, I didn't (and still don't) know anything about music theory. However, it confirmed my love of classical music. During that time, there were a few recordings that I listened to obsessively. One of them was Eiji Oue and the Minnesota Orchestra doing the Firebird Suite. I'll talk about the other recordings later. The point is, in 10th grade, I never thought I would get the opportunity to try such a complex and substantive piece like Firebird. On Sunday, I got to be part of an experience that actually transformed the piece for me.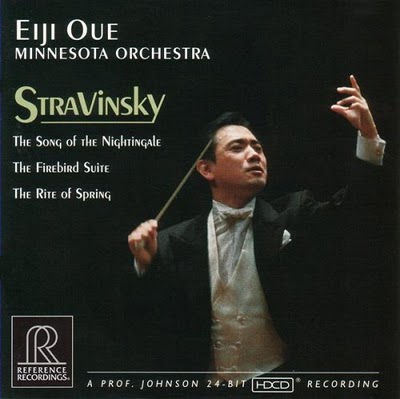 I listened to Firebird roughly 3,764 times in 10th grade
Our performance completely exceeded my expectations. The Infernal Dance was fast and exciting. The solos were absolutely gorgeous in the Princess Dance. The first movement actually moved with purpose and didn't drag. And the Finale was actually quite intense, one of the better experiences I've taken part in.
Brahms 1 is next.
Topics: MusicMusic:Concerts
comments powered by

Disqus