Gil Shaham Solo Recital at Stanford
December 08 2021
In our first indoor concert since Covid began, we got to see my all time favorite violinist, Gil Shaham, play a solo program mostly consisting of Bach. It was a nice little return to normalcy, but it did still feel wierd to be there, and the audience was not nearly full.
The venue was at Bing Concert Hall on the Stanford campus. It's a very nice theater that is small and intimate, perfect for a solo recital. Shaham played Bach's Sonata No. 2 and Partita No. 2 (including the Chaconne) in the first half. He finished with Scott Wheeler's Isolation Rag, Max Raimi's Violin Etude: Anger Management, Reena Esmail's When the Violin, and finally Bach's Partita No. 3.
The Bach was played very similarly in style to the time when we saw him do all the unaccompanied Bach at Zellerbach Hall at Berkeley. Shaham generally played very fast, and he added tons of little adornments and improvisements, particularly during the second time through after a repeat. The Chaconne was majestic as always. It's amazing how the time just flies by, and 12 minutes will just compress into almost a single moment. Shaham's Chaconne, because it's so fast, really makes it seem like a dance and variations.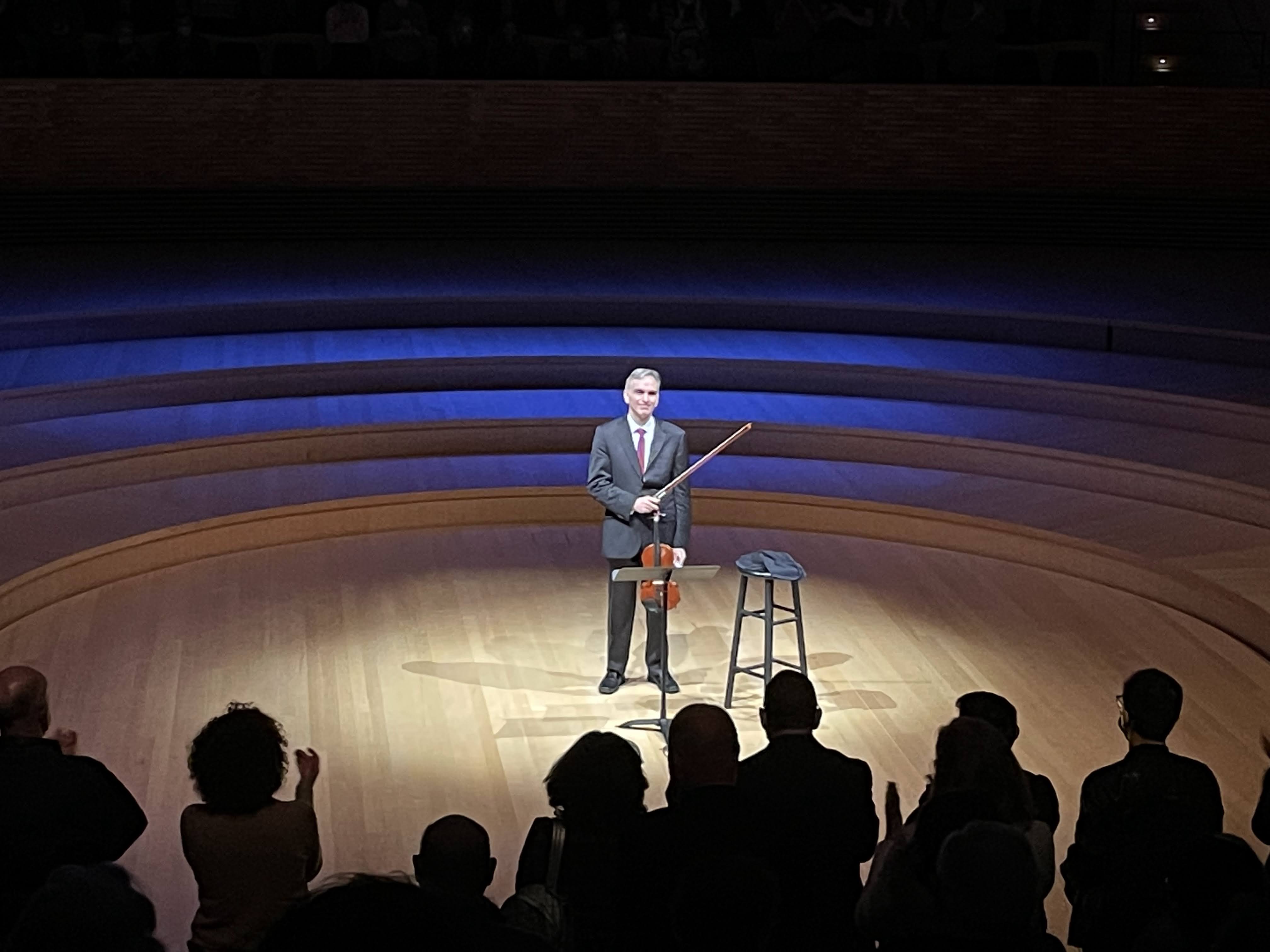 The second half started with three contemporary pieces, all written in the last six years. The Wheeler Isolation Rag was actually written for Shaham and for Covid. It imagines a lonely violinist, stuck at home playing to an audience of one. It is generally a playful rag in the old American style, but it had some interesting references, including a very overt one to the last movement of the Mendelssohn Violin Concerto, which got a big chuckle out of the audience.
The Raimi Anger Management study is almost exactly what it sounds like. There are huge chords, loads of dissonance, and just in general a musical battle between performer and instrument. It was inventive, but ultimately, not that memorable.
The Esmail When the Violin is a real star. It has a bit of a Middle Eastern / Asian feel to it, with lots of open strings and fourths. It was this free flowing piece that both sounded haunting and elegant.
Finally, Shaham ended on the E Major Partita, a reliable ender with its familiar tunes and variations. Unfortunately, there was no encore, despite a worthy try from the audience.
Topics: MusicMusic:ConcertsMusic:Violin Soloist
comments powered by

Disqus