Joshua Bell Recital
February 06 2014
We got to see Joshua Bell live in recital last night. Bell is universally regarded as a top violinist and is one of the leading representatives of his art. However, I had mixed feelings upon leaving the performance.
Joshua Bell played with pianist Sam Haywood. The program started with Tartini's Devil's Trill Sonata, moved to Beethoven's Violin Sonata No. 10, and ended with Stravinsky's Fairy's Kiss Divertimento. Bell also treated us to two encores at the end, Tchaikovsky's Melodie (from Souvenir d'un lieu cher) and Wieniawksi's Polonaise No. 1.
Violinist and Pianist, the classic violin recital
You'll notice the one thing missing in that program (at least until the encores at the end) is something truly romantic, like a Brahms or something like Franck. Bell played two light classical pieces and immediately moved to a contemporary piece with some shades of romanticism. Ultimately, I think Bell does best in those romantic-era pieces, the ones with lots of pathos and big sound.
The one thing it's impossible to ignore with Joshua Bell is that I was always aware that I was watching Joshua Bell*. He has very specific sound and mannerisms that only he would do, and these mostly drive me crazy. The most Bell-specific thing noticeable is his spare use of vibrato. He often lands on notes with no vibrato. If it's a longer note, he will accelerate into a vibrato at the end. This is a jarring effect and not one that I enjoy, especially because Bell's intonation on the non-vibrato notes was not always perfect.
* The pianist equivalent is of course Lang Lang.
Another specific tendency for him is to play with surface sound, rather than digging in for full sound. He did this especially a lot in the first two pieces, which were more classical. I don't consider this a good sound either - I think he's trying to go for a light sound, one that is less intense than normal. However, the end effect is that it sounds like he's playing with a bow that hasn't been properly rosined. Contrast this to other violinists that play with the same intensity and fullness of sound, even during pianos or lower dynamic ranges. Bell's playing seems artificial and shallow in contrast.
The killer thing of course is that Bell has all the tools to play wonderfully, but he CHOOSES to play his style. He's like an athlete that has all the tools and can literally do anything, but he chooses to use them selectively (think someone like Tracy McGrady). It's hard to argue against Bell, as he is commercially one of the most successful musicians today.
I was really quite frustrated with the scheduled program (the Stravinsky was better but Bell still did too much of the non-vibrato cutesy crap). It's when he got to the encores that the true personality and charisma started to emerge. Bell came back on stage and started with a joke. He mentioned how wonderful it was to be back in "Denver". This got a laugh from the audience, as the Seattle Seahawks had just defeated the Denver Broncos in the Super Bowl. The stage lights then turned to green and blue (Seahawks colors), and Bell took that in stride as well.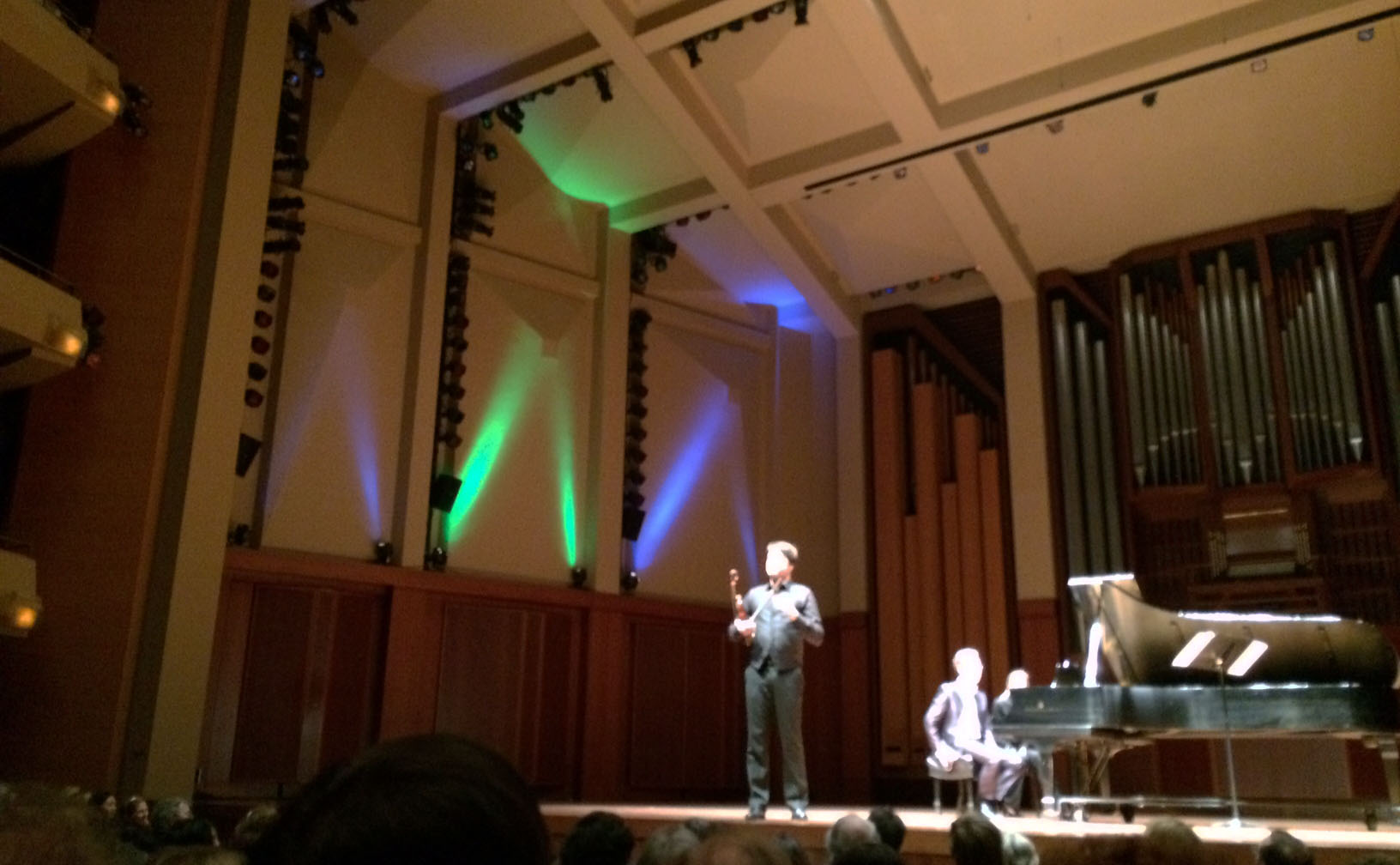 The "Denver" joke backfires on Joshua Bell
Bell played the two encores absolutely beautifully. I could feel the depth of love he had for these pieces, and his music just made so much sense. The crescendos happened at the right places, the vibratos were strong when needed, and most importantly, the sound was consistent. I don't know why Bell played these encores so differently from the rest of the program, but it reminded me just how much talent he has.
We see Hilary Hahn in recital in April. I'll try to keep my memory of Joshua Bell fresh in order to fully compare these two. To me, Joshua Bell is infuriating to listen to - he does all the right things some of the time. Is that any better than doing some of the right things all the time? Not sure. Joshua Bell's ceiling is so high, but I'm not sure he's a violinist that I will consistently want to see and hear.
Topics: MusicMusic:ConcertsMusic:Violin Soloist
comments powered by

Disqus