La Scala
July 10 2012
We've been in Europe for an entire week now, and still have about a week left. So far, it has been five nights in Paris, one night in Lyon, two nights in Geneva (with a day trip to Fribourg), and now Milan for two nights. We are planning on doing Florence for one night, and finally Rome for 3 nights. Lots of knowledge gained from this trip, and I especially enjoy the relatively diminutiveness of the cities.
Upon getting into Milan tonight, it was already past 6 pm and we didn't have very solid plans. We decided to go walk to La Scala since that was arguably the reason for us coming to Milan in the first place.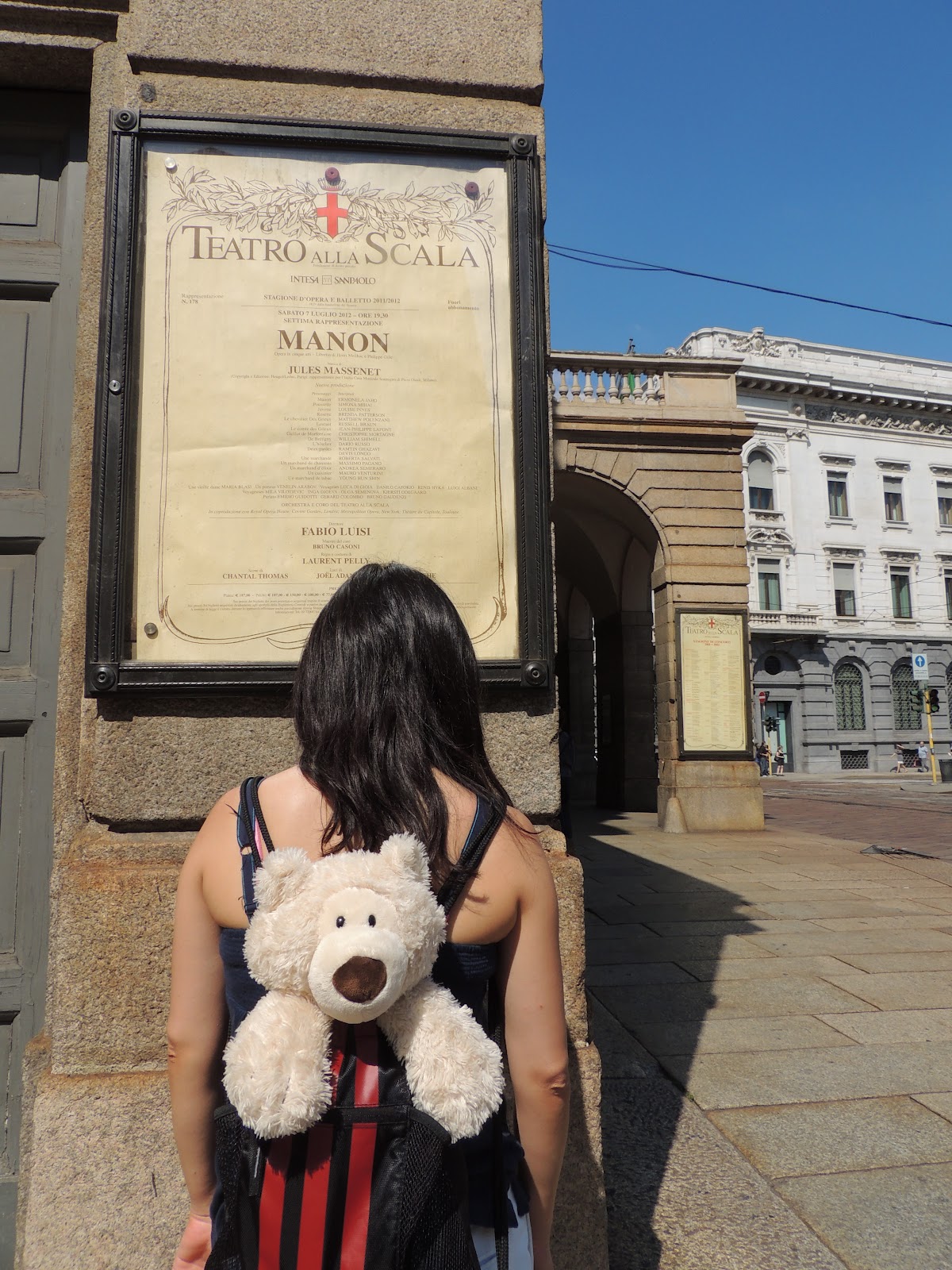 This was the first opera for Hobbes!
When we got there, we started noticing that people were still going in for a performance that night. We inquired about tickets, and were told that Massenet's Manon was playing. It would be 98 euro for each person to sit in a box. That was definitely more than we were willing to spend, and as we discussed whether to purchase, the ticket guy said, actually, we can have the tickets at 78 euro apiece. We were confused by the sudden drop, but still thought the price was high. Without even giving us much time to think about it, he lowered the price again, this time to 43 euro for both of us combined. We jumped at that price, and he told us that we would have to hurry, since the performance was already starting (it was 7:32 and the performance started at 7:30).
We ran to the entrance area, but the usher would not let us in. Specifically they would not let me in. Since Milan was very hot (consistently in the 90's) and we knew we would mostly be walking, both of us wore t-shirts and shorts. Their dress code required men to wear long slacks. After a few minutes of arguing with the head manager, the younger ushers urged us to just go to H&M and buy some cheap pants. Since we had box seats, they could seat us at any time.
We went back outside and actually were about to give up and return our tickets. Then we saw a side entrance with only younger ushers. They had no problem with our clothes, and we made it in! We literally ran through La Scala's staircases to make it to our box - we only missed about 10 minutes total.
These are probably the best seats I've ever had for any musical performance. We had a private box on the right side, 2nd floor from the ground and 8th box from the stage. Great view and the acoustics were fantastic as well. The seating at La Scala is interesting - there were very few seats on the ground floor (or their "Galleria"), and most of the seats are in box seats surrounding the sides and the back of the theater.
Manon the opera was great, although the story was not my favorite. Interestingly, the tenor that played the lead role, Matthew Polenzani, was also the lead in La Traviata at the Met, which we had seen just a few months ago as part of the Met at the Movies series.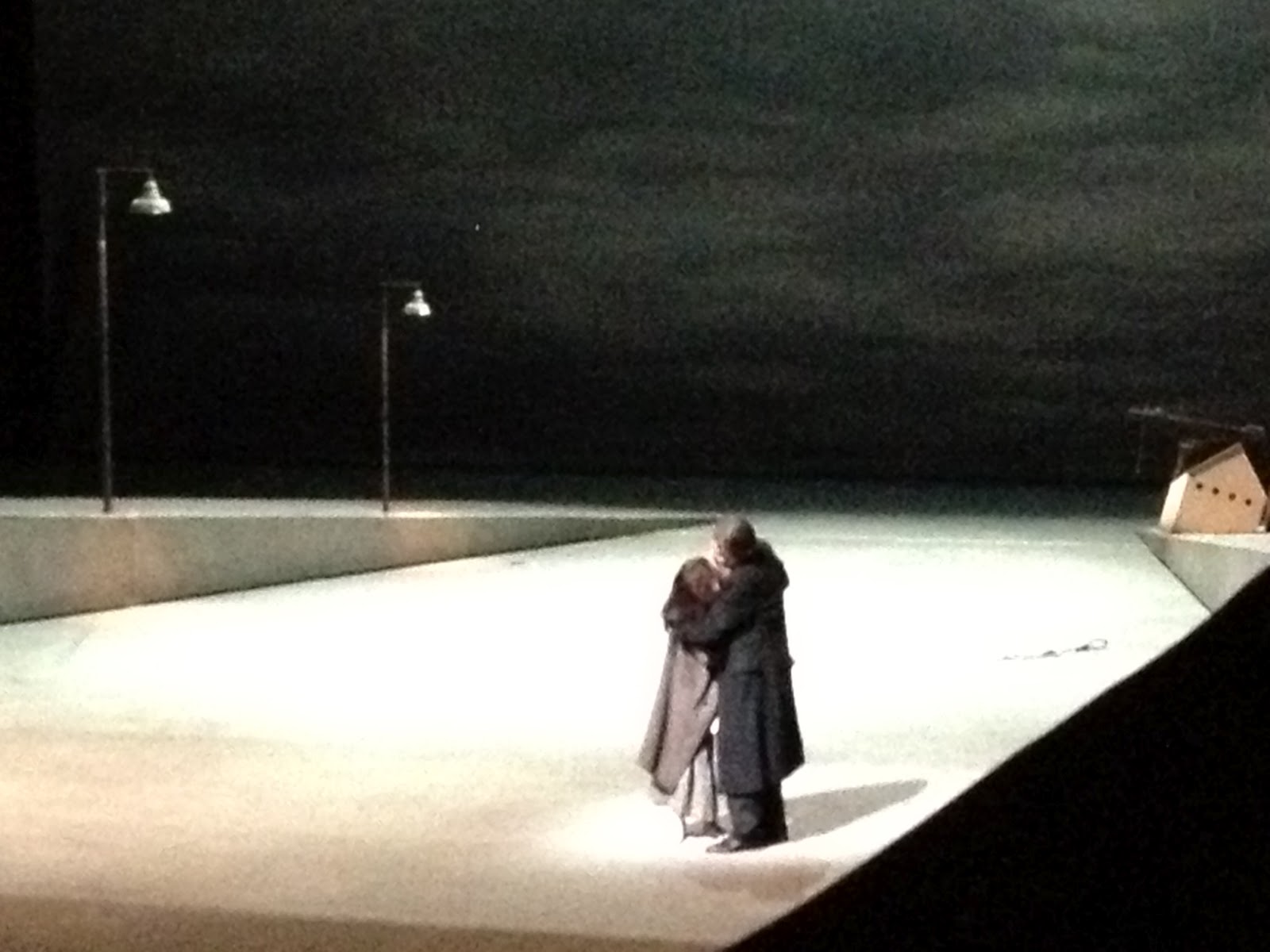 We had a great view
Because we were both still in our tourist clothes, we felt very out of place within the theater. We didn't go out much, and Celia went out to buy some food and wine to bring back (I feared being seen by the manager and getting thrown out).
I think given the circumstances (a famous opera house, the incredible seats, the challenging situation to get in), this will end up being our most memorable highlight of the trip.
Topics: MusicMusic:ConcertsTrips
comments powered by

Disqus