NBA Game in Portland
April 08 2013
We took in an NBA game last Friday, Houston Rockets vs. Portland Trail Blazers. I'd wanted to check out an NBA game in Portland since moving out to Seattle. I'm pretty excited for the potential Kings move, but obviously that's not yet a done deal.
I bought very reasonably priced tickets on StubHub, around $10 per ticket. The tickets were for the upper deck and pretty high up. We got to the stadium early and saw Jeremy Lin warming up.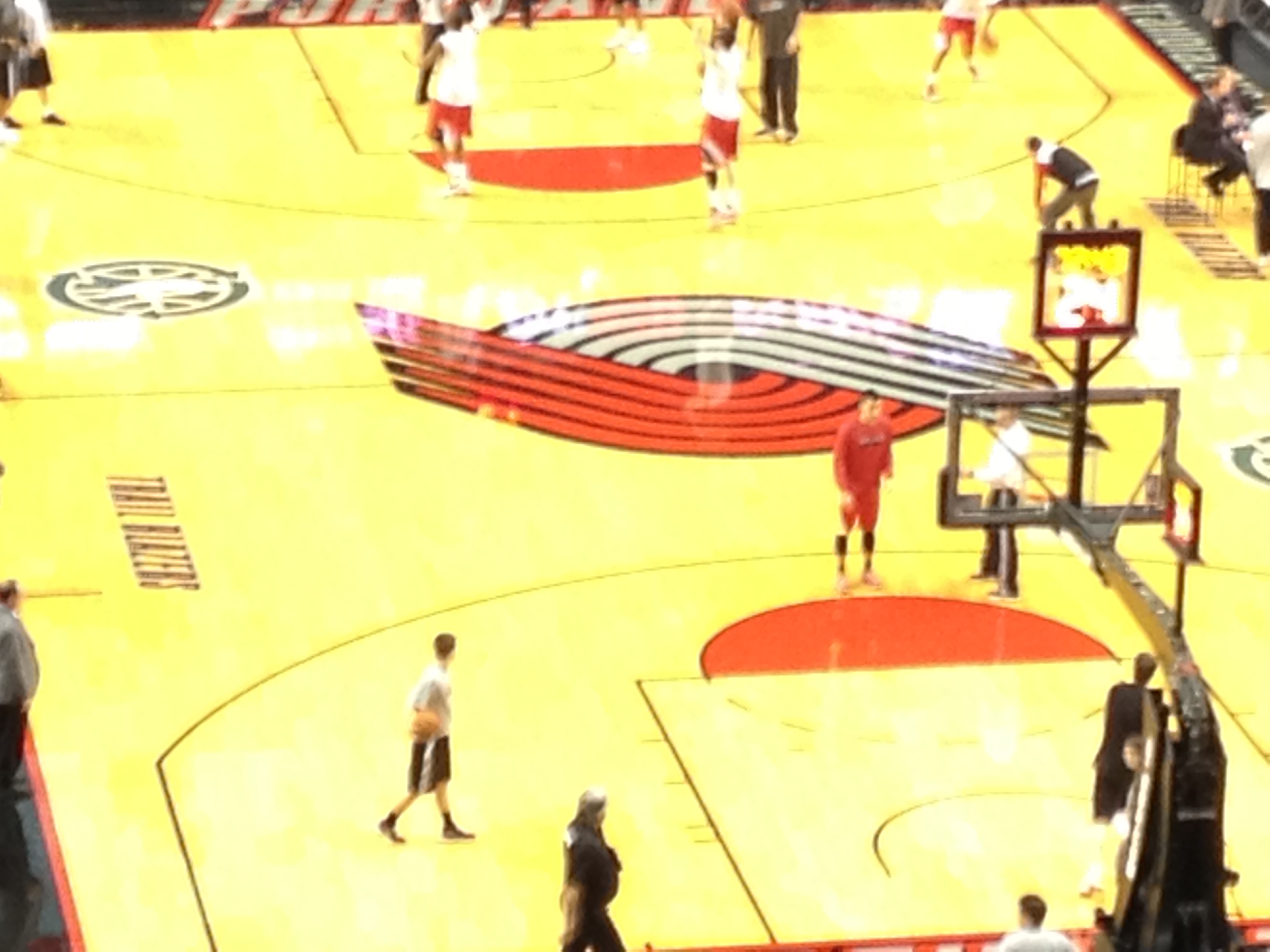 Jeremy Lin practicing threes in shootaround
Because we were so early to the stadium, we were able to move around pretty freely around the stadium and ended up seeing the rest of the shootaround much closer to the court. On the Portland side, Luke Babbit was warming up, practicing catch and shoot situations, mostly taking threes. JJ Hickson also spent a lot of time practicing pick and roll/pop situations. It was great seeing Hickson practice finishing with both hands.
James Harden was warming up on the Houston side. Harden has a casual cool about him that's hard to ignore. When he moves, it looks like he's gliding. Definitely a different vibe from him than from the other players. At one point, I started counting. Harden made 8 threes in a row, then the next 1 of 2, totaling 9 of 10. It all looked so smooth and easy. As a contrast, Jeremy Lin and Luke Babbit hit slightly more than 50% of their practice shots. I definitely think NBA players should be able to hit the majority of their shots in warmup, but the ease with which Harden shot was astonishing.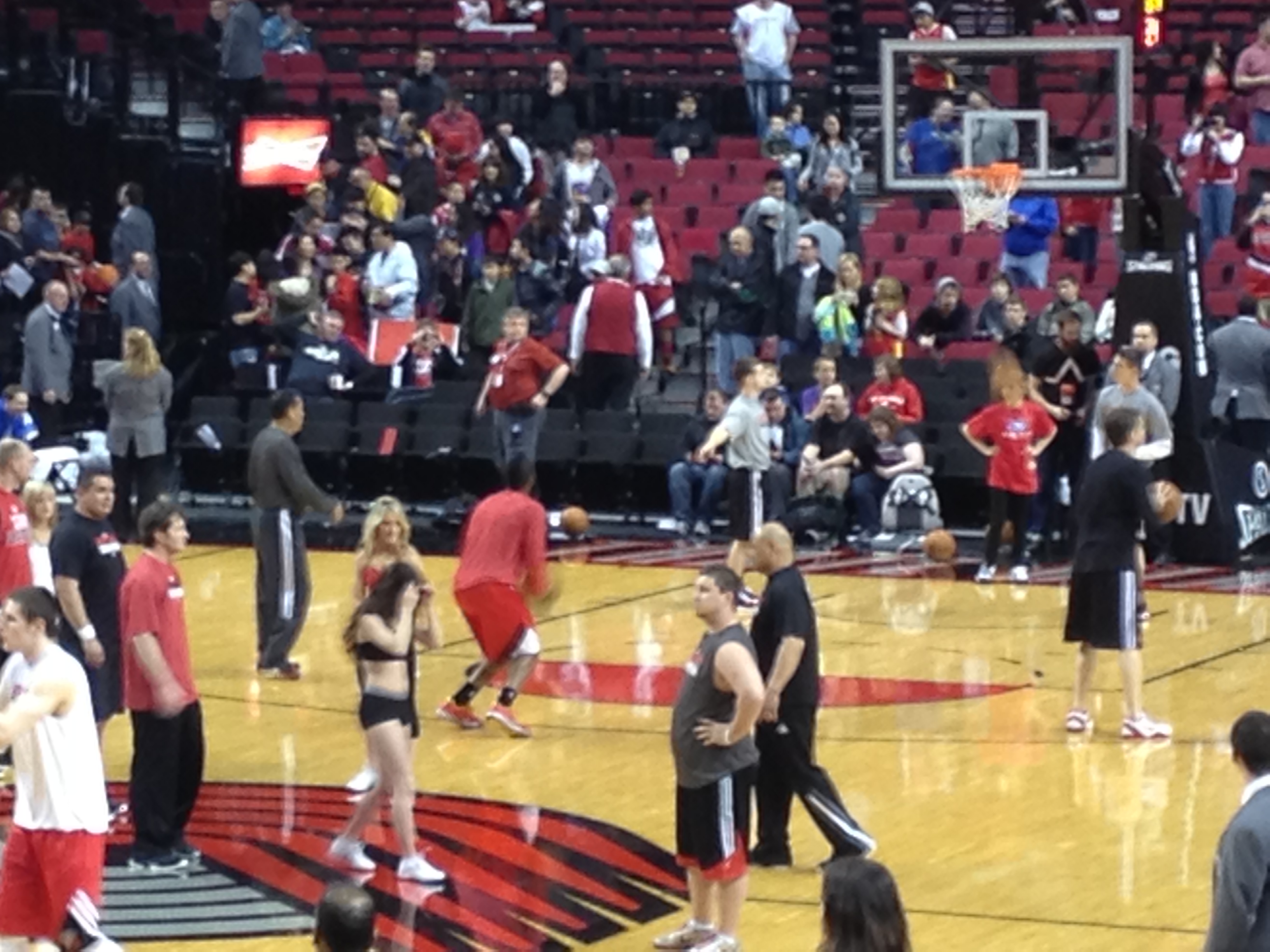 Harden had a great stroke going
We went back to our seats in the upper deck. We ended up taking some unused seats near the front section of the upper deck. The view was significantly better than when I'd previously seen Chicago Bulls games at the United Center. The Rose Garden is much smaller than the huge United Center, so I suspect nearly all the seats have a pretty decent view of the court.
The game itself started off at a very fast pace. I remember the score was 19-18 at the six-minute mark, translating to a nearly 80-point first quarter. It seemed like both teams were making outside shots easily. LaMarcus Aldridge in particular got off to a great start with 6 quick points.
Pretty soon, however, it became apparent that Portland couldn't keep up. They were trading long twos for Houston threes. It just seemed like every time down the court, Houston was able to generate a good look at three.
Portland's defense was off all night. Their rotations were slow, and very basic sets that Portland ran resulted in open threes. In addition, they let Houston leak out on at least two one-on-none breakaways from a rebound, which should never happen in the NBA.
Harden and Lin were both fantastic. Portland seemed to forget all night that Harden is left-handed and Lin is right-handed. They were able to drive dominant hand for fairly uncontested layups throughout the night.
We had a good time overall. Houston won pretty easily and was never really threatened all game. Here's to hoping the Kings land in Seattle next year so we can walk to games in Key Arena.
Topics: BasketballBasketball:Games
comments powered by

Disqus