New Year's Eve with the Seattle Symphony
January 01 2014
We spent New Year's Eve with the Seattle Symphony at Benaroya last night. It was a pops concert that concluded with Gershwin's Rhapsody in Blue. There was a post-concert party with a countdown to midnight. All in all, a pretty fun night with an interesting mix of music.
I generally enjoy pops concerts. The mood is lighter (you don't have to worry about people coughing in the audience or clapping at inappropriate moments). You usually get a mix of familiar and new music. And it's a great opportunity to watch professional musicians sight read during a live concert.
When I played with the Duluth-Superior Symphony Orchestra, I used to love playing pops concerts. These concerts usually feature brass and winds. Even when there is advanced playing required from the strings, it's often a really well-known piece that has a recognizable melody and is straightforward to play. Consequently, I oftentimes only got to read through the music once before the actual concert. With Seattle, there were the classic signs of sight reading - musicians were sitting a little closer to the music, bows were often mismatched, and I could even see some air bowing.
The program for the evening alternated between classical and jazz and ended with the ultimate combination of the two in the Rhapsody in Blue. In order, we got the Star Wars Suite from John Williams, Smetana's Dance of the Comedians, Tyzik's St. Louis Blues, Gliere's Russian Sailor's Dance, Tchaikovsky/Ellington/Strayhorn Nutcracker, Tyzik's Jelly Roll Morton Suite, and finally the Rhapsody in Blue. I'll discuss these slightly out of order in order to better group the pieces together.
The Star Wars suite was just kinda so-so. Morlot said afterward that he "always wanted to do Star Wars". I strongly doubt that. Orchestras do Star Wars because they fear otherwise the audiences won't connect with the music. It's a rather pointless and shallow display of brass and melodies, but it sure gets people excited. I say this as one of the biggest Star Wars fans there is - I simply don't want to hear Star Wars music on the concert stage.
The St Louis Blues and Jelly Roll Morton Suite were pretty interesting. Jeff Tyzik is the pops conductor for the Seattle Symphony and also a cornetist. These pieces featured extensive solos for cornet, trombone, and clarinet. The clarinetist, Ben Lulich, sounded amazing and right away I could hear he was not the typical Seattle clarinetist. In fact, he is the principal clarinetist for the Pacific Symphony in Los Angeles. He must've been called in just for this concert. Altogether, these pieces sounded like basic jazz fare - something you'd expect to hear at a jazz club during dinner. Interesting to hear it on stage, and appreciated on this night. An interesting effect is that we sat so close to the stage (row H) and right in the center, so it sometimes felt like the soloists were playing directly at us. It's MUCH louder when a trombone is aimed directly in front of you.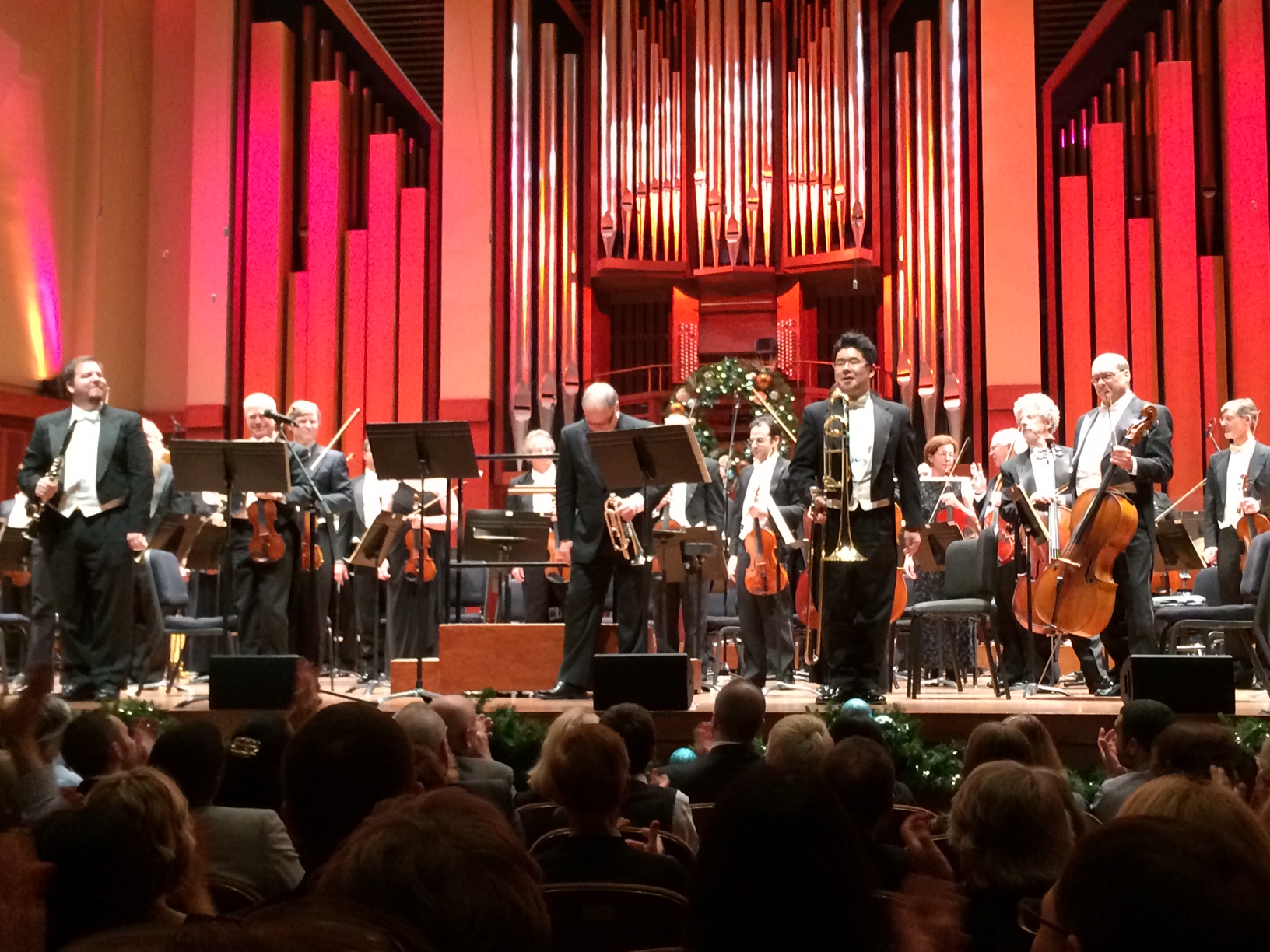 Applause for the three jazz soloists
The Smetana and Gliere sandwiched the Jeff Tyzik numbers. Those two are very basic classical fare, fitting for an overture for most classical concerts. Nothing special to see, although it was interesting just how shallow those two pieces are. The Smetana is basically just a melody and some light variations. The Gliere is barely even a theme and variations; all the variations sound the same.
The Tchaikovsky/Ellington/Strayhorn Nutcracker suite was pretty cool. Everyone knows the Nutcracker piece - there are at least a dozen distinct and well-known melodies from that. Apparently Duke Ellington and Billy Strayhorn had composed jazz versions of five of the suites. The Seattle Symphony performed the classical and jazz versions side by side, with Morlot and Tyzik taking turns conducting the orchestra. It seemed like in pretty much all instances (except for the Waltz of the Flowers, my favorite Nutcracker dance), the jazz version was more fun and better to listen to. That's not really fair - it's likely the jazz versions were so fun simply because we all know the classical versions so well. Still, it was an interesting thing to see on stage, and I'm glad Seattle did this.
I've recently purchased a CD with the Ellington/Strayhorn Nutcracker suite, a jazzy Peer Gynt suite, and some other miscellaneous songs. I've only listened to a little so far, but I already highly recommend it.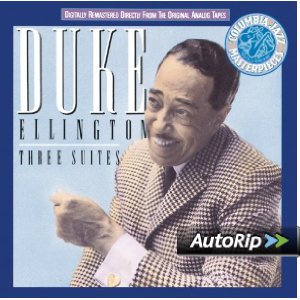 Seems like Duke Ellington is always a fun listening
Finally, we ended with the Rhapsody in Blue, with pianist Jon Kimura Parker. This was pretty straightforward, but I still loved it. Gershwin's music, and the Rhapsody in particular, is some of the most enjoyable and easy to listen to. Kimura Parker sped through some sections and added extra rubato in other sections; overall, a fine performance.
Listening to the Gershwin, I started thinking about the state of music. This is probably not an original observation, but it's stark how new music today is very rarely able to capture the public's attention and stick. The Rhapsody was composed in 1924. 50 years later in the 70's, it was already well-recognized as an American masterpiece and regularly performed. I was born in 1984. 50 years from that date in 2034, what will be the music we play from the late 20th century? I'm not sure there's an answer to that. John Williams' film scores might last (Star Wars, Indiana Jones, ET, Schindler's List, etc.). Are we still going to be hearing Pierre Boulez and other electronic music composers? Will we hear someone like Osvaldo Golijov with post-modern classic music? It'll be interesting to see how this plays out.
Kimura Parker didn't keep the audience waiting (they may have been running a little late) and jumped right into an encore, with Gershwin's I Got Rhythm. Morlot then came back on stage and lead the orchestra and Kimura Parker in Auld lang syne. He tried to get the audience to sing, but not very many people knew the words. I certainly don't know the words to that song.
The best part of the night, however, was of course the post-concert party and countdown to midnight. When it came time, Morlot, Tyzik, and Kimura Parker all got on stage in the reception area and counted down with the audience. Morlot was particularly cute - he insisted on conducting the final countdown.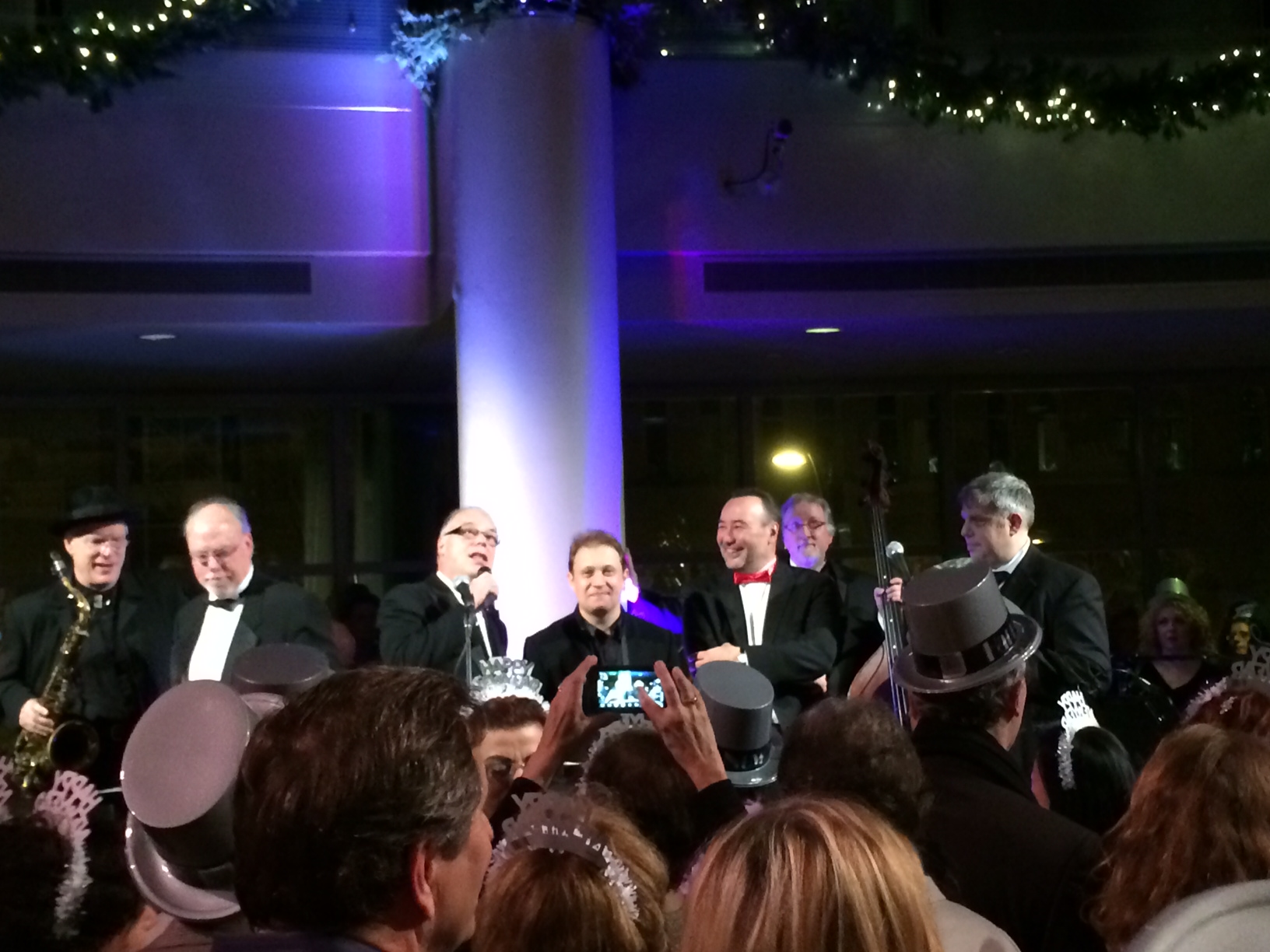 Tyzik, Morlot, and Kimura Parker getting ready to do the midnight countdown
I had some champagne and got to do a little dancing with the wife. 2013 was a great year for us. We bought a house, got married, and Celia started a new job. Looking forward to an equally rewarding year in 2014!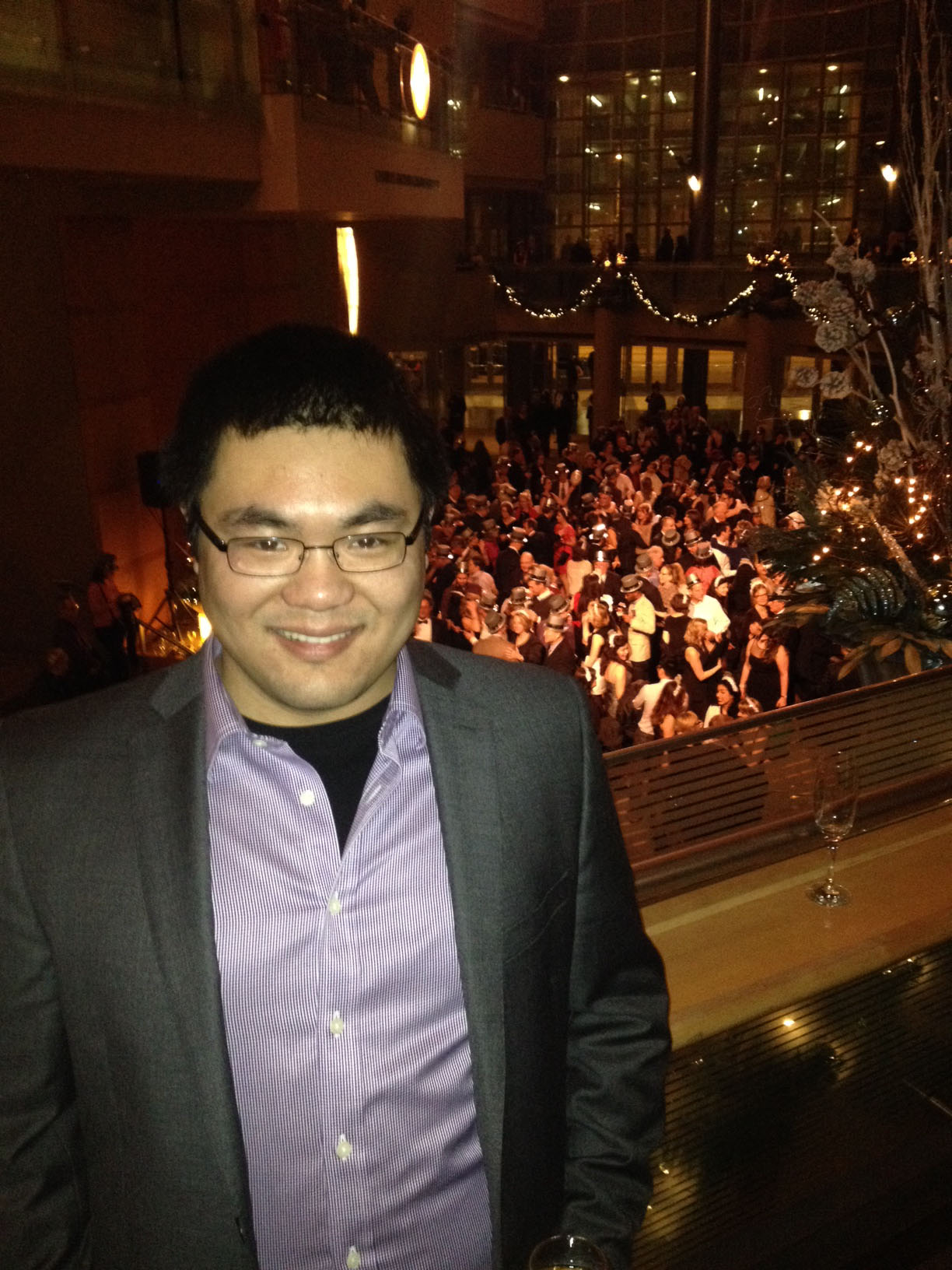 I was pretty happy near the end
Topics: MusicMusic:ConcertsMusic:Seattle Symphony
comments powered by

Disqus