Pocket Highlights
November 14 2013
I recently wrote about Pocket and their need to personalize the experience. They just released Pocket 5.0, a major upgrade, as a first step toward that personalization.
Pocket must collect so much data about their customers' tastes and preferences. Their new upgrade contains something called "Highlights". This basically takes the items in your reading list and tells you how they are trending across the wider Pocket community. Some posts might be "Best of", or some might be "Trending".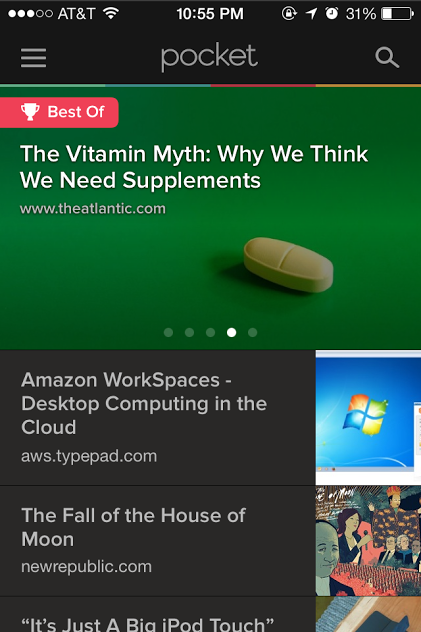 A view of my Pocket list with an article "highlighted"

From a customer perspective, it's helpful and interesting to know how other people perceive the stuff you're reading. However, it's not a major change to the customer experience. Fundamentally, I'm still sourcing content the same way, and I'm using Pocket as a place to organize all the stuff I want to (eventually) read.
The more interesting announcement is the availability of Pocket Preferences, which looks to be an API for third-party developers to make recommendations based on your Pocket usage.
This has the potential to be really useful later on. Say, if Twitter is able to view my past usage and see that I like reading articles about basketball analytics, then it can take the next step and start suggesting people for me to follow. This also provides an eventual path for Pocket to monetize. They can partner with advertisers to really understand customer preferences.
I'm looking forward to seeing what Pocket does next. They have a beautiful app that I use every day. It also looks like they're going down the right path.
Topics: TechnologyTechnology:AppsStrategy
comments powered by

Disqus