Swan Lake
May 19 2010
I meant to write about this much earlier, but I've only found time now. A few weeks ago, I saw the American Ballet Theatre do a production of Tchaikovsky's Swan Lake at the Civic Opera House. It was my second ever ballet (saw the Joffrey do Stravinsky's Rite of Spring last year, which was amazing). Unsurprisingly, the ballet was a completely different experience to watch on stage, instead of merely listening to the music.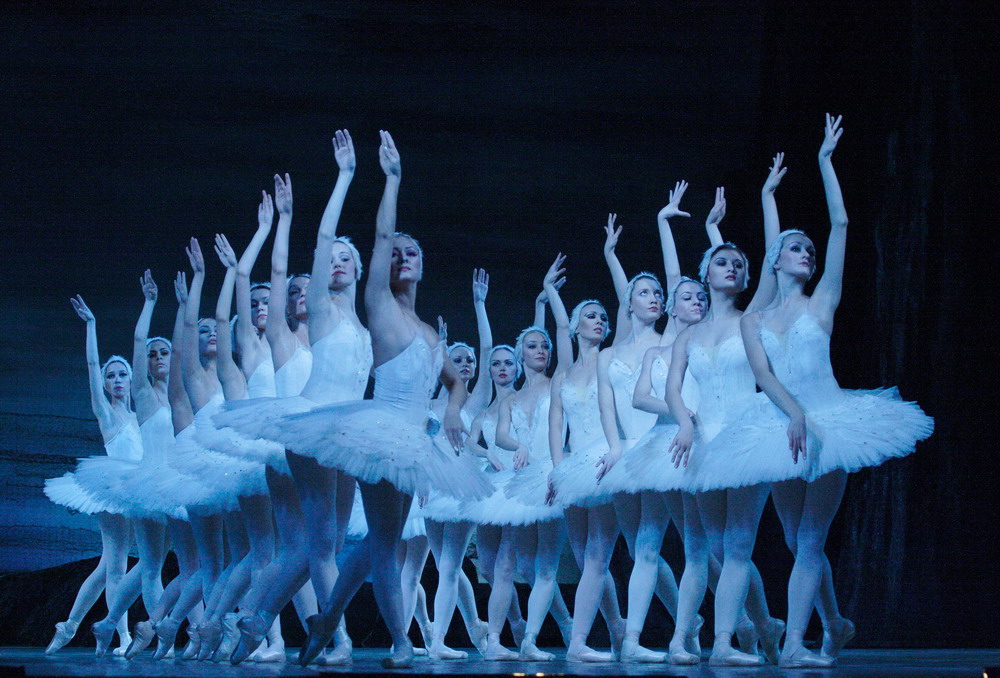 Lots of swans
I have a slight history with the ballet in that the All-State Orchestra that I was in the sophomore year of high school played the suite. The fourth movement of the suite is the Pas d'action, the scene in which Siegfried falls in love with the half-swan Odette. It is a slow scene with a large violin solo. Near the end of the scene, the violin and the cello have solos together, and the intention is that each voice is playing one of the leads. It is a very poignant scene just from the music alone. At the time, I practiced that solo like crazy (I can still play the entire thing from memory). Ultimately, it didn't work out for me in the audition and I didn't get the solo or the first chair position.
The point is, I already love this scene. But having seen it acted out by world-class dancers was a complete revelation for me. The scene is so tender, esp. at the end when the violin and the cello are both going and the two lovers are draped all over each other.
As far as the actual performance itself, the dancing looked really good to me. I especially enjoyed the third act when different countries made their "pitch" for presenting a bride to the prince. Each dance number was pretty extravagant. The instrumental play was actually pretty poor. The Neapolitan Dance features a huge trumpet solo, and the one I heard was really subpar for the level of the performance.
I'm still really glad I got to see one of my favorite "musical" ballets. As an orchestral musician, I sometimes fall into the trap of thinking that the beautiful ballet music I play is just music; instead, it is oftentimes just artistic support for the main show of the ballet dancing. I will have a little more context for the next time I play Swan Lake. I'm also excited to see the other two big Tchaikovsky ballets, Nutcracker and Sleeping Beauty, at some point as well.
Topics: MusicMusic:BalletMusic:Concerts
comments powered by

Disqus