Tosca at Lyric
February 03 2010
I saw the Lyric Opera do Puccini's Tosca last Friday night. It was the first time seeing a live opera for me. We had pretty good seats, on the third floor (not too far, but definitely far enough that opera glasses would've helped). Overall a pretty good experience, but I think it came in slightly under my expectations.
Tosca is a great first opera to see. It has an intriguing but typical story line (crazy woman driven to the edge for love, kills bad guy, everyone dies in the end). The sets were splendid - I really liked the church setting for the first act. Music is solidly Puccini.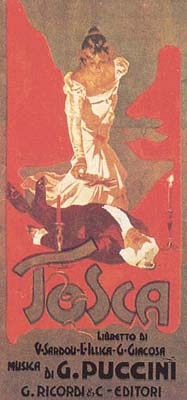 Yep she murders...I know, crazy!
After the first act, I was actually hyper. It was very exciting, hearing the voices in person, and seeing the acting definitely makes a difference. The second act really slows it down as most of the act is a dialogue between Tosca and Scarpia (until she kills him in the end, of course). The final act is brief - I actually wanted more.
In the end, I think part of my underwhelming experience is because I don't really have a connection to the music. Puccini is famous for the most well-known arias, such as Nessun Dorma and O mio babbino caro. There isn't really a signature aria in this opera. The two times I was most engaged were in the final act when Cavaradossi sings his farewell to Tosca and the end of the first act when Scarpia is plotting while the church congregation gathers. None of those really qualify as a "chill" moment for me.
As cheesy as this sounds, the closest I came to the "chill" moment is when I realized during the end of the first act that Tosca is the opera in the background when James Bond is kicking ass in Quantum of Solace. That movie might actually over-dramatize Tosca, although I still think it's cool that I made the connection.
I will definitely try to make a few more Lyric productions. They still have Figaro on their schedule for this year and already announced Carmen, Midsummer Night's Dream, and Lohengrin (among others) for next year.
Topics: MusicMusic:Concerts
comments powered by

Disqus