Touring Munich's Pinakotheken
February 08 2020
I had a free day in Munich, so I decided to make the most of it by visiting all the Pinakotheken art museums that Munich has to offer. Munich seems to have embraced modern and contemporary art in particular, and the entire day was educational for me.
There are five museums as part of the Pinakotheken group in Munich:
Alte Pinakothek (Old, through mid 1800's, a huge collection of Dutch Baroque including Rubens in particular)
Neue Pinakothek (New, meant to cover late 1800's and early 1900's, unfortunately closed for renovations)
Pinakothek der Moderne (Modern and includes design and architecture as well)
Museum Brandhorst (small museum for modern art, focusing on Cy Twombly and Andy Warhol)
Schackgalerie (private collection of mostly 19th century German paintings)
The Neue Pinakothek was closed, but a selection of its highlights were exhibited in the Alte Pinakothek. Below I list some of my thoughts as I strolled through this amazing collection of art.
Alte Pinakothek
I had originally decided to go mostly in chronological order (Schackgalerie was the sole exception since it is farther away than the other museums and thus must be visited separately), so I started the day with Baroque and Classical paintings.

My chronological plan was immediately ruined when I actually went to the Neue Pinakothek collection first instead.

There are some really remarkable Impressionist and post-Impressionist works shown. My favorite was Gustav Klimt's Portrait of Margaret Stonborough-Wittgenstein. In the museum, the tall figure really stands out, and the gold in the background provide exactly the right of flair. The flowing white dress, which is not quite white, and which Klimt takes such care to document all the various folds, is probably the highlight of the picture.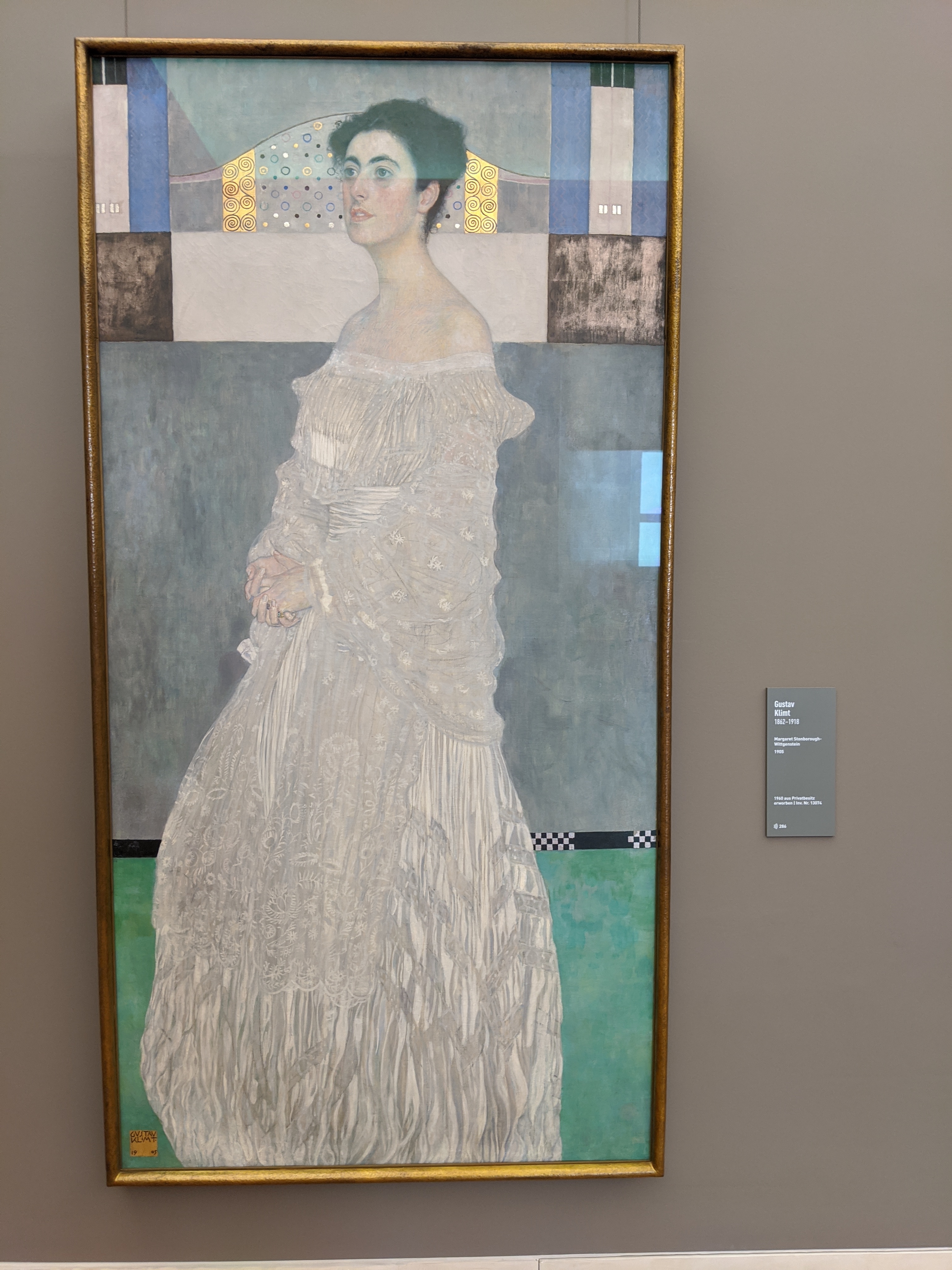 Klimt's Portrait of Margaret Stonborough-Wittgenstein
Manet's Luncheon in the Studio also stood out. The young man depicted is speculated to be Manet's biological son, and Manet portrays him full of confidence and assuredness. The props in the foreground are interesting also, and they give the picture the ambiguous name of (in the studio), because why else would the props be there if they were simply eating in a dining room?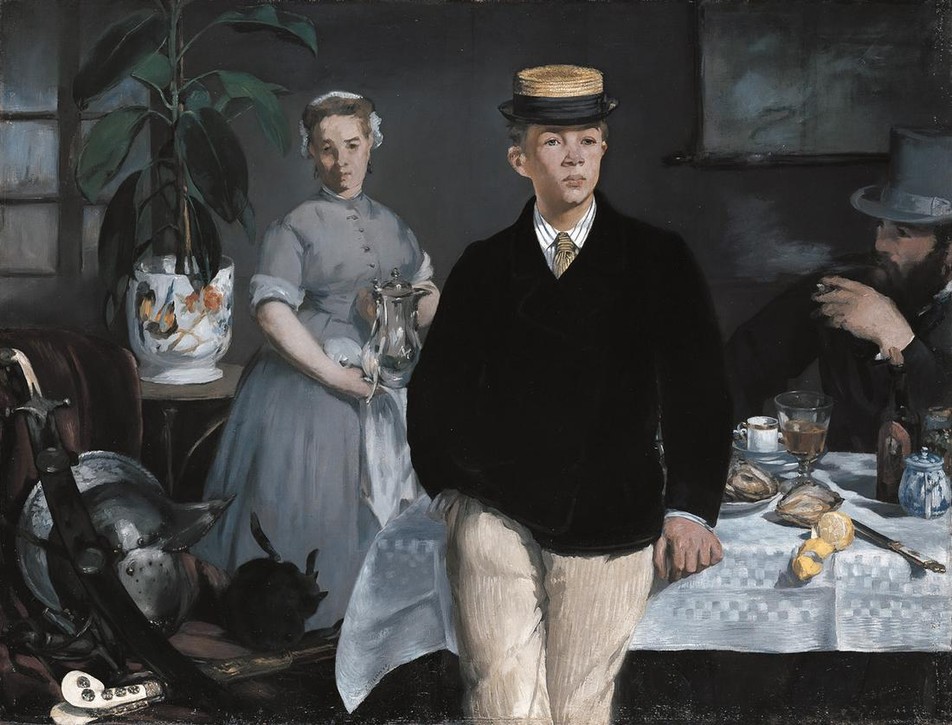 Manet's Luncheon in the Studio
There was a large room dedicated to Germany's landscape painters. I liked the contrast between two landscapes painted by Ludwig Richter and Joseph Anton Koch, where despite the two ostensibly portraying similar scenery, the Richter one makes a much friendlier statement on nature and man's role in nature.

In the main section of Alte Pinakothek is the Baroque, Classic, and Renaissance collections. Probably the most well-known picture is Albrecht Dürer's Self-Portrait. Dürer seems to deliberately portrary himself as a Christ-like figure.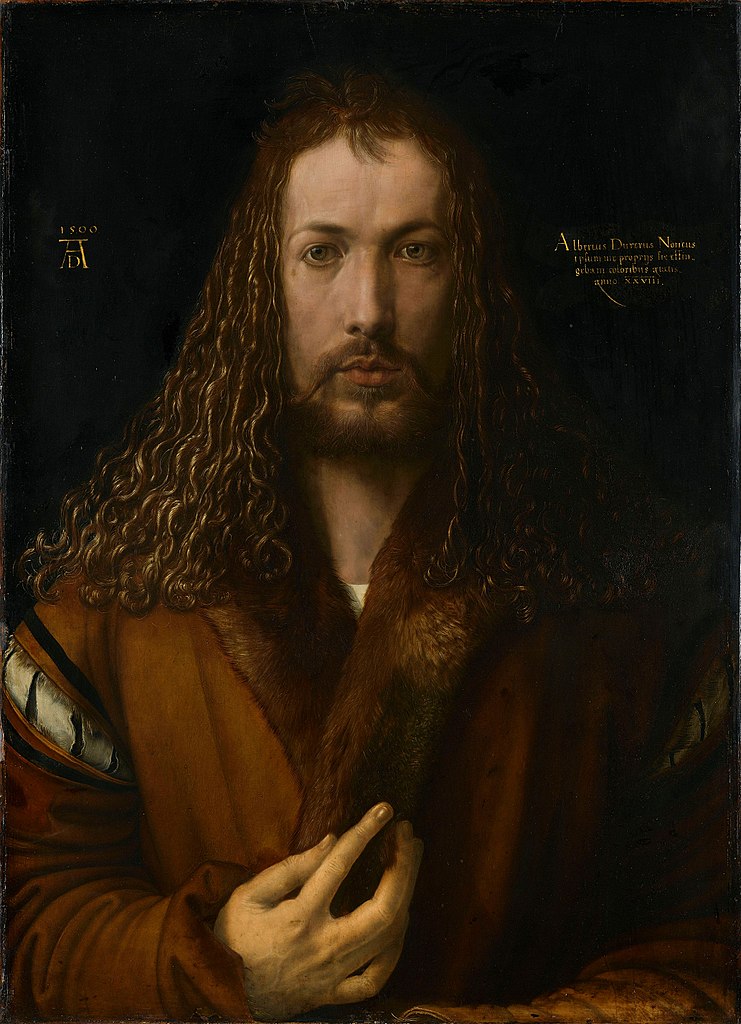 Dürer's Self-Portrait
I kinda got lost walking through the giant Rubens and Flemish collections. The pictures are all huge and grand, and the Alte Pinakothek has high ceilings and hangs some of the pictures way up high on the wall. My only thought while walking through the seemingly endless collection is that Rubens (and all the artists of that time) must have been either very prolific or very busy (and probably both).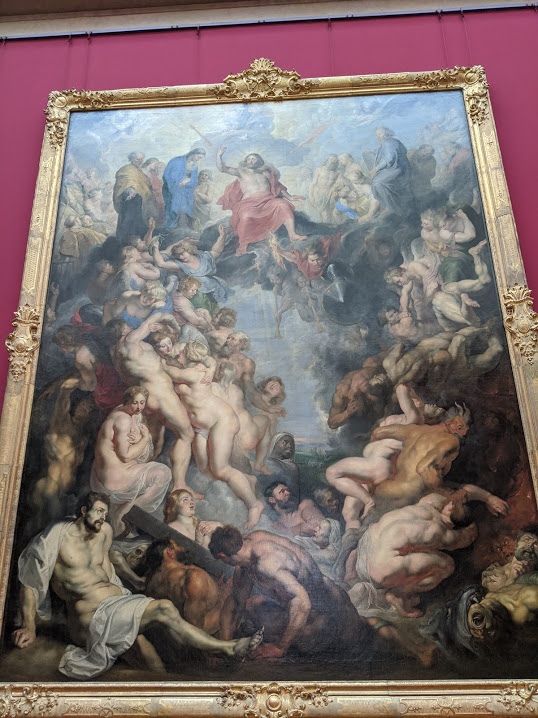 One of a countless number of amazing Rubens pictures
A minor point, but I was surprised at how much natural light the museum allowed, and in many cases, the sunlight would glare off the paintings and make it actually difficult to view the painting.
Pinakothek der Moderne
Maybe the highlight of the Modern Pinakothek is the interesting installation at the entrance, a house that kinda looks like a UFO (or at least how someone from the 1960's might imagine a UFO).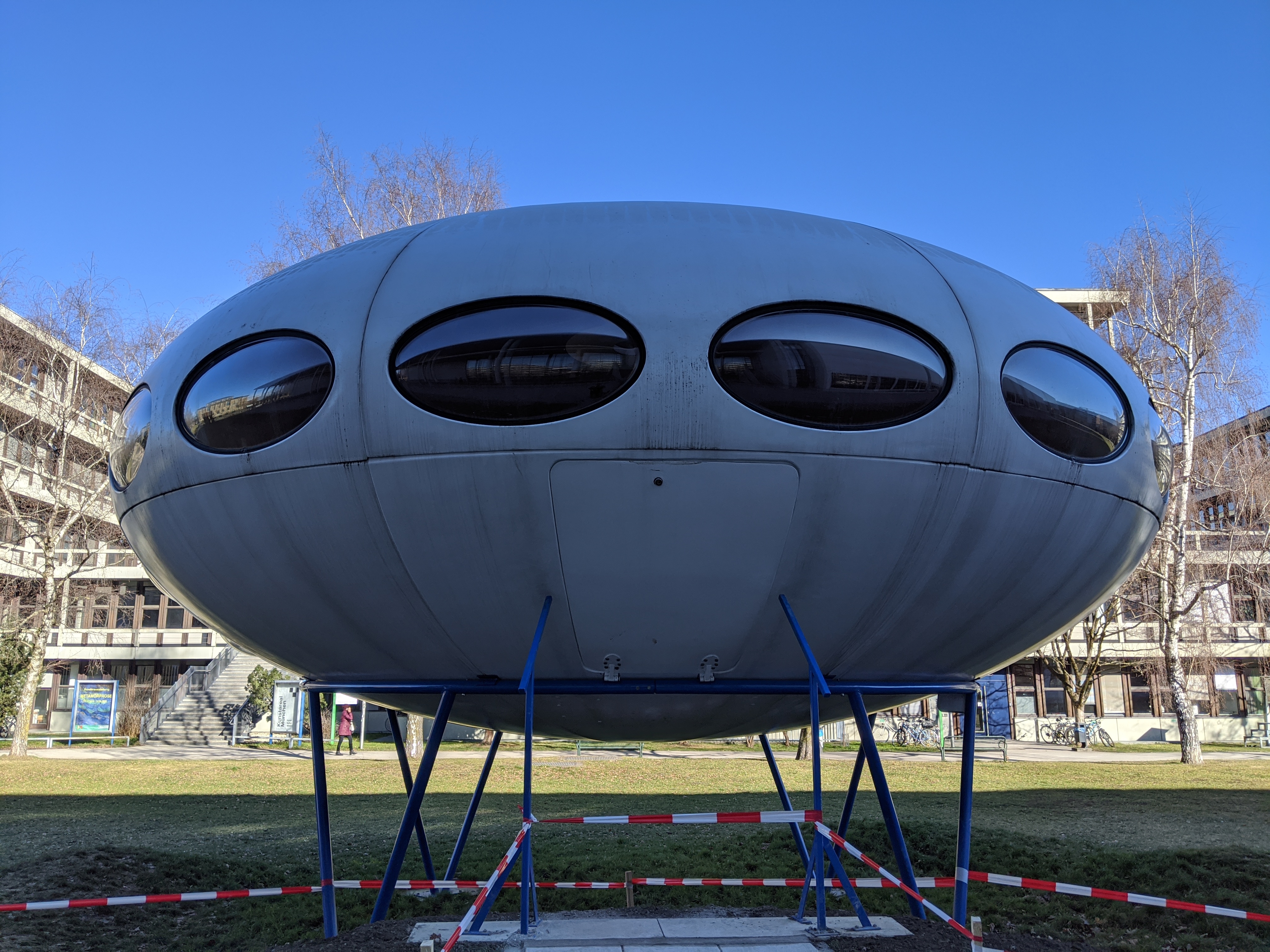 This guy makes for quite an entrance
The Modern museum has an impressive design collection and I went through that first. The section on vehicles featured several interesting concept designs for motorcycles. This one looks like it's been ripped off in several movies.
Looks fast
The paintings section had some Cubist works by Picasso and Braque. I'm still too much of an amateur with Cubism; all the pictures roughly look similar to me, and I have trouble distinguishing them.
Museum Brandhorst
This museum is mostly known for Andy Warhol and Cy Twombly collections. I had just seen a giant Warhol special exhibit at the Art Institute of Chicago, so I mostly breezed through the Warhol stuff.

I had never heard of Cy Twombly, and to be honest, even now after seeing all his stuff, I still am not entirely sure of why he captured so many people's attention and imagination. The Brandhorst has an entire room dedicated to displaying his Lepanto cycle, which is 12 works that depict a 1571 naval battle between the Ottomans and the Holy League. Similar to the Musée de l'Orangerie and Monet, the room was built specifically just to house this cycle. The works are probably too abstract for me.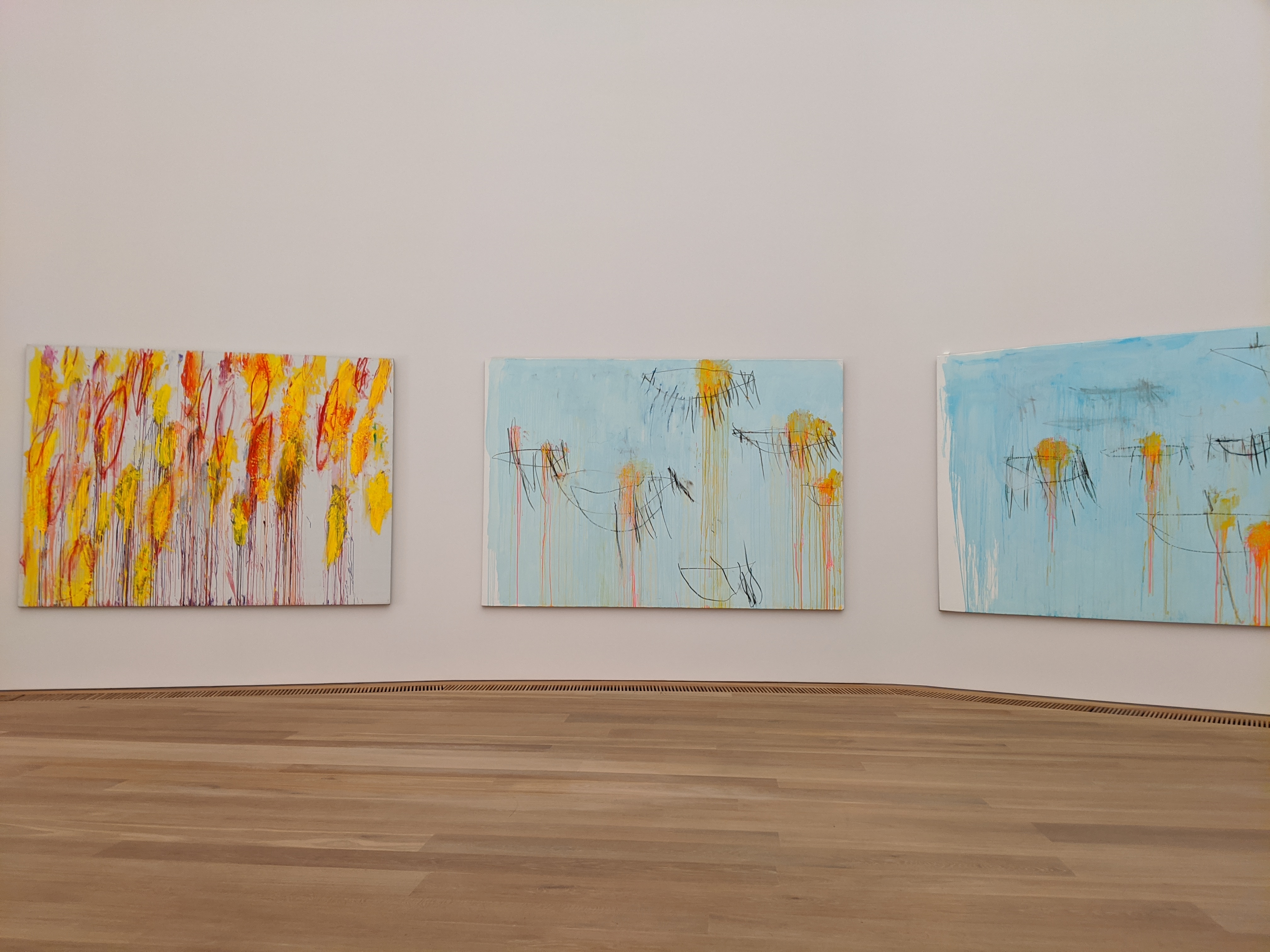 The beginning of the Lepanto cycle
Schackgalerie
This museum houses the private collection of Adolf Friedrich von Schack, a German poet from the 19th century. Unfortunately for Schack, his poetry is mostly forgotten, and he is now mostly known for having amassed this giant collection of art.

Schack's tastes were not very progressive. He seemed to collect mostly German works, and predominantly the types of nature settings that were pleasing to the eye but not really intellectually challenging.

The only one that really caught my eye is Des Knaben Wunderhorn by Moritz von Schwind. Mahler of course did a song cycle based on the poetry collection, and lots of music albums make this painting the cover art for the Mahler songs.
Moritz von Schwind's Des Knaben Wunderhorn
And just like that, my day through several hundred years of art concluded. This day mostly reaffirmed some of my existing thoughts around art.
I'm really drawn to Impressionism and post-Impressionist periods, especially that sweet spot from roughly 1870 to 1910.
I am awed by the Flemish masters like Rubens and Rembrandt, but I don't have any natural intellectual curiosity to go find out more about them.
Modern and Contemporary art remain hit and miss, and in sum they require too much background explanation to deliver their message.
You can have too much of a good thing. Maybe part of what makes the few Manet, Van Gogh, and Klimt that I saw really stand out is that I only saw a few of them. Whereas I saw literally hundreds of Rubens, dozens of Warhol, nearly the entire Twombly collection, and countless German romantic pictures.
Topics: ArtArt:MuseumsTrips
comments powered by

Disqus