West Side Story on Broadway
September 22 2010
I lost my NYC Broadway virginity in style last week, going to the revival of West Side Story. It exceeded all expectations, changed how I view an entire scene from the movie, and caused me to have a few "Holy Crap!" moments.
First some context on the situation. I've been traveling to New York since the beginning of August for Diamond client work. New York is definitely a unique city and different from anywhere else I've ever been, but we'll save that for another time. Last weekend, I had a friend visit me, and seeing a Broadway musical was pretty high on our priority list.
Now some context on West Side Story and me. My first year in the Minnesota All-State Orchestra (I was a sophomore), we played a West Side Story medley. I hadn't yet seen the movie, but the music was intoxicating. I vividly remember actually REHEARSING the shouting of "MAMBO!" (our conductor was very careful in pointing out that we should shout "MAM-bo", not "mam-BO"). The concertmaster for that concert only had one solo, a completely saccharine addition to "Somewhere", but naturally, I was insanely jealous of her. I also loved the fact that Lenny composed all the music. I think looking back, we will remember Bernstein for two things - being the colorful conductor of the New York Phil and composing the music for West Side Story.
Of course, it went to a whole other level when I finally saw the movie and understood just what all the music signified. There was a time when I knew most of Tony's lyrics by heart and desperately hoped the high school would choose to do West Side Story (instead of the usual drab random Shakespeare production we seemed to do every year). Never mind that I couldn't (and can't) sing, but I never doubted that I wouldn't get that part. That part was written for me. Since that was around the time that I decided I love music and love playing music, West Side Story has always held a special place for me.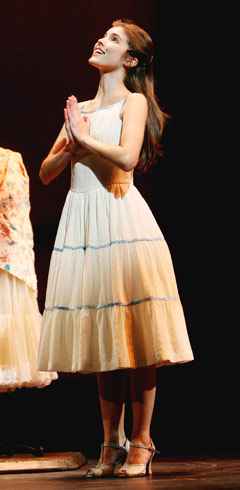 I just met a girl...
In terms of actually seeing it live, there were two immediate realizations that I made. First, wow, EVERYONE that gets to sing has an amazing voice. I might have some qualms with the delivery (I thought Tony used way too much vibrato), but the actual sound quality is amazing, especially when I feel like sometimes they should be winded from all the dancing.
The second is on the dancing and choreography. I remember seeing the group dance scene (when they do "Mambo") and thinking "there are people in this world that can dance like THAT?". The dancing is very violent in its movements but so well coordinated. I think when I watch the movie, I tend to discount how impressive everything is because I just assumed they took a few takes or maybe edited some stuff. Seeing all the dancing live and realizing that they really are this good? That turned out to be my personal highlight.
In terms of the actors and roles, as I mentioned, I didn't particularly care for Tony (too much vibrato and not very musical). Anita was great and very sultry (my friend mentioned that she looked like Penelope Cruz, just perfect). I enjoyed Riff although I never realized how little singing he actually does. Bernardo looked like he should've been running a Colombian drug cartel (very colorful suit and gangster hair). Maria (Josefina Scaglione) was off the charts - very beautiful and great soprano voice.
I will definitely make it back for another musical. There is the completely absurd American Idiot playing right now that I might see (I love Green Day and love the album, but I don't see how that makes it a musical, which requires, you know, acting). I also want to see Lion King at some point. But for now, I am completely satisfied with my Broadway musical experience.
Topics: MusicMusic:Concerts
comments powered by

Disqus