Beethoven Symphonies 4 and 6, Furtwängler, Berliner Philharmoniker
April 06 2007
Organic Beethoven, 5 out of 5 stars.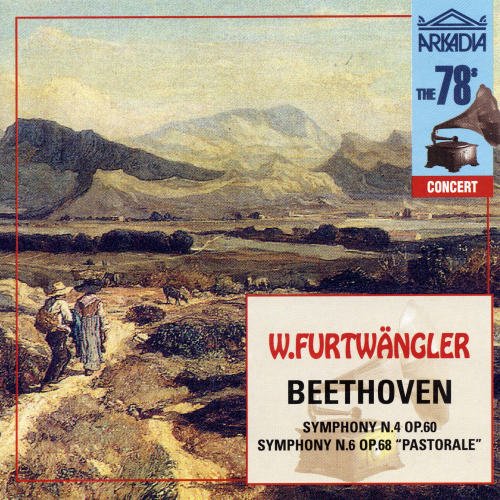 First of all, the works in this recording are Beethoven's 4th and 6th symphonies (not 4th and 5th as stated in the product info). These recordings were made in 1943 and 1944 in the midst of World War II. Whatever Furtwängler's feelings may have been about his position or the Nazi government, he still delivers two passionate and forceful readings of these symphonies.
The thing that separates Furtwängler from the rest is his trust in the orchestra to play in more of a chamber style. This is in direct contrast to conductors like Karajan and Szell, who ruled absolutely and gave the music a tight, orderly feel. What this means is that in Furtwängler's Beethoven, tempo changes occur naturally and more gradually. Instead of a sudden jump, you hear the orchestra pick up momentum for an acceleration or slowly lose it for a ritardando. For my taste, this leads to a more organic experience, in which the listener feels like he is part of the music-making process.
These recordings are pretty similar to ones Furtwängler later did with the Vienna Philharmonic in the 50's as part of his studio recordings. However, I always felt that the Berlin Philharmonic responded more to Furtwängler. They truly play like an ensemble; every tempo change is in sync, the strings always play with the same amount of bow, etc. The audio quality is quite good for the time period and for the live aspect. I can't recall hearing any peeps from the audience.
The 4th is the highlight for me on this disc. The orchestra sounds surprisingly light and fresh for most of it. Also, note how Furtwängler makes his audience wait just a bit longer for the Allegro to get going in the first movement. The 6th is on the whole a cheerful reading, but I feel like the orchestra sounds a bit heavy.
I recommend this disc enthusiastically. You'll be getting two great symphonies conducted by, in my opinion, the greatest Beethoven conductor ever recorded. In addition, you'll be getting live recordings, very much with the feel of spontaneity of being there.
This was originally written as a review on amazon.com.
Topics: MusicMusic:Albums
comments powered by

Disqus