Nathan Milstein - In Portrait
May 10 2007
The most nearly perfect violinist of his time, 4 out of 5 stars.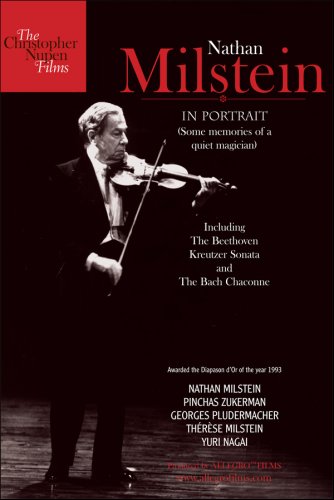 Let me preface by saying that Nathan Milstein is one of my favorite violinists. I like his sound, like his interpretations, and love his technique. I may be biased in my views toward him, but I feel like this musical portrait is a worthy view for any classical music fan.
The first disc contains some conversations and interviews that Christopher Nupen conducted with Milstein. There's really nothing provocative here. Milstein was widely known as a simple and humble artist, and he does nothing to refute that statement in the conversations. My only real complaint is that there are no English subtitles available; sometimes it is difficult to understand Milstein. Of course, there is also the surreal "chat" between Pinchas Zukerman and Milstein. Zukerman does his best Chris Farley impression, serving up softball questions to a Milstein that almost seems annoyed by the whole process. What little insight and/or anecdotes that is provided is basically rehashed from Milstein's memoirs "From Russia to the West" by Solomon Volkov. If you are a serious Milstein or violin fan, try to find a copy of the book instead of watching this video.
The second disc contains complete performances of Beethoven's Kreutzer Sonata and the Bach Chaconne from Milstein's last public recital. By that time, Milstein was in his 80's and almost undoubtedly the greatest octogenarian violinist virtuoso of all time :). Sadly, the other pieces he played in the recital, most notably the Sarasate Introduction and Tarantelle, are only shown in clips during disc 1. I was hoping this DVD would just show the film for the entire recital, but the Kreutzer and Chaconne are a good compromise. There is also a little section of the Milstein conversations where he opens up about the Chaconne. This truly does provide insight into the artist that perhaps played the Chaconne better than anyone ever has.
In summary, get this DVD for the wonderful recital footage of the Kreutzer and the Chaconne. Watch the first disc for comic relief (why did Pinchas Zukerman feel the need to wear aviator sunglasses when he introduced Nathan Milstein at the Kennedy Center Honors Banquet?).
This was originally written as a review on amazon.com.
Topics: MusicMusic:AlbumsMusic:Violin Soloist
comments powered by

Disqus