Mahler's Song of the Earth at Ravinia
July 10 2009
One of the saddest things about leaving this world is not hearing Das Lied von der Erde ever again.
- Jascha Horenstein, shortly before his death in 1973
I attended the Chicago Symphony Orchestra concert at Ravinia tonight, featuring Mahler's Das Lied von der Erde. It's the first time I've heard Das Lied live in concert, and despite the long and rather directionless take by conductor James Conlon during the last movement, I still left inspired.
It was my first Ravinia concert of the year. Let me emphasize that for students, a Ravinia-CSO concert is one of the best values in the Chicago area. For $10, I purchased a pavilion ticket in row H. With this ticket also comes access to the Steans Institute recital before the main concert event. The Steans Institute is a summer program for gifted young musicians to get together to study and perform chamber music. Tonight, I saw wonderfully gifted young musicians play Dvorak's Piano Quartet in E-flat and the sublime Schubert String Quintet in C.
It's always a pleasure listening to these young musicians. They are not the most polished; for example, there are moments when they are unable to blend their sound with the group or are not entirely sure who they should be looking at. However, they are all so technically gifted and exciting in their playing that it's still a fun watch.
The CSO played Mendelssohn's Symphony No. 4 "Italian" in the first half. I hadn't seen the CSO perform in a few months, and I was immediately reminded of their strengths. Despite having ~50 strings on stage, they played more cleanly and more as an ensemble than 5 Steans Institute kids could. I was told once that you can tell an orchestra is really good when the strings all play in the same part of the bow. This is actually a pretty underrated attribute for orchestras. It shows the musicians are disciplined (they are constantly looking to the front desk and mimicing them) and that they have played with each other a lot as a group. The CSO is exquisite in this regard.
Mendelssohn's "Italian" Symphony is one of those pieces that CSO musicians can play in their sleep. This is actually one of the downsides to these summer concerts - sometimes the musicians are on auto-pilot and don't respond to Conlon's conducting. The CSO didn't seem especially interested playing the Mendelssohn. However, that all changed in the second half.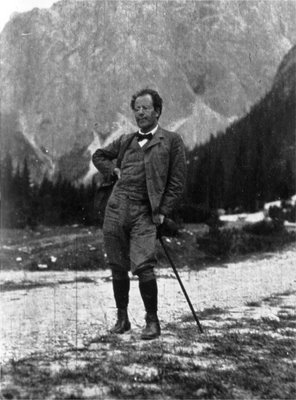 Mahler had to give up hiking after learning about his heart condition
Some quick background on Mahler's Das Lied. It's basically Mahler's ninth symphony, as he wrote it after the eighth. There is speculation that Mahler didn't name it the ninth symphony because of the so-called Curse of the Ninth. It's scored for a very big orchestra with two vocal soloists.
Translated as "The Song of the Earth", Mahler based the work on some ancient Chinese writings. The work is meant to celebrate life on Earth (drinking, love, fun) and death. The last movement is titled "The Farewell" and evokes an acceptance of death. It is the same length (~30 minutes) as the preceding five movements.
Mahler started work on this piece one year after he had received the three "hammer blows" that he had grisly predicted on himself in his tragic sixth symphony. First, he was forced to resign his post as Music Director of the Vienna Court Opera due to anti-semitic pressure against his Jewish upbringing. Next, his eldest daugher Maria died from sickness. Finally, Mahler was diagnosed with a heart defect that the doctor predicted would soon lead to his death.
Forced to face his own mortality, Mahler essentially reacted through his music. In Das Lied, Mahler seems to come to the understanding that in death, people return to the Earth, which in turn is able to renew itself every Spring.
The soloists were Michelle DeYoung and Stuart Skelton. Skelton was quite good, with a booming voice and facial expressions that matched well with the content of his singing. DeYoung shocked me with a strong and operatic sound. I had seen DeYoung perform the role of Brangäne in Wagner's Tristan und Isolde. I couldn't quite get that image out of my head. She is almost the perfect Wagnerian "it ain't over til the fat lady sings" soloist. Her talent seemed incongruous with the nature of Das Lied. Whereas the piece requires the soloist to show subtlety, DeYoung is almost always "on". This was especially apparent in the last movement, as DeYoung had trouble in dying down with the rest of the orchestra.
Conlon did a fine job overall, considering the difficulty. The last movement is essentially a 30 minute meandering cadenza. There is little structure to it, so a conductor needs to be very careful in how he shapes the architecture of the movement. Unfortunately, Conlon doesn't do this well; when the music builds, it seems artificial, as if the musicians are only doing it because it is required of them on the page. There is no expectation of buildup, so when it does happen, it is suprising, almost jarring, which is not the intent of the music. Again, this is a very hard problem to solve - look up Jascha Horenstein's recording to hear it done right.
The CSO played very well and with passion. I was especially impressed by the lead flautist Mathieu Dufour, who played a big role in the last movement of Das Lied. I was somewhat disappointed though that they went with such a huge orchestra for Das Lied - I counted 14 firsts and 12 cellos. Das Lied is really a chamber piece in disguise; even though it requires a large range of instruments, rarely does the whole orchestra play together, and even then a huge sound is not really called for. Schoenberg actually arranged a version of Das Lied for chamber orchestra, which sounds amazing in the hands of Philippe Herreweghe.
Despite all this, I was all goosebumps at the conclusion. Mahler's magical touch in slow movements prevailed, and I have Mahler 9 to look forward to for next weekend.
Topics: MusicMusic:ConcertsMusic:MahlerMusic:Chicago Symphony Orchestra
comments powered by

Disqus