Gil Shaham and Tchaikovsky's Fourth
February 08 2019
For the second consecutive year, our one trek into the city to see the San Francisco Symphony is in fact a trip to see Gil Shaham. As part of an early Valentine's Day, Celia and I saw Gil Shaham performing Prokofiev's Violin Concerto No. 1, Tchaikovsky's fiery Symphony No. 4, and a world premiere piece in Steven Mackey's Portals, Scenes and Celebrations.
We finally got to one of these concerts early enough to take in the pre-concert lecture. Luckily, in lieu of a lecture, they played the entire Take Note documentary that Michael Tilson Thomas did on the Tchaikovsky Symphony No. 4. It was a good intro to the piece, but ultimately didn't go that deep into Tchaikovsky's life or the factors that led to him writing this piece.
Before we go too far into the performance, I'll discuss my personal history with the Prokofiev and Tchaikovsky pieces. The Prokofiev concerto is, oddly, the first violin piece that I became deeply and completely obsessed with. The piece hit me at exactly the right time of my life. It was during 10th grade (so maybe I was around 14 years old, going through puberty). I checked out two CD's from the library: Maxim Vengerov doing the Prokofiev and Shostakovich concertos and Leonard Bernstein conducting the Shostakovich Symphony No. 5 (with Yo-Yo Ma thrown in!).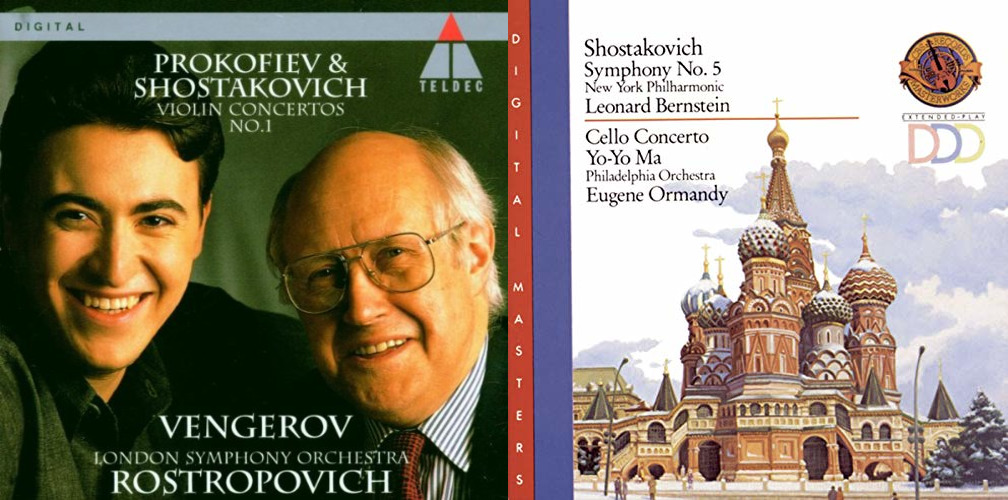 The first two music albums that I obsessed over
For whatever reason, the Prokofiev VC and Shostakovich Symphony both really spoke to me. I would listen to them over and over, capturing and obsessing over smal details. I used to regularly fall asleep to those pieces. This was back when I owned a CD player and really basic headphones, so sleeping with the music in your ears was not exactly comfortable.
My favorite movement from Prokofiev was always the third movement. It's very straightforward - it starts with this odd melody progression that then turns into some of the most romantic music ever written, then there's a middle section where the violin accompanies the orchestra, and then there is a callback to the first movement to end the piece. The beginning of the movement through the romantic section really is something. It recalls fantasy music, like the music is literally taking you to a place you never imagined before and can't believe exists. The beginning is all mystery, and when the violin comes in, it's like something peaking out of fog. And then when the romantic section kicks in, it's like the sun is shining everywhere, except there's also a full symphony backing you up.
Now that I'm a little more mature and have a better understanding of the music repertoire, I can understand that Prokofiev was, kinda secretly, one of the most romantic composers ever. His romantic stuff (some of the dark climaxes from Romeo and Juliet, both violin concertos, Lieutenant Kije, the Flute Sonata, aka Violin Sonata No. 2) compares favorably to anything that the other great romantic composers (Tchaikovsky, Mahler, Rachmaninoff) could offer. I think Prokofiev is generally perceived as this composer that wrote dissonant, modern music, stretching the piano repertoire. This is in Prokofiev's Wikipedia entry: "Prokofiev initially made his name as an iconoclastic composer-pianist, achieving notoriety with a series of ferociously dissonant and virtuosic works for his instrument, including his first two piano concertos". But really, Prokofiev wrote in so many other genres, and he was a particularly excellent romantic composer.
I have tried several times to learn the first concerto, but it really is devilishly difficult. There are entire sections of the piece that are practically unreadable, nevermind actually trying to learn the music properly.
The Tchaikovsky Symphony No. 4 is something I discovered later in life, as I went through my classical expansion phase (aka, finally learning about music that wasn't violin-based). I had the great fortune to have played the piece with the Chicago Metropolitan Symphony Orchestra in 2008. The piece actually inspired my first ever upload to YouTube, and still one of my favorite musical excerpts ever (and one of the countless reasons why I love Leonard Bernstein). I also wrote about Tchaik 4 in a previous blog post.
The program started with the world premiere piece, by Steven Mackey. This was not the first time that MTT or the SFS had commissioned a piece from Mackey. The piece was simple, with modern tonality in places, but also with quite a bit of Americana thrown in; some sections sounded like they could've been written by Copland for Appalachian Spring. It was quite enjoyable, and the composer got a nice standing ovation from the crowd.
Gil Shaham and Prokofiev were up next. Gil Shaham really is my all-time favorite, and he's gotten plenty of words in this blog already. He simply brings so much joy to his music making, and it easily translates for the audience to feel. This particularly performance was a little shaky. There were times where Shaham and the orchestra was not together. I think a lot of it has to do with the piece itself: this was the first time I've heard it live, and I would expect some parts of it are just hard to come together perfectly while on stage. Shaham was his usual self, but there were a few odd bowing choices. Near the end of the piece, when the violin soloist has an escalating series of scales, Shaham used so much bow that I was just astonished (in a good way!). The biggest difference between maestro violinists and amateurs such as myself is the dexterity and easiness of bow changes. Gil Shaham is of course a true maestro, and it was wonderful to see his command of the bow again.
For the soloist encore, Gil Shaham did something I have never seen before. He brought out a stand and asked the SFS concertmaster, Alexander Barantschik, to play with him (this Gavotte movement from a Leclair duo). The SFS are lucky to have Barantschik, and through the encore, the two violinists matched their sound and tone perfectly so it was hard to tell even which was which.
A duet encore!
Finally we get to the Symphony. Usually, I'm the biggest fan of the SFS. Tonight, there was a bit of lack of energy. The first movement was wonderful, with great fanfare from the brass to start the piece. The second movement (my favorite) had some really odd intonation issues in the winds. One interesting thing that happened was the crowd clapped after the first and second movements. So after the third, MTT actually encouraged them to applaud as well. The fourth movement was good, but again, I could sense the slight lack of energy. There were a few tempo changes that didn't happen perfectly. This is a piece that the musicians have played so many times that it's understandable whey there might be some mental errors.
Topics: MusicMusic:ConcertsMusic:San Francisco SymphonyMusic:Violin Soloist
comments powered by

Disqus