Three Seattle Concerts
October 06 2013
I wanted to write a little bit about the three Seattle Symphony concerts we recently went to. This includes the opening night concert with Lang Lang, an all-Ravel night, and Beethoven's Triple Concerto.
Opening Night
The first concert was the opening night gala with Lang Lang on September 15th. There's not much to be said for the program, as this was basically just a pops concert with Lang Lang to close.
Here's Lang Lang brooding before the concert
The first half was a mix of popular Slavic dances, with two Dvorak Slavonic Dances, three Brahms Hungarian Dances, the Bartok Romanian Folk Dances, and Borodin's Polovtsian Dances*. The only piece that stood out from this list was the Toccata by Pancho Vladigerov, a 20th century Bulgarian composer. Interestingly, this piece was conducted by Stilian Kirov, Seattle's assistant conductor (I guess maybe because he is Bulgarian? Morlot conducted all the other pieces in the program). Unfortunately, the Toccata is no less shallow than the other Eastern European dances surrounding it. I remember it being loud, fast, and over quickly.
*I learned from the program notes that Glazunov is basically responsible for the existence of the Polovtsian Dances today. Apparently the dances were lost after the first performance of the opera. Glazunov re-constructed the dances purely from memory - he had heard Borodin play it for a small group of friends (Glazunov didn't even attend the opera!).
Lang Lang came out for the second half for Prokofiev's Piano Concerto No. 3. I didn't really like the concerto. It exhibited a lot of the musical qualities that one would associate with Prokofiev - a contemporary, almost industrial sound, lots of dissonance, little in the way of lyrical passages. Lang Lang was pretty low energy. Maybe he has toned down the wild expressions and facial gestures that marked his earlier performing.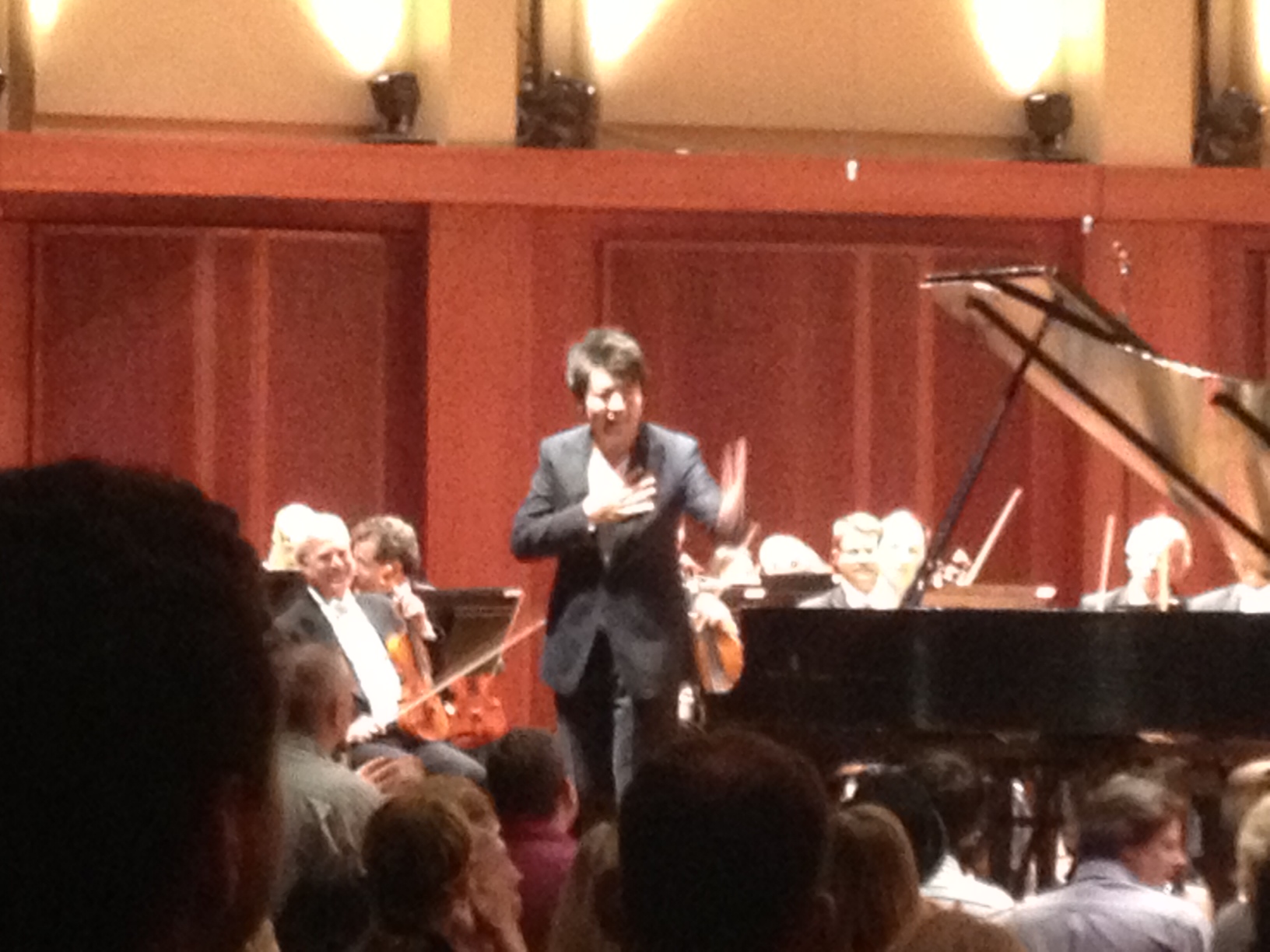 And here's him thanking the masses
The audience went wild for Lang Lang. It's important to put these things in context - Lang Lang is probably the biggest classical "star" that Seattle can hope to get. Among current concert musicians, I think only Yo-Yo Ma and Joshua Bell (and just barely for those two) can match the sheer popularity of Lang Lang. Joshua Bell is coming later this season and we have tickets, but he will be doing a recital rather than playing with the orchestra.
All Ravel
The weekend after, we saw the Seattle Symphony play an all-Ravel program. I *love* Ravel and think he's one of the most underrated classical composers. He has a very versatile oeuvre, including memorable piano solos (Pavane, Gaspard de la Nuit), a ballet (Daphnis et Chloé), and great chamber works (Piano Trio, String Quartet). He even is partially responsible for Gershwin becoming Gershwin, as the young American sought out Ravel for musical study (which prompted the famous quip from Ravel, "Why do you want to become a second-rate Ravel when you are already a first-rate Gershwin?").
The pieces played were Alborada del gracioso (which I recently played with the PSSO), the Piano Concert for Left Hand, Rapsodie espagnole, Pavane pour une infante défunte, Piano Concerto, and Boléro. Jean-Yves Thibaudet played the two concertos, and Morlot conducted. I don't have much to say about the orchestral pieces. They are all really fun (well, except for Boléro*), and they all have really rich instrumentation and textures.
*When will orchestras be able to program an all-Ravel concert WITHOUT Boléro? I understand the audience satisfaction that comes with that, but it is just so trite and boring to listen to that piece.
The piano concertos really caught me by surprise. I hadn't heard the Left Hand concerto before, but it was stunning how much color and sound Ravel (and Thibaudet) could get with just one hand. I thoroughly enjoyed it. As for the Piano Concerto, I've always liked this piece and listen to it regularly (I am partial to the Arturo Benedetti Michelangeli recording with the Philharmonia). However, somehow in all my hearings of it, I never realized that the second movement starts off with solo piano, and stays that well for a pretty long time (2+ minutes). That start to the second movement is just perfect. Calm, beautiful, and somehow hauntingly melancholy. The amazing thing is that it's so simple, but yet, it only could've been written by Ravel. The passage is on my short list for beautiful lyrical pieces.
Jean-Yves Thibaudet played the two concertos perfectly. He was expressive and pensive when required, but just as equally forceful the music called for that. I think it's interesting to compare Thibaudet and Lang Lang, since I saw them within a week of each other. To my untrained piano ear, there is not much separating those two. I understand that this is situational analysis - I didn't get to hear how Lang Lang would approach the start of that second movement, and conversely Thibaudet didn't really get to show off with a virtuosic piece like the Prokofiev.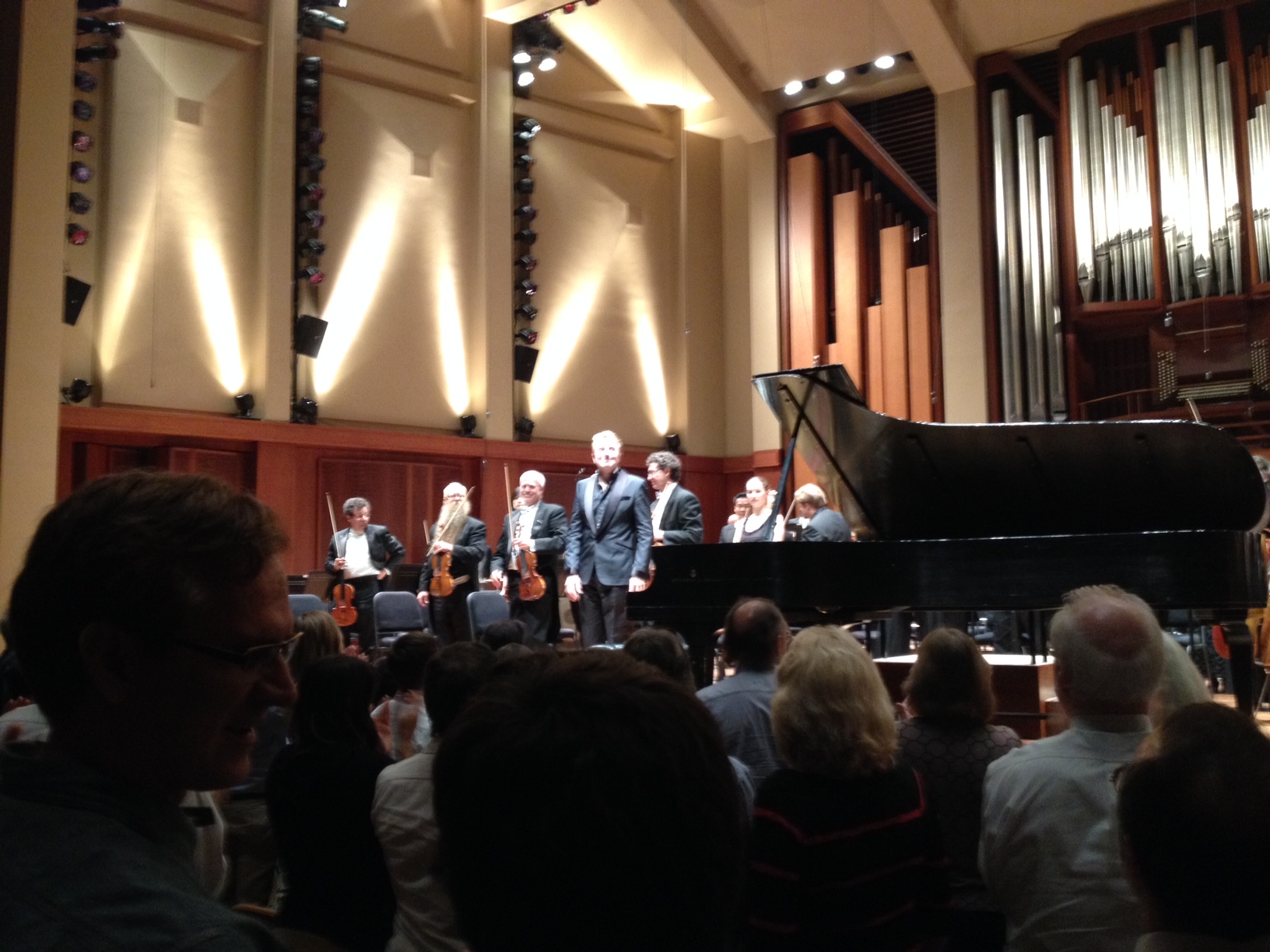 The crowd liked Thibaudet, but they loved Lang Lang
Beethoven's Triple and Schubert's Great Symphony
Finally, last night we saw Beethoven's Triple Concerto and Schubert's 9th Symphony (the "Great"). I was really disappointed by this one. This was a rare occassion where I had not heard of any of the major performers. Thomas Dausgaard conducted, while the Triple was played by Alina Pogotskina (violin), Andreas Brantelid (cello), and Christian Ihle Hadland (piano).
The Beethoven was really disappointing; I just don't think the soloists were of the high caliber required to be concert performers. Pogotskina in particular was disappointing. She had a really tiny sound and a light vibrato. There were multiple passages where her solo part was easily covered by the orchestra (I wonder if this is Beethoven's fault). I wasn't sure if she was playing that way because that's how she felt the Beethoven should be played*, but it really turned me off. I'm less qualified to discuss my thoughts on the cellist and pianist, but I wasn't "wowed" by either of them.
*Interestingly, there were two passages in the third movement where she really turned up the energy, got a forte sound and played with a really wide vibrato. I think maybe she was trying to play a specific way (i.e. don't overshadow her partners, stay light given the early classical nature of the piece). Still, I was disappointed.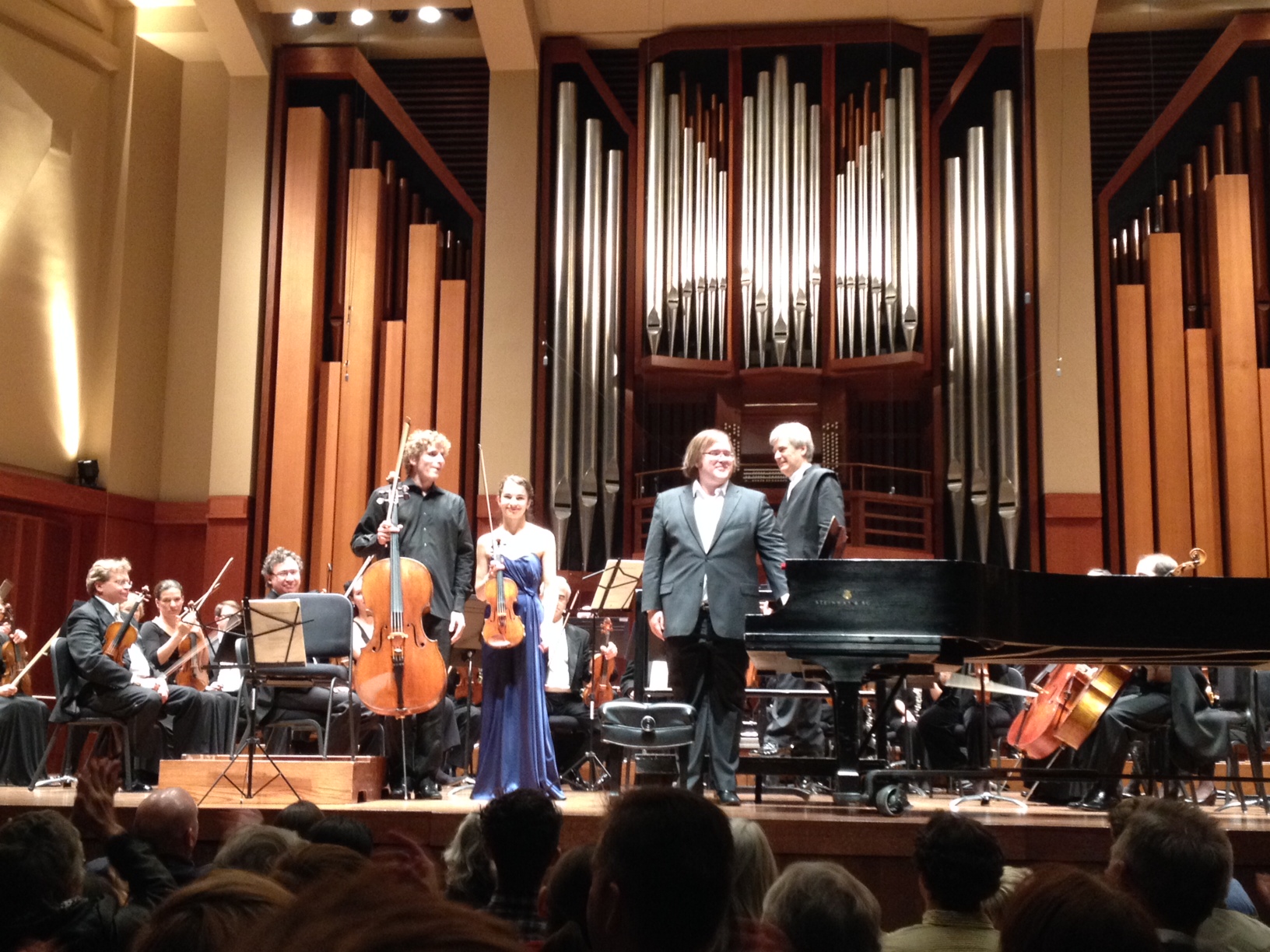 Happy smiles after lackluster performing
The Schubert came after intermission. This is a really long piece. I used to enjoy listening to Schubert, especially as something that was just on as I did work or something. Recently, as I've started playing more of his chamber works, I've noticed how long and repetitive his works can be. The 9th is no different; there really is no good reason why the piece needs to be 50 minutes long when it only has about 15 minutes of material.
The Seattle Symphony played with their typical apathy. I just don't think many musicians can get up to play a concert that includes a very long early Beethoven concerto and a very very long Schubert symphony. The start of the 4th movement is supposed to start with a majestic horn solo. The Seattle horn player inexplicably played it mezzo piano - I had trouble hearing it. One final tidbit - Dausgaard conducted the entire symphony from memory, without score. Despite what I said about 15 minutes of material, it's still impressive that he did and I wish more conductors would do that with the major repertoire pieces.
Topics: MusicMusic:ConcertsMusic:Seattle Symphony
comments powered by

Disqus