Concertgebouw Orchestra in Berlin
September 05 2013
I now have the Concertgebouw Orchestra atop my personal list for worldwide orchestras. I'm still making my way through the list - I've seen the Chicago Symphony Orchestra, the New York Philharmonic, the San Francisco Symphony, and some others. I've never walked out of a concert with more energy and excitement than after seeing the Concertgebouw perform in the Berliner Philharmonie last night.
As part of the honeymoon, we are making our way through Amsterdam, Berlin, and ending in Paris. We didn't get a chance to see the Concertgebouw in their home in Amsterdam, but luckily they were just ending their tour in Berlin on our first day there. We were both wearing summer clothes (I was in shorts and t-shirt), so we quickly rushed to back to the hotel for a quick change of clothes.
In front of the Berliner Philharmonie, where the magic happened later that night
We got student rush tickets by standing in line starting at 6:30. The tickets were only 20 euros, and we got really great seats, in the 11th row and just a little right of center. From there, we could see pretty clearly all the musicians and the sound was great. There was a pretty long line of people (mostly young people) waiting for tickets; I suspect that they have trouble selling out some of these concerts while off-season.
An interesting tidbit - they charged a small nominal amount (I forget, but something like 2 euros) for the program. We decided to make do without the program (although we later picked one up for free during intermission). I think this is pretty interesting, especially because in the US those programs are so full of ads that you'd assume they pay for themselves.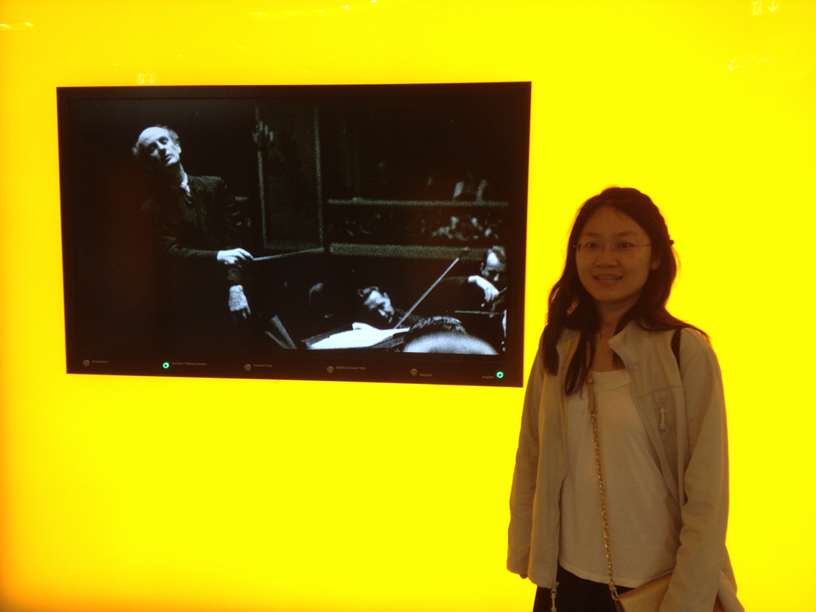 Celia glowing and Furtwängler!
The Concertgebouw were led by Danielle Gatti. They started with a string-only piece by Lutoslawski, his Musique funèbre for orchestra. The next piece was Bartok's Piano Concerto No. 3, with Yefim Bronfman as soloist. Finally, they ended with Prokofiev's Romeo and Juliet suite. The Lutoslawski was a very interesting modern piece, and started with a really ominous bass section solo. Unfortunately, all the accumulated traveling from the honeymoon got to me, and I dozed through most of the piece.
The Bartok piano concerto came next. Yefim Bronfman looked frightfully older and wider than when I last saw him (circa 2007 in Chicago). I've always liked his playing - forceful but straightforward, without any extra fluff. I'm not as familiar with the concerto, but it struck me during the second movement (Adagio religioso) that this is exactly the type of beautiful and expressive music that people frequently miss out on because they are afraid of exploring a contemporary composer like Bartok. I vowed to come back to this piece and give it a re-listen (we'll see whether I keep that vow).
Bronfman got a very warm reception from the Berlin crowd. It was interesting to see that they did not give him a standing ovation. However, they gave a strong and steady stream of applause that seemed unending - Bronfman came back on stage at least 4 times by my count. He did end up playing an encore. It sounded like Chopin, but I couldn't place it.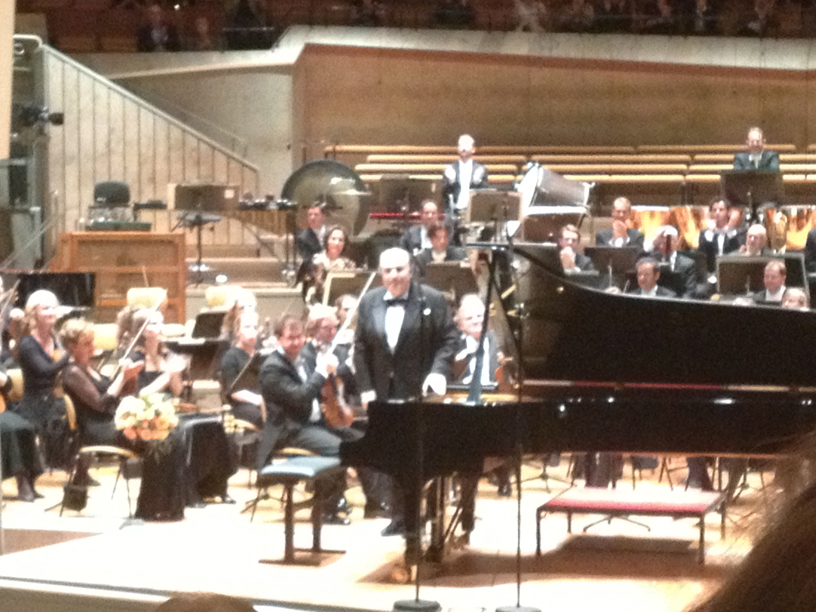 A blurry but older Bronfman acknowledges the crowd
Finally, after the intermission came the Prokofiev. I have some history with this piece - we played a bunch of the suite movements in the CMSO during my last concert with that group. Celia and I also saw the Pacific Northwest Ballet stage the ballet earlier this year.
The Concertgebouw orchestra wasn't really impressive until we got to this piece. It was so evident seeing them play this that the orchestra really is one giant instrument. Things climaxed during Tybalt's death scene. This movement is wild and chaotic, as you expect a fight to the death to be (this is where Romeo slays Tybalt). There is a section in the middle when all the strings play a maddingly difficult run in unison. What I saw from the Concertgebouw was a collection of string players that all could've lead their respective sections. Every performer sat at the front of their seat, and every performer was really just into the playing. It was really exciting and I could feel my adrenaline building up just watching them.
They ended in Juliet's Grave. I love this part of the music, specifically when the brass have the theme and they hit the landing dissonant chord. The Concertgebouw were totally up to the task - they didn't lose any energy and maintained a high level all the way through.
My final recollection of the orchestra is that they are incredibly well balanced. The strings all played perfectly in sync with each other, and I got the impression that each and every first violin could've been concertmaster. I was impressed by the sound from the brass. It wasn't as "brassy" as the glory CSO days, but it was really solid and filling. Finally, the winds played with great phrasing, and, more importantly, I never noticed them. I've found with winds and brass that it's easiest to notice their mistakes. There were none to notice last night.
The most important takeaway for me was how much energy and adrenaline I carried all the way through the performance. I must've felt this way in some of my first concerts, but it's been a long time since I last felt like this (probably the last time was when I saw Mahler 8 live at Ravinia). I haven't been able to get this feeling with the Seattle Symphony.
One final interesting observation on the Concertgebouw. They must have the most blond musicians of any orchestra I've seen. I counted around 10 blonds (and I mean total platinum blonds) just among the violins. They really are a Dutch orchestra!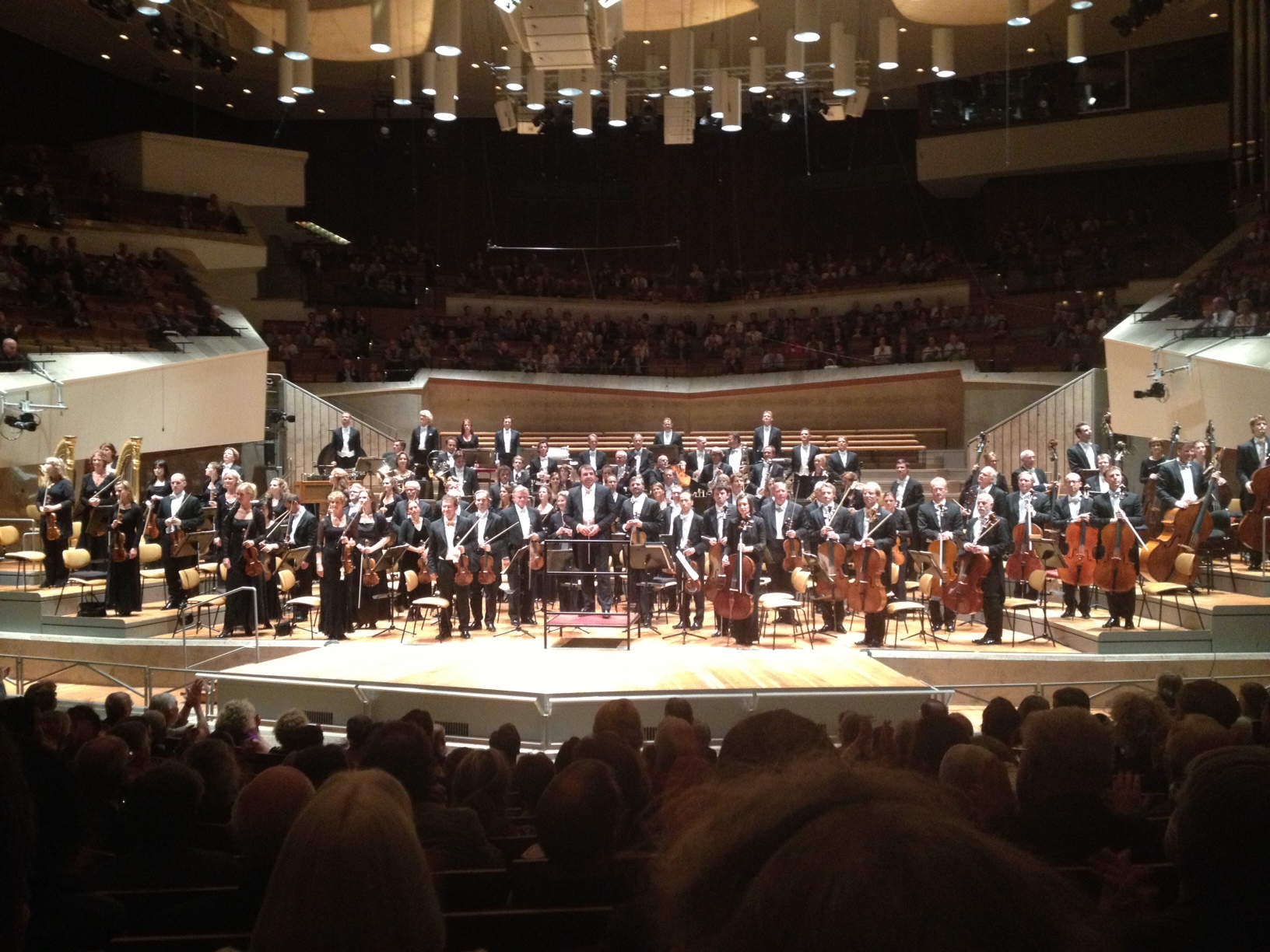 A happy orchestra after Romeo and Juliet
Topics: MusicMusic:ConcertsTrips
comments powered by

Disqus