Hilary Hahn Plays Sibelius
May 07 2013
I feel like there are a few artists per generation that truly represent the gains and evolutions made by that generation. We saw Hilary Hahn a few weekends ago (4/27) play the Sibelius Violin Concerto with the Seattle Symphony. At this point, I think it's safe to say Hahn is one of those artists that define this generation of violinists (along with Gil Shaham, Maxim Vengerov, and Joshua Bell).
First of all, I have to comment on Hahn's dress. She wore a truly stunning dress that exposed her back. It's easily the most beautiful and elegant dress I've ever seen a performer wear in a live performance. She wore it well too - the dress exposed the muscles in her back and showed just how much strength she puts into her playing.
What strikes me about great performers is how easy everything looks. Two things in particular for Hilary Hahn. First of all, her sound is the exact same even if she is high up on the string (for instance, in 5th position on the A string). Violinists know that when you play high on the string, it shortens the amount of string that is vibrating; consequently, it becomes harder to draw the bow and get a good sound. It takes years of practice to be able to adjust your bow hand to draw the same amount of sound at the same timber when playing high on the string.
Second, Hahn makes seamless transitions on her bow hand no matter where the notes change. The natural thing when changing bows is to de-emphasize the notes right before the bow change and then re-emphasize the notes that come right after the bow change. With Hahn, I could close my eyes and barely even notice any bow changes.
Compared to Vladim Gluzman, who we saw a few months ago, Hahn's sound isn't as full or sweet. Gluzman had a wide vibrato that he varied depending on the situation to make a pleasing sound. Hahn's vibrato is intense and focused all the time. It's a much narrower vibrato, and the effect is that her sound seems very much alive. In general, I was surprised by just how loud and intense her sound is. You know how in sci-fi movies, there is oftentimes a super efficient energy source (think the Tesseract in the recent Avengers movie)? That's what Hahn's sound feels like - this never-ending energy source that would burn your eyes if you ever stared straight at it.
Hahn was not perfect, but she was also playing Sibelius. I've attempted the Sibelius at various times, and it's a concerto that frequently makes violinists feel uncomfortable (compared to something like the Mendelssohn concerto, which lies well with the hand is quite "violinistic"). You constantly have to think about what you're doing, and it doesn't always come naturally (at least for me). Hahn did make some mistakes, but they were largely obscured by her virtuosic playing the other 99.9% of the time.
Hahn took the final movement as fast as I've ever heard it. In fact, when I got home, I immediately checked my recording of Heifetz playing the Sibelius, and I still think Hahn was faster.
I actually think Heifetz is a very apt comparison to Hahn. They both value perfection and virtuosity above all else. They both have intense vibratos that rarely change. They both love taking blistering tempos. The difference between Hahn and Heifetz there is that Hahn never sounds like she's in a hurry; she simply sets a faster pace. I always felt Heifetz was weird in this regard - he sometimes seemed to deliberately play faster than the tempo that the orchestra is at, so it sounds like he's pushing forward excessively. Previously, I'd also say that Heifetz's playing had a little more character than Hahn's, which is pretty straight forward and conservative. However, in this performance, I heard Hahn taking some chances with large portamentos and tempo variations within measures. I think this is a positive trend for her, and it's good to see that she's not afraid to rethink her playing style as it matures.
Hahn got an overwhelming standing ovation upon finishing the Sibelius. She didn't make the audience beg - she started her encore after just the second curtain call. She chose to do the Loure movement from Bach's E-major Partita (it's the second movement, a slow one). It was wonderful, and altogether not that different from her debut recording of the piece in 1997. I almost feel like the Loure took some energy out of the audience. It's a nice piece and greatly appreciated by hardcore violinists, but I'm not sure if the audience identified with it. Certainly, it was a different reception than when Gluzman played the Ysaye Obsession for his encore, a fast, virtuosic, and demonic showstopper.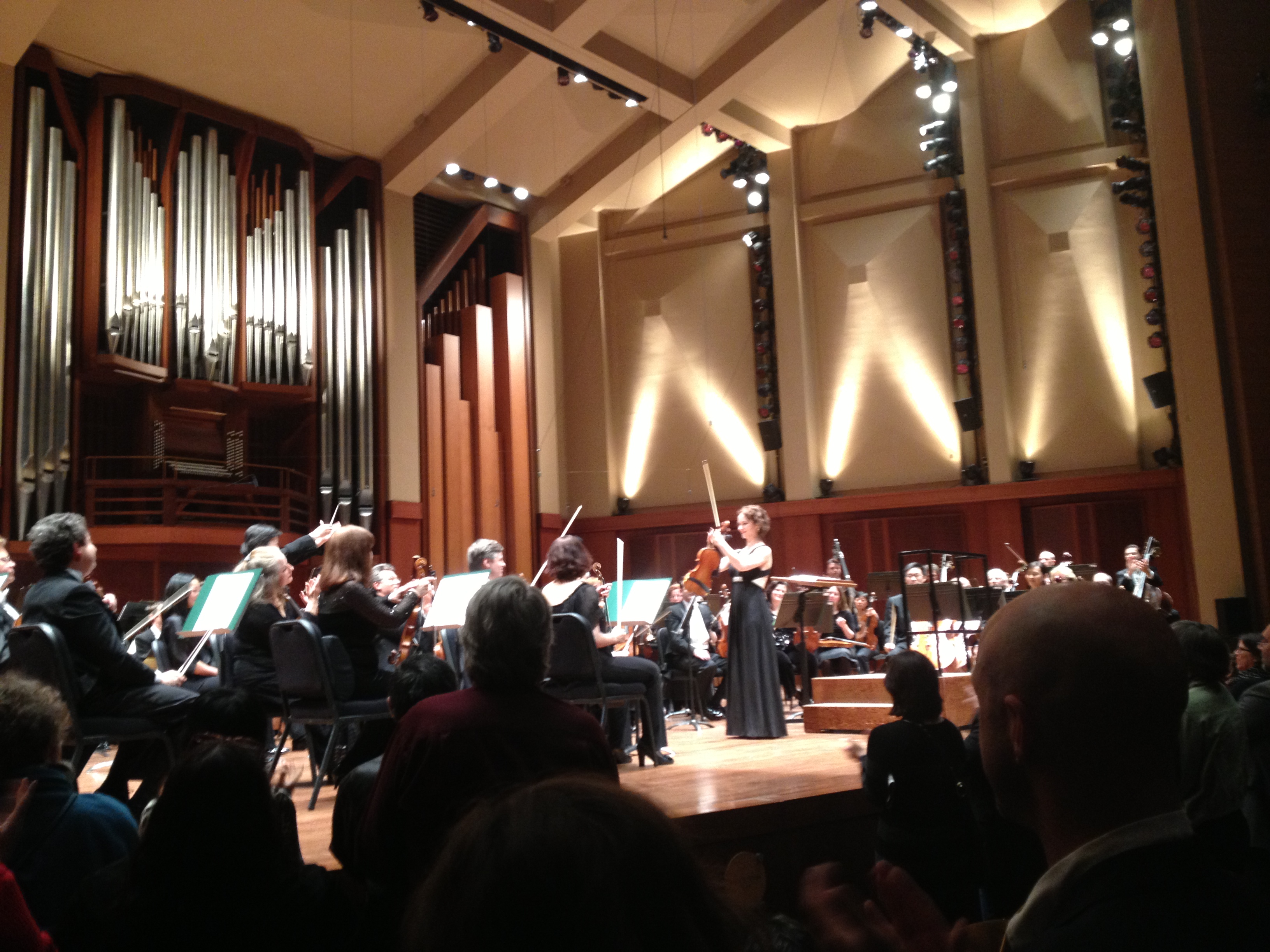 Hilary Hahn got a no-doubt standing ovation
The Seattle Symphony closed with Beethoven's Symphony No. 7. I don't have many comments on it. The third movement was very slow and seemed to lack momentum. And there are still violinists that are deliberately playing open E on chords. I don't mind if this is part of a coordinated strategy, but only some violinists are doing it, and it stands out amongst the broader sound.
Hilary Hahn will be coming back to Seattle next season as part of the UW World Series. We'll be at that performance with hopefully a front row seat.
Topics: MusicMusic:ConcertsMusic:Seattle SymphonyMusic:Violin Soloist
comments powered by

Disqus