Swan Lake by PNB
April 21 2013
I'm fast becoming a fan of ballet. The the music is great, the length of the performances are reasonable (2-3 hours, compared to 4+ hours for some operas), and there's a nice visual element. The Pacific Northwest, in particular, has been a joy to attend this year. The prices are reasonable and the location is great (a leisurely walk from our Queen Anne apartment).
We saw them do Prokofiev's Romeo and Juliet back in February, which was really quite amazing. I've played some of the movements from the suite, and the music is a really good example of how to mix beautiful melodies with modern dissonance.
Last Saturday, we saw them do Tchaikovsky's Swan Lake. This was my second team seeing Swan Lake (here is my first time). I have many of the same reactions as the first time - it's wonderful seeing how the music ties in with the dancing.
The leads were Carla Korbes and Karel Cruz. Korbes as Odette was very good. Although I didn't find her performance to be as graceful as some I've seen in the past, I thought she had really good rhythm and timing. Her dance moves always seemed to finish on time with the orchestra. Cruz was great as well - he was Friar Lawrence in the Romeo and Juliet performance we saw. He's so tall that during some of his solos it actually felt like they had to play the music slower because his jumps lasted so long.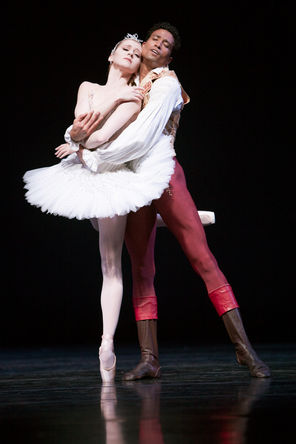 The leads, Carla Korbes and Karel Cruz, were fantastic
I only have one nitpick with the performance - the ending. If you're unfamiliar, Swan Lake actually has a fascinating history of alternate endings. PNB decided to do one where Odette (the swan princess) dances away, possibly because she's been transformed forever into a swan, and the prince grieves. When I saw the American Ballet Theatre do this, Odette actually runs up some steps on stage and jumps to her death, certainly a much more dramatic ending.
Swan Lake is arguably the most famous ballet ever (its only competition is probably Tchaikovsky's Nutcracker), but I actually enjoyed Prokofiev's Romeo and Juliet more. I think the music is close to a wash - Swan Lake's music is so iconic that I've probably heard the main themes one two many times. I still think the high point of the whole ballet occurs during the Act 2 pas de deux between Odette and the prince, in which they really affirm their love. The accompanying music is a very touching violin solo and concludes with a violin-cello duet. Romeo and Juliet's music isn't nearly as well-known, but it stayed stuck in my head even weeks after the performance.
The action and story line is where Romeo and Juliet has a slight edge. There's always something going on, and the plot keeps moving forward. The music accompanies the dancing and the story perfectly. Meanwhile, the story for Swan Lake is actually fairly simple. Most of the time is spent watching one-off dance numbers (act 3 is essentially one long variety show).
I'm really looking forward to seeing PNB's schedule for next year. I'd love to see Tchaikovsky's Sleeping Beauty to complete the Tchaikovsky trio of famous ballets. I'd also love to see (at some point) Stravinsky's trio of Firebird, Rite of Spring, and Petrushka. Khachaturian's Spartacus is high on the list as well.
Topics: MusicMusic:ConcertsMusic:Ballet
comments powered by

Disqus