Tokyo String Quartet's Farewell Tour
April 19 2013
There are many reasons why I attend specific events, but it strikes me that usually there is a main "hook". Sometimes it's the artist, sometimes it's the setting, and sometimes it's a specific work. We saw the Tokyo String Quartet at Meany Hall on the UW campus on Wednesday. The "hook" in this case was the Ravel String Quartet, one of my favorite quartets and one of my favorite pieces of music, period. That this concert was part of the farewell tour for the Tokyo String Quartet was an added bonus.
I've always been aware of the Tokyo String Quartet, but I don't particularly favor any of their recordings over other quartets. Still it's sad to see the end coming for a quartet that's performed for over 40 years.
They started with Mozart's Quartet in D major, K. 499. Right away, I was blown away by the smoothness of their sound and their ability to blend. Their ensemble is simple and without show. They instinctively understand how each middle voice plays with the melody. I'll have to be honest - I didn't stay awake for much of this piece. It was pretty placid, especially for Mozart. I likek many of his quartets (especially the ones he dedicated to Haydn), but I couldn't really get into this one.
The next piece was written by Lera Auerbach. When I glanced at the program prior to getting the tickets, I mistakenly thought this was a piece written by Leopold Auer, the famous Russian violin pedagogue. In fact, Lera Auerbach is a contemporary Russian composer. The piece started with the first violin playing a series of very large and very dissonant chords. Pretty much all the chords sounded like they contained wrong notes, and there were even a few chords where the violinist had to shift mid-chord. The piece itself was pretty hard to follow - definitely melody-less and possibly form-less (although I had trouble following). The crowd didn't know how to react at the end - people didn't start applauding for several seconds even though the piece was clearly over.
Finally, they ended with the Ravel. It's here that I really started to notice how virtuosic all the members of the quartet are. There is a passage in the first movement where the violins trade melodies. I literally could not hear a difference between the sound of the violins. They navigated the fast 2nd and 4th movements with ease. In general, they delivered a Ravel rich with character and nice subtleties.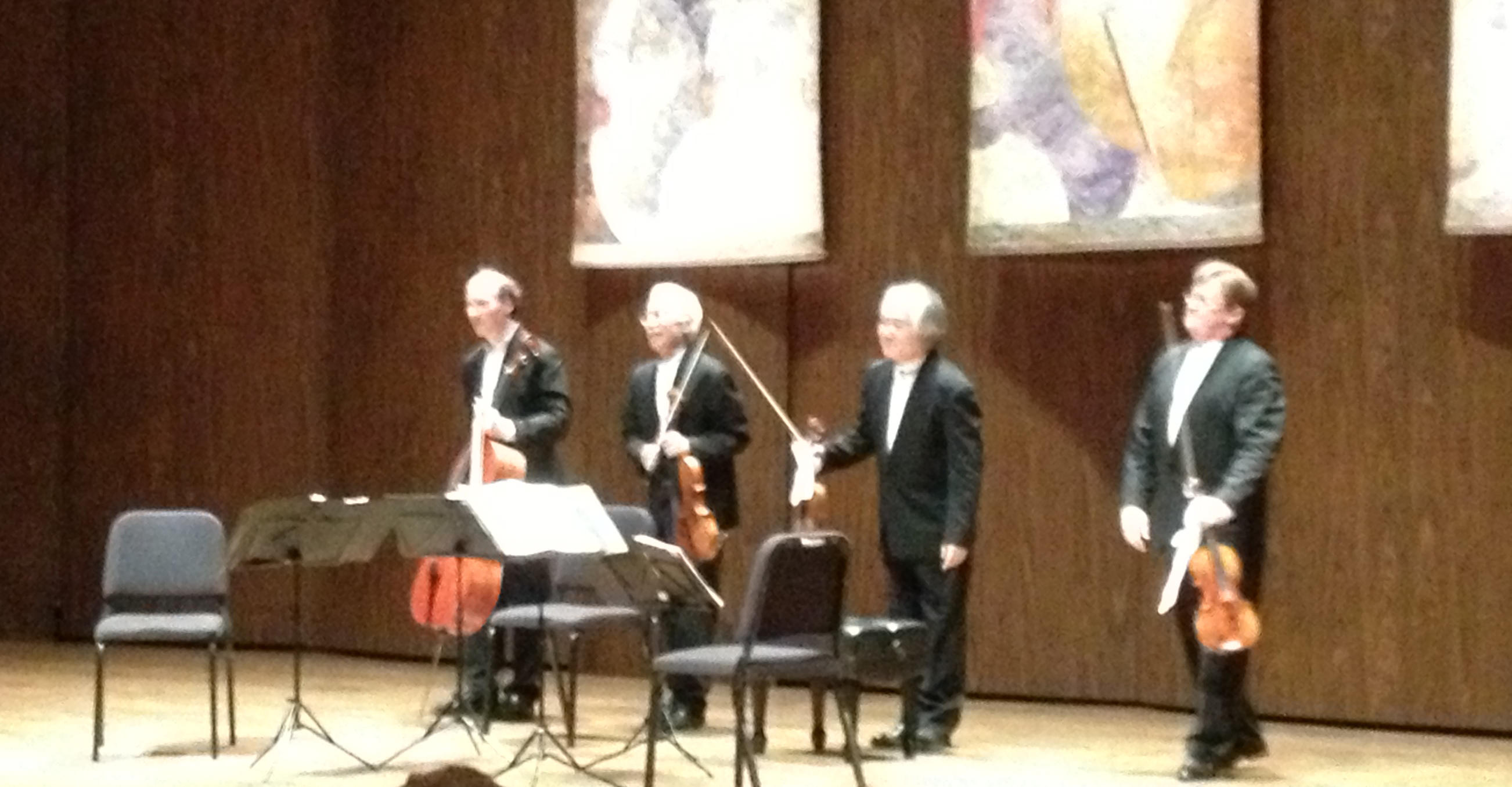 They got a nice standing ovation following the Ravel
I really appreciate the style of the Tokyo. They're not flashy, and when they start moving, it's in the spirit of what they're playing. Compared to some other string quartets (including the Juilliard, where Joel Smirnoff's movements on stage were…eccentric), they look like professionals that enjoy playing the music and with each other.
Topics: MusicMusic:Chamber MusicMusic:Concerts
comments powered by

Disqus