A Religious Experience with Gil Shaham and Bach
April 14 2016
When I was younger, I'd always heard about violinists that would do crazy endurance recitals, like play all 24 Paganini Caprices in a single performance. I never thought anyone would still do this type of concert today. So this was really a special treat for us. We saw Gil Shaham perform all the Bach Sonatas and Partitas for solo violin. I truly think this was one of the most memorable musical experiences I'll ever have.
As a little background, the six unaccompanied Bach pieces are kind of like the Bible for violinists. These are pieces that all of us start learning at fairly young ages. They span the simple (the last few movements of the E major Partita) to the impossibly virtuosic (all three fugue movements from the Sonatas). In the middle, there is arguably the single hardest violin piece to play well, the Chaconne, which is a set of variations on a simple dance theme, and which lasts for around 15 minutes. To recap - that means the violin is playing unaccompanied for 15 minutes straight! And the violinist is expected to play with intonation (there are multiple huge chords), phrasing (after all, the dance theme has to come out even during polyphonic sections), color (there are both lugubrious minor and ebullient major sections), and style (there is a giant section in the middle full of cross-string runs).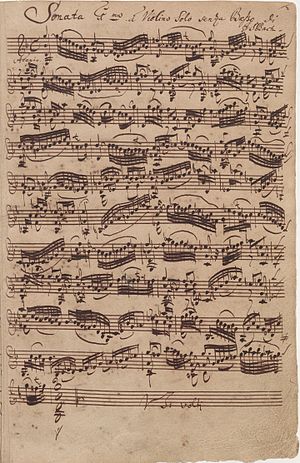 The beginning of the violin holy book
Many times in my life, I have gone back to Bach. Particularly after I take some time off or when I want to re-orient myself, playing through and preparing a Bach movement clears the head, exposes weaknesses, and creates focus. One of my crowning achievements as an amateur musician is performing the entire second Partita, with the Chaconne movement. I didn't play it particularly well. But I was still proud of myself for just lasting through the piece. In fact, when I was preparing the Chaconne, for a long time I couldn't even play through it in one sitting - I simply didn't have the endurance (and if I tried to do so now, I wouldn't come close).
Gil Shaham has been my favorite violinist for as long as I've had a favorite violinist. I started listening to Shaham's recordings as a teenager, when I first started seriously listening to classical music. Right away, I could tell Shaham was special. He had clarity of tone, richness of sound, and all the requisite finger technique. More than anything, listening to Shaham play the major concertos just made sense. His phrasing and articulation were aligned with how I would've played the concertos, had I possessed the technique. I spent hours listening to his Tchaikovsky, Sibelius, Barber, Bruch, and even Bartok.
The first time I ever saw Gil Shaham was at a concert at Ravinia, the CSO's summer home. I approached him during the intermission and took a picture with him and took the opportunity to ask him a question: "When will you record the unaccompanied Bach?". He laughed out loud (not a patronizing laugh, but a genuine one), and replied "I have to learn them first!" I didn't know what to say. At that point, Shaham was already an established star and had put out multiple albums. Even he had to take time to learn them and play them well.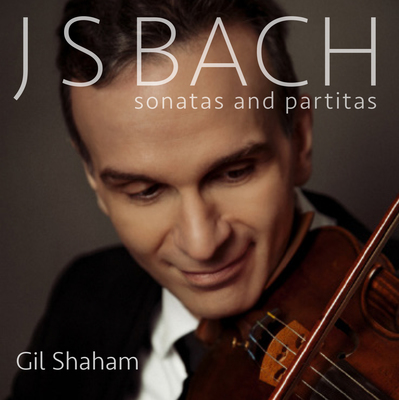 A recorded piece of heaven
When Shaham finally "learned to play them" and released his album of the Bach Sonatas and Partitas in March 2015, I purchased it immediately and absolutely devoured it. Unlike many former virtuosos before him, Shaham explicitly played the pieces in a manner more befitting its Baroque roots. He did not play the pieces like romantic violin concertos, with all sorts of rubato, wide vibrato, and plodding pace. Instead, he played them fast and simply, really making them sound like dance pieces. While I did not like all of the recording in the beginning, I grew to really enjoy his interpretation.
And so we come to the night that we just experienced, where Gil Shaham played all of the unaccompanied Bach at Zellerbach Hall. We got great seats, in the second row, just a steps to the right of Shaham. In addition to the performance, there were also some select photographs displayed in the background of the stage while Shaham played, to add color to the performance. To be honest, I did not get much value of the photographs - my gaze was focused 100% on Shaham.
The performance itself was not surprising. Shaham played them more or less the same way as on the album. He did take a few more chances and added more embellishments not on the written page. I was struck by how tight his bow was. And despite the brisk pace that he generally took in all movements, he still moved his bow quickly enough to break up some 4-note chords into two bows, something I'd never seen before. It's certainly not easy to do that and still make it sound musical.
Seeing Gil Shaham live in performance, the overwhelming feeling I got was one of joy. Shaham has so much fun performing, and he works his best to transfer that to the audience. I know he can't really see individual members of the audience. But I felt like over the course of the concert, he tried to make eye contact with every single audience member (including me!), as if to shout "can you believe I get to play this amazing music for you right now!?" The audience, to their credit (and slight mystery), applauded at the end of every single movement. This probably added around 5 minutes to the run time of the performance. Shaham looked a little embarrassed by the constant applause, but it just fit the night so well. The epitome of this transfer of joy was when Shaham played a clear wrong note and made a self-deprecating face, and the audience just laughed along with him.
The highlight of the night was still the Chaconne. I felt like I could barely breathe during it. Shaham did a great job of building and sustaining momentum, all the way up to and through the huge climax in the middle of the major section.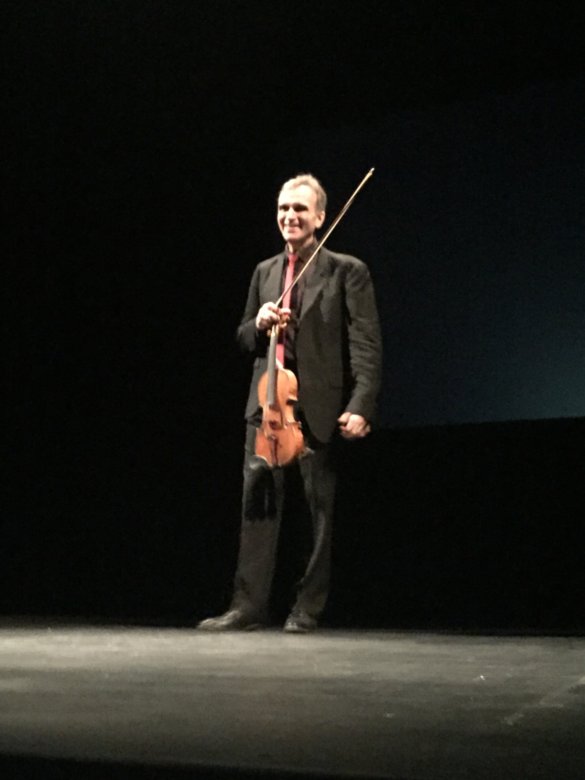 A master at work
After the Chaconne, there was an intermission, and I tweeted that it was "as close to a religious experience as I can get". After the recital resumed, Gil Shaham echoed that sentiment, when he said to the audience that the Bach solos are "as close as violinists have to a holy book". I will cherish this evening for a long, long time.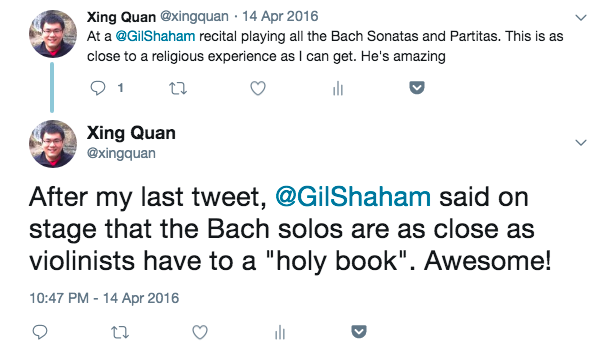 Topics: MusicMusic:ConcertsMusic:Violin Soloist
comments powered by

Disqus