Hilary Hahn Recital at Davies
April 26 2016
Just a few weeks after the Gil Shaham Bach recital, we took in another violin treat with a recital by Hilary Hahn. Seeing both of these virtuosos at the peak of their abilities, and in such a close time range, really clarified for me the differences in their playing styles.
Our seats were not nearly as good this time. We sat probably 20-30 rows from the stage, on the center-left. For Shaham, we were able to get seats right up in the front. It's a reflection of the relative popularities of the two violinists. Hilary Hahn is, probably along with Joshua Bell, the violinist with the most name recognition in the entire music world right now (I'm not counting older violinists like Itzhak Perlman or Pinchas Zukerman, who are still playing not even close to their musical primes anymore). People love Hahn's recordings and her perfect technique. There is not a single note that even sounds like it might be out of tune or scratched or anything.
Like Shaham, I have also listened to Hahn's recordings since I first started listening seriously to classical music. I have some cherished Hilary Hahn albums - the Beethoven Violin Concerto is so crystal perfect, her Mendelssohn last movement is devilishly fast and exciting, and her solo Bach is deliberately slow but very unique. Hahn is the closest successor we have to Heifetz. She does not have the rich instensity of sound or the warm vibrato of Heifetz. But she has the perfection. Every note is in place, every chord is played perfectly in tune, there is no rushing or slowing down, etc. She is kind of the violinist version of Georges Szell, the longtime conductor of the Cleveland Orchestra (listening to their recordings from the 60's and 70's, I always wondered how many takes they had to do to get every note so perfect across the entire orchestra).
For this program, Hahn played the Mozart Sonata K. 301 (G major), the unaccompanied Bach Sonata No. 3, the Copland Violin Sonata, and two works newly commissioned by Hahn herself: Antón García Abril's Six Partitas for Solo Violin and Tina Davidson's Blue Curve of the Earth.
One thing about Hahn that I absolutely encourage and cheer for is her championing of new violin works. She did an entire album of her commissions, In 27 Pieces. If we look back on all the violinists that truly made an impact, they either composed their own music (Paganini, Ysaye, Kreisler) or commissioned/had music written for them (Heifetz, Joachim, even Perlman). There's not nearly enough new violin music being created, and I'm glad Hahn is taking that on.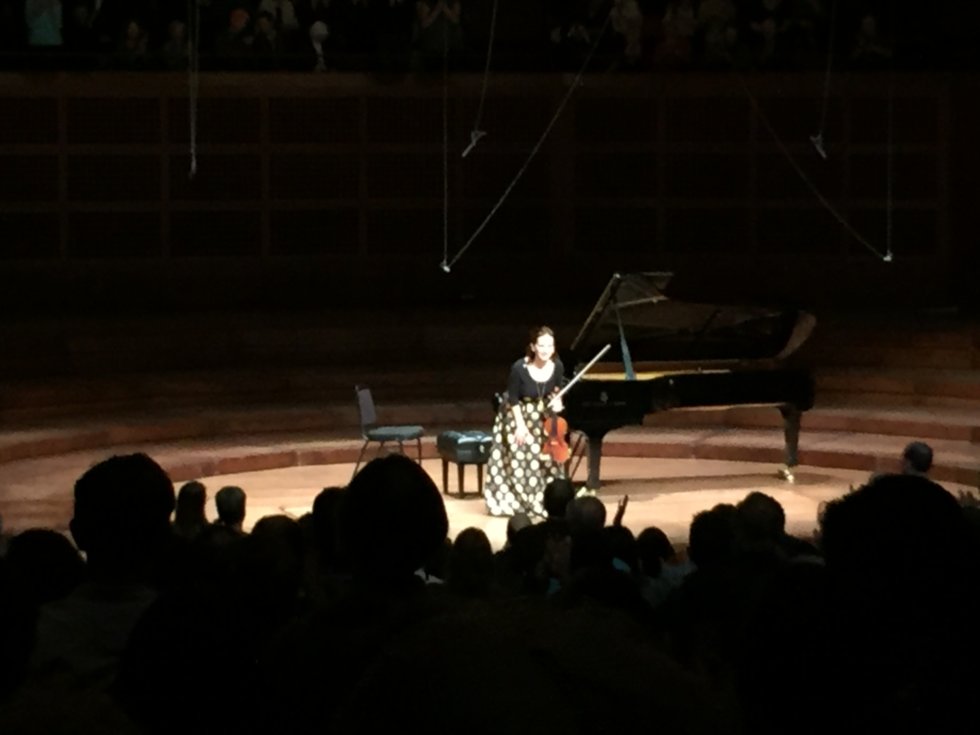 We sat so far away, the camera couldn't even focus
Regarding the actual performance…I'm less enthusiastic. There was just such a huge difference in the mood, sound, and musicality between Hahn and Shaham. Where Shaham played with a warm sound that crackled with energy, Hahn played with a dull sound that didn't carry well and didn't have forward momentum. Where Shaham played with absolute joy, Hahn was a stone-still figure rooted to her spot. Where Shaham played with incredible phrasing across even the polyphonic passages of Bach, Hahn struggled with phrasing even the Mozart sonata (to be fair, Mozart is incredibly difficult and it completely exposes the violinist; but at the same time, Shaham seems to do really well with it).
I was struck the whole time with a really bad analogy, but one that I will share here. Hilary Hahn is Hillary Clinton. Everything is in order - perfect on paper, completely qualified, does exactly what is expected. But Gil Shaham is Barack Obama. There is some essence there, some quality that is not easy to describe. Watching Shaham play elicits the same reaction as watching one of Obama's speeches. They make you care about the message they are communicating.
I do have to mention the positives. Hahn played with perfect intonation. She has an amazing bow hand, making her bowing transitions completely seamless (I recalled thinking it was smooth like slicing through butter). And she had a very consistent and functional narrow finger vibrato throughout. The audience gave her a huge standing ovation at the end.
But I go to music concerts to see something special. To get something that is a departure from everyday life. And while I absolutely got that watching Shaham play Bach, seeing Hahn play through this program seemed like something I could've heard on YouTube and gone on with my life.
Topics: MusicMusic:ConcertsMusic:Violin Soloist
comments powered by

Disqus