Gil Shaham Plays Barber
March 18 2017
In what is becoming a yearly tradition, we saw Gil Shaham live in performance today, this time with the San Francisco Symphony. Shaham played the Barber concerto, one of those pieces that every single violinist absolutely adores. Juraj Valčuha conducted in place of MTT, and the orchestra also played Kammersymphonie by Franz Schreker and Beethoven's Symphony No. 7.
The program opened with the Schreker. The Chamber Symphony is a very unique piece, written for 23 individual parts. It is very modern sounding, but with the addition that the 23 unique voices made the harmonies and sound texture extremely rich. Luckily, every SFS musician is capable of being an individual soloist, and this performance was good and revelatory. I can't promise that I'll go seek out Schreker's music in the future, but this was still a very enjoyable experience.
Shaham came next. I kind of already know what to expect with his Barber. He also recently recorded it (for a second time) as part of his series on violin concertos from the 1930's. This piece is ultra romantic. There are lush melodies for the violin, and, for lack of a better word, it just sounds very violinistic. It lies really well in the hand, and it just plays out. Of course, that's the first two movements. The last movement is a 4-minute long death march of fast notes, then even faster notes.
Shaham is really perfect for those first two movements. His sound was warm and rich, with his wide vibrato fitting in to the slow-moving melodies. His trademark exuberance was on display, visibly playing back and forth with the conductor and the rest of the orchestra. On the third movement, Shaham took a slower tempo than most to start, but I feel by the end, he was playing just as fast as anyone.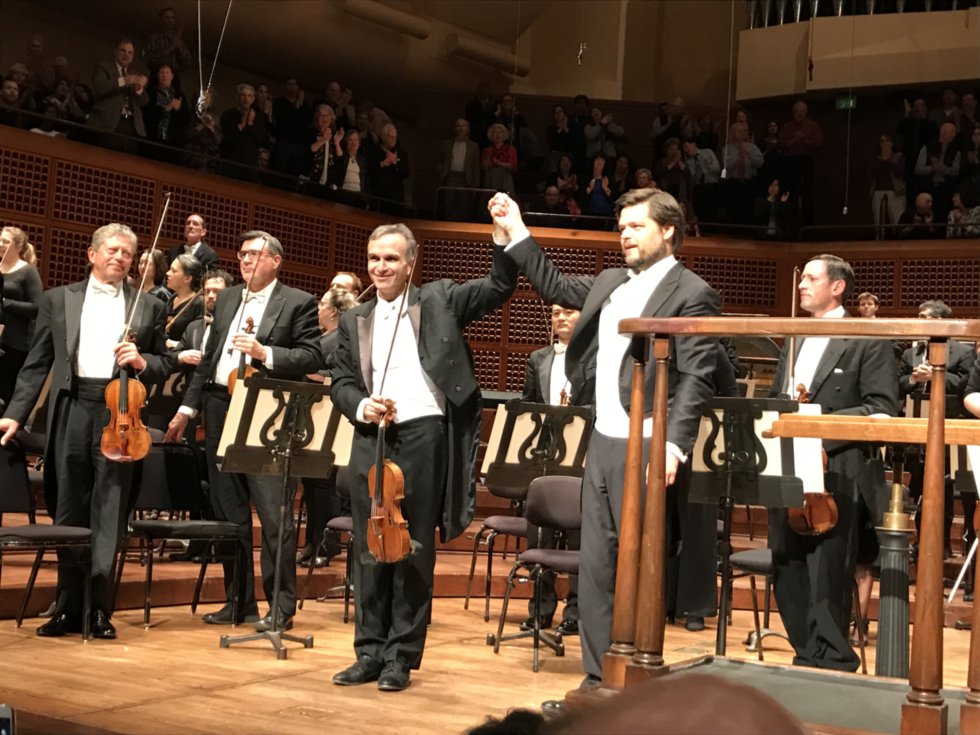 Shaham and Valčuha take a triumphant bow
With the audience giving Shaham a standing ovation, he returned the favor by playing the Gavotte en rondeau from Bach's Partita No. 3. This is a frequent encore piece and crowd pleaser (I assume it's a crowd pleaser because so many young violinists play this piece poorly, so hearing a professional play it is just overkill). This was not a surprising choice for Shaham either, as he was not that long removed from his Bach tour. As always, he added a bunch of little ornaments and surprises, that just make the encore seem so special.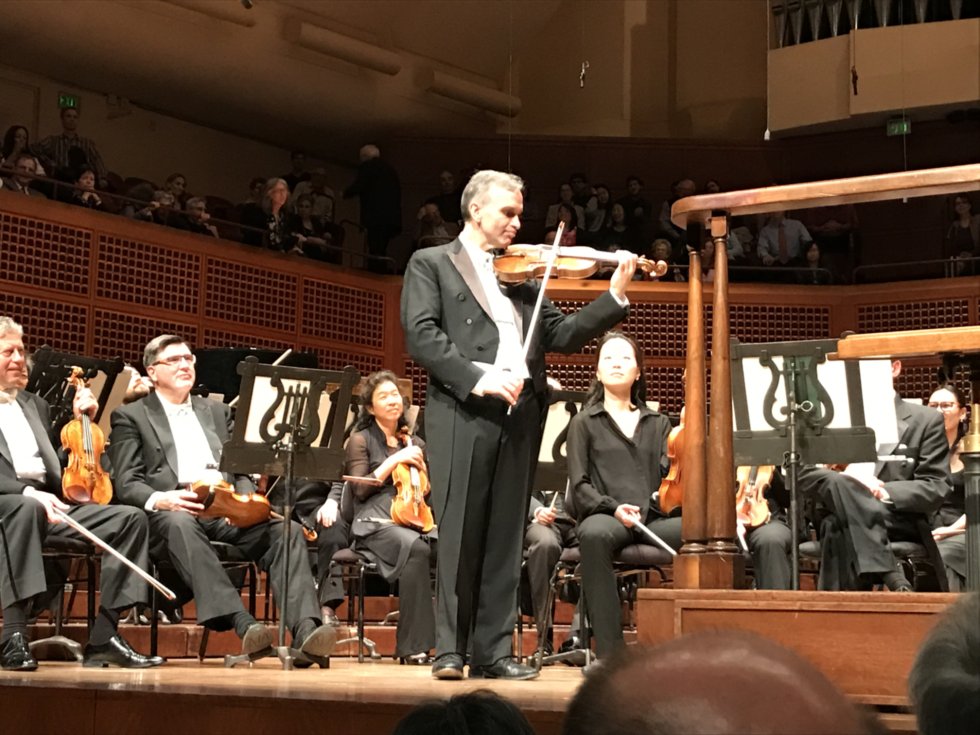 Shaham in action playing the Bach encore
The SFS closed off the concert with Beethoven 7. I've played this symphony a few times. It's an interesting combination of music. On the one hand, the first and last movements are some of the most overtly joyous music Beethoven's written. On the other hand, the second movement is one giant funeral march.
The SFS were excellent as always. Although I did not sense quite as much energy for this performance as I usually see from the SFS. It's possible that MTT missing accounted for some of this. But I think it's because usually when I'm going to SFS concerts, it's to see them perform Mahler. I suspect musicians may just not be as enthused to play a Beethoven for the 500th time as they would be playing something that is much more challenging and active.
Topics: MusicMusic:ConcertsMusic:San Francisco SymphonyMusic:Violin Soloist
comments powered by

Disqus