Hilary Hahn Recital at UW World Series
April 29 2014
We were treated to a recital by the amazing Hilary Hahn tonight. The program was more heavily dominated by modern pieces (3 of the 7 pieces played are from Hilary Hahn's latest In 27 Pieces album). The other pieces are very early classical and not part of the usual recital repertoire. Here's the program.
Richard Barrett: Shade
Telemann: Fantasia No. VI in E Minor for Solo Violin
Mozart: Violin Sonata K 305
Antón García Abril: Third Sigh
Schoenberg: Phantasy for Violin and Piano
Schubert: Fantasie in C Major
Max Richter: Mercy (Encore)
The Barrett, Abril, and Richter are the pieces from the 27 Pieces album. Interestingly, nowhere in the program was it announced who the pianist is. Using my powers of deduction, I'm guessing the pianist was Cory Smythe, the accompanist for Hahn in the 27 Pieces album.
Hahn started both halves of the recital with the microphone, certainly a departure from the last time I saw her in recital at Ravinia (way back in 2007). She briefly explained the pieces on the program and how (or if) there was any connection between them. She's certainly picked up some charisma over the years, but she still comes off mostly as robotic and not overly comfortable playing the role of emcee.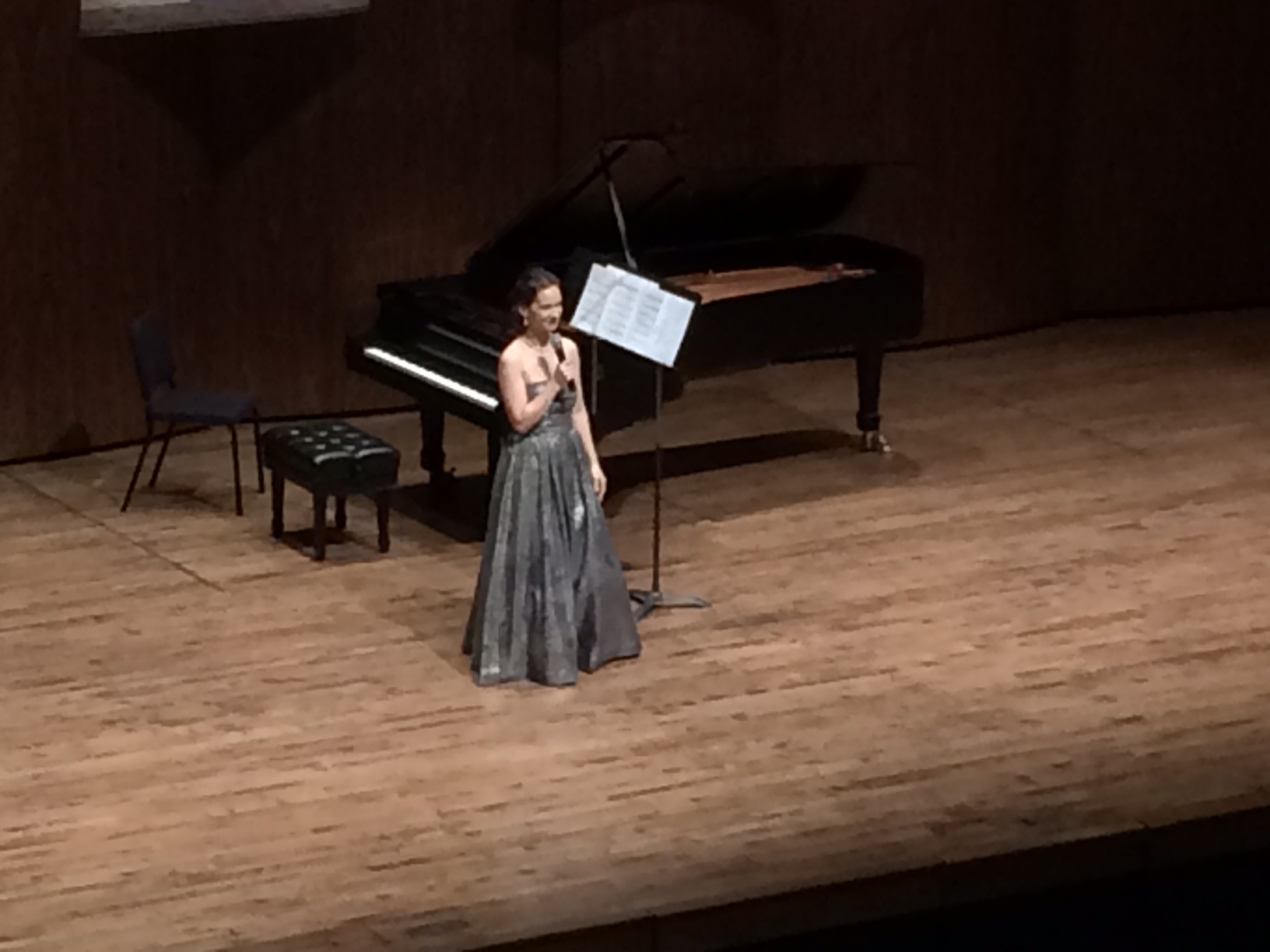 Hilary Hahn started with the mic
We started with the Barrett, a very modern piece. Filled with harmonics and ponticello effects, it felt like more of a showcase for the sounds possible by the violin rather than optimizing the best sounds of the violin. It's not my favorite.
The Telemann was really interesting. Prior to the concert, I was trying to describe Telemann to my wife, who had never heard of Telemann before. The analogy I ended with is that Telemann is to Bach as Kobe Bryant is to Michael Jordan. That is to say, very similar, but almost universally worse in all areas. The Fantasia for solo violin is very similar to the six unaccompanied sonatas and partitas by Bach. However, they're not as rich in texture or polyphony. For instance, the fugue is much simpler, hearing at most 2 voices and even then only 2 voices sometimes. It's definitely very intriguing though as the music didn't sound too hard, so I might explore the pieces later.
In my opinion, the Abril was a much better balance between contemporary music practice and writing for the violin. It brings in strange chords (to my ears it sounded a little bit Asian) for classical ears but mixes in violinistic elements.
The Schoenberg was typical Schoenberg. Definitely jarring for most classical ears. Mixed in there were some moments of stunning clarity and beauty. Ultimately, a hard piece for me to embrace with open arms. In the Schoenberg, I started to hear some variation of vibrato speeds by Hahn. This is interesting because for many years, she's basically had the same exact finger vibrato, fast and narrow. In this piece, her vibrato was still narrow, but she slowed it down sometimes for the longer-held notes.
Finally, the Schubert ended the main program. My most vivid recollection of this piece is downloading it excitedly as a college freshman (the joys of Napster/Kazaa!) because it was called "Fantasie", then being let down because the piece was rather boring and not very virtuosic. Back then, I didn't have much musical history knowledge, so I didn't know what to expect from a composer like Schubert. Now, a dozen years of maturation later, I can happily report that I still don't like the piece. It's long and repetitive. It is way more virtuosic than I remember (and relatively virtuosic for the time period it was written), but it just doesn't do it for me. The violin part is straight forward without many surprises.
Hahn really opened during the Schubert (it only took 2 hours!). She actually slid into a few slides (stunning for me, I've never heard her do that before). On some of the high notes, it sounded like she even widened her vibrato a bit (it could've just been due to her finger vibrato spreading over a wider tonal range because she was high up on the string). Regardless, I thought she played much more loosely than in the rest of the concert. Especially, she was very robotic in the modern pieces, probably because she needs to be to keep order.
Finally, she ended with the Richter encore after a standing ovation from the audience. The Richter is an amazingly simple piece. It is one long melodic line with light accompaniment from the piano. Hahn really shines in the piece. I closed my eyes for a few phrases because I wanted to guess when she was changing her bow. I could never really hear the bow change. Her transitions were so perfect and she really did play one long melodic line. It was beautiful, and it was something I think only a small handful of people in the world can accomplish.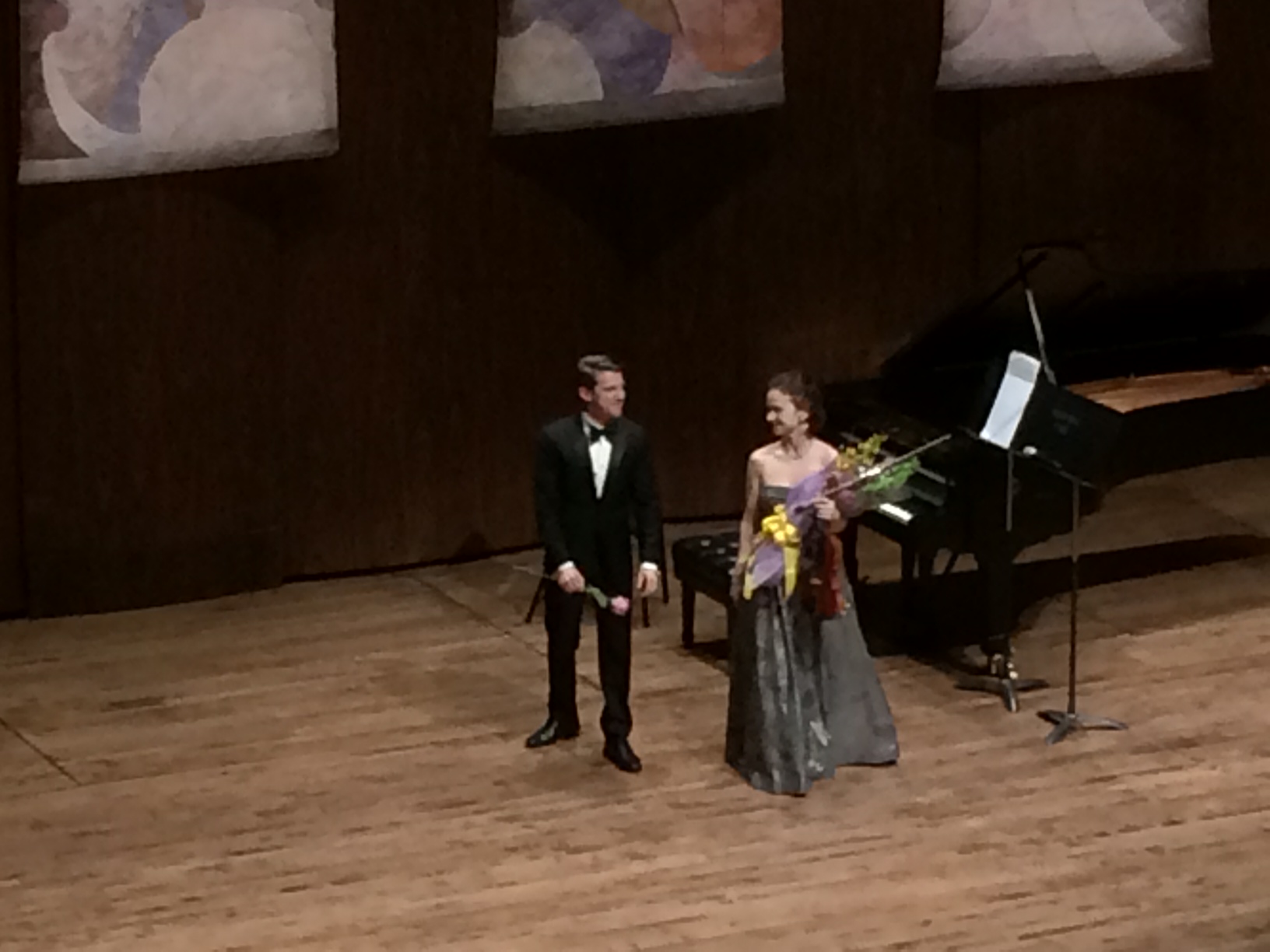 She ended with a no-doubt standing ovation from the audience
So after all these years of hearing Hahn's recordings and seeing her concerts (including Sibelius last year), how do I find her playing? Hahn is the most technically consistent violinist I've ever seen line. First, she never seems to tire. I remember seeing Gil Shaham perform the Elgar Concerto (a famously exhausting piece that lasts nearly 50 minutes). By the end, there was sweat pouring down his face and his chords didn't have the same ferocity as in the beginning. Hahn never tires, and she doesn't even show effort. Even the most difficult passages just go by with Hahn. After a few minutes of watching her play, I become numb to her technical prowess.
Her biggest strength is the steadiness and accuracy of her bow arm. She has this amazing (and seemingly impossible) ability to always keep the bow close or own the string. This is regardless of whether she's playing spiccato - her bow basically doesn't leave the string. But she's also so precise with these notes, that most listeners don't even notice it. As mentioned before, she has really beautiful and natural transitions in her bow strokes.
She seems to be taking steps to vary her vibrato. She'll always lose out to violinists like Itzhak Perlman and Shaham on the vibrato front simply because she uses a finger vibrato, which is (ahem, sorry) less vibrant than the wrist vibrato. But she can take steps to vary the speed of her vibrato, and it appears she's starting to do so.
Her biggest weakness, in my opinion, is her sound and tone. When I listen to Hahn, I think that on my best day, I can match her sound. It's just very solid and very present, but it doesn't have the warmth or texture of violinists like Joshua Bell.
In fact, comparing this recital to the Joshua Bell recital I attended a few months back is interesting. Hahn is so much better than Bell. Her sound is more consistent, she takes an intelligent approach to phrasing, and she's way more technically adept. But there's something about the peak that she reaches. I think Hahn is probably a straight-A student. She has a 4.0 GPA, and every grade is an A. Joshua Bell probably has a 3.5 GPA. But if you look at his transcript, he actually got A+ on a few classes. It's a weird distinction to make, but I think when Joshua Bell is at his best, with his gorgeous, warm sound and singing vibrato, he reaches a level that Hahn doesn't reach.
A similar test would be to ask which violinist would I like to sound like for one day? Since I'm purely playing for my own pleasure, I would be Joshua Bell. I think his sound is so unique, and I want to have that sound, even if just for a day. Of course, if I actually ask myself that question, Hilary Hahn or Joshua Bell, the correct answer is Gil Shaham. I'd want to sound like Gil Shaham. Speaking of, he's playing the 2014-15 season opener for the Seattle Symphony! Wonder if I'll make it to that concert?
Topics: MusicMusic:ConcertsMusic:Violin Soloist
comments powered by

Disqus